The official trailer for TMNT: Mutant Mayhem has finally arrived, and it's everything fans of the Teenage Mutant Ninja Turtles could have hoped for and more. The trailer is packed with action, humor, and excitement, and it gives us a glimpse of what we can expect from the upcoming film.
TMNT: Mutant Mayhem Official Trailer
The trailer opens with the Turtles getting in trouble for sneaking out, and Leonardo giving the whole truth to Master Splinter. The other turtles get mad at Leo for ratting them out, and we finally get our first peek at Jackie Chan as Master Splinter as he exclaims, "Hey! Don't use that word that way!" It is glorious and absolutely perfect casting for this new generation of TMNT.
RELATED: Elemental Drops New Clip After Stunning Cannes Premiere
From the trailer, the film looks to focus on the Turtles' desire to be part of the world above the sewers. We see them interacting with April who gives them additional information on the criminals responsible for the current crime wave. No one knows what the face of the criminals' leader looks like because he kills everyone who ever sees him. The Turtles think it's pretty cool, despite April's protests. It is then the Turtles come up with the plan to take out this criminal leader, Superfly, in order for the surface world and humans to accept them.
We then see the turtles meet with Superfly, who turns out to be a mutant fly leading a group of mutant criminals. Among the mutant criminals are the iconic duo of Bebop and Rocksteady. Superfly offers the Turtles a chance to work with him and shares his plan to get rid of humans so mutants can rule the world. And then fast cuts of clips highlight the action, humor, and heart of the film are played to build up the hype!
In addition to the action and the humor, the trailer also features some stunning visuals. The film is being directed by Jeff Rowe and Kyler Spears, and it looks like they are going to bring the Turtles to life in a way that we've never seen before. The animation is fluid and dynamic, and the environments are beautifully rendered. It looks like the art book of a talented sketcher has come to life.
RELATED: The Web-Slinging Legacy of Spider-Man: The Animated Series Still Proving '90s Comic Book Cartoons Were More Than Batman And X-Men
TMNT: Mutant Mayhem's take on the Teenage Mutant Ninja Turtles fully being Teenagers is one never before realized on television and film. Even in their original iterations, they seemed a lot more like college teenagers than high school ones, let alone pre-high school/middle school teenagers. This unique take is sure to yield a truly unique experience and give a new dimension to the Turtles.
TMNT: Mutant Mayhem releases exclusively in theaters on August 2, 2023.
About TMNT: Mutant Mayhem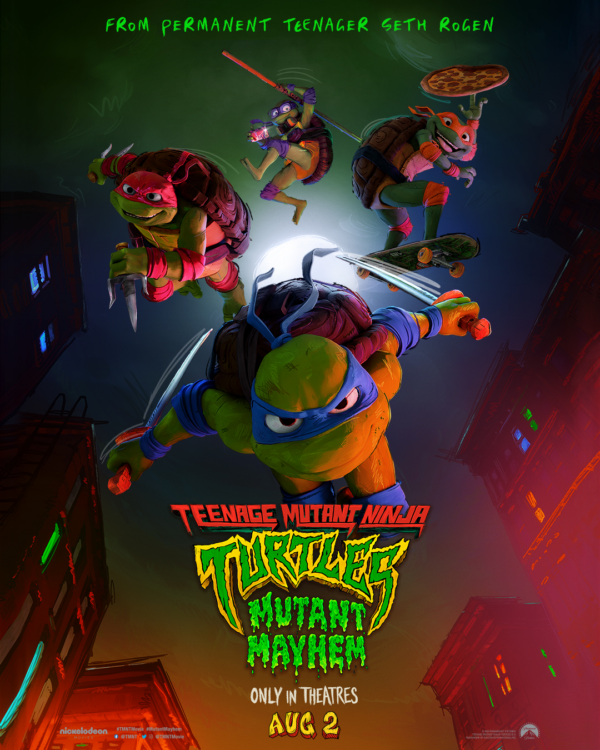 Release Date: August 2, 2023
Directed by: Jeff Rowe
Co-Directed by: Kyler Spears
Screenplay by: Seth Rogen & Evan Goldberg & Jeff Rowe, Dan Hernandez & Benji Samit
Based on the Teenage Mutant Ninja Turtles Characters Created by Peter Laird and Kevin Eastman
Produced by: Seth Rogen, p.g.a., Evan Goldberg, p.g.a., James Weaver, p.g.a.
Executive Producers: Ramsay McBean, Josh Fagen
Cast: Micah Abbey, Shamon Brown Jr., Hannibal Buress, Rose Byrne, Nicolas Cantu, John Cena, Jackie Chan, Ice Cube, Natasia Demetriou, Ayo Edebiri, Giancarlo Esposito, Post Malone, Brady Noon, Seth Rogen, Paul Rudd, Maya Rudolph

SYNOPSIS
After years of being sheltered from the human world, the Turtle brothers set out to win the hearts of New Yorkers and be accepted as normal teenagers through heroic acts. Their new friend April O'Neil helps them take on a mysterious crime syndicate, but they soon get in over their heads when an army of mutants is unleashed upon them.
What do you think of the TMNT: Mutant Mayhem trailer? Who's your favorite turtle? Do you think there will be more enemies than what they've shown so far? Let us know your thoughts and theories on social media!
Source: Paramount Pictures
KEEP READING: New 'Ruby Gillman, Teenage Kraken' Trailer Reveals Her Powerful Hidden Heritage