The prestigious Cannes Film Festival is abuzz with excitement as Disney and Pixar's highly anticipated film, Elemental, takes center stage. Tonight, the film's voice talent and filmmakers graced the iconic Carlton Beach for a captivating photo call, and tomorrow it will close the 76th International Cannes Film Festival in grandeur. With a U.S. theatrical release date set for June 16, 2023, the film promises to enchant audiences with its imaginative storyline and captivating characters.
Elemental Cannes Premiere
After closing out the Cannes Film Festival, the anticipation for Elemental grows stronger. Audiences worldwide are eagerly awaiting the chance to immerse themselves in this visually stunning and emotionally resonant animated adventure. With its richly imagined world, compelling characters, and a story that challenges perceptions, Elemental promises to captivate hearts and leave an indelible mark on the world of animated cinema.
RELATED: The Elemental Experience is Bringing the Captivating Element City On A Nationwide Tour
The presence of director Peter Sohn, producer Denise Ream, and Pete Docter, the Chief Creative Officer of Pixar, alongside the talented English-language voice cast, Leah Lewis (Ember) and Mamoudou Athie (Wade), as well as the French-language voice cast members, Adèle Exarchopoulos (Ember) and Vincent Lacoste (Wade), added star power to the iconic Carlton Beach at Cannes. For those of us who couldn't be there, the film shared a new clip to hold us over until June 16.
New Elemental Clip, "Check This Out"
Elemental invites viewers into the vibrant world of Element City, where residents representing the elements of Fire, Water, Earth, and Air coexist. The narrative revolves around Ember, a spirited and sharp-witted young woman, whose friendship with Wade, an easygoing and carefree individual, challenges her preconceptions about their shared reality. Directed by Peter Sohn, produced by Denise Ream, and executive produced by Pete Docter, this original feature film boasts a screenplay crafted by John Hoberg & Kat Likkel and Brenda Hsueh, with an engaging story developed by Sohn, Hoberg & Likkel, and Hsueh. Elevating the film's emotional landscape is the original score composed and conducted by the renowned Thomas Newman.
RELATED: Elemental Tickets Are On Sale Now: Get Ready For A Mesmerizing Trip to Element City on 6/16
With just a few weeks left until its U.S. release, fans can catch a glimpse of the film's magic in a new clip that has been unveiled. As excitement builds, "Elemental" is set to ignite imaginations, explore themes of friendship and self-discovery, and remind us all of the power of unity in a world filled with diverse elements.
Elemental premieres on June 16, 2023, exclusively in theaters. Tickets are on sale now.
About Elemental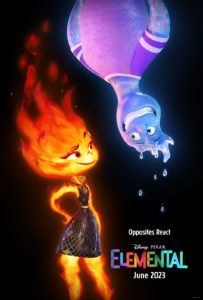 Release Date: June 16, 2023
Director: Peter Sohn
Executive Producer: Pete Docter
Producer: Denise Ream
Screenplay: John Hoberg & Kat Likkel and Brenda Hsueh
Story By: Peter Sohn, John Hpberg & Kat Likkel and Brenda Hsueh
Score: Thomas Newman
Produced By: Pixar, Walt Disney Pictures
Distributed By: Walt Disney Studios Motion Pictures
Cast: Leah Lewis, Mamoudou Athie, Ronnie del Carmen, Shila Ommi, Wendi McLendon-Cobey, Catherine O'Hara, Mason Wertheimer, Joe Pera

Synopsis:
Disney and Pixar's "Elemental" is an all-new original feature film that transports moviegoers to an extraordinary place called Element City, where a host of elements live and work. The trailer showcases each element—air, earth, water and fire—and what sets them apart according to Ember, a quick-witted and fiery woman who's always stayed close to home in Firetown. In "Elemental," which opens in theaters on June 16, she finally ventures out of her comfort zone to explore this spectacular world born from the imaginations of Pixar's filmmakers and specifically crafted for the big-screen experience.
What do you think about Disney and Pixar's Elemental? Which element do you think you would be? Are you excited to visit Element City'? Let us know your thoughts and expectations on social media!
Source: Pixar
KEEP READING: Elemental Creator Reveals The Personal Inspiration Behind Pixar's Newest Animated Feature