Netflix is gearing up to captivate audiences with the release of Rebel Moon on December 22, 2023. Directed by the visionary filmmaker Zack Snyder, known for his work on films like 300 and Man of Steel, this highly anticipated science-fantasy epic has been years in the making. With a star-studded cast led by Sofia Boutella, Djimon Hounsou, and Ed Skrein, Rebel Moon promises a thrilling and action-packed journey into a distant galaxy where survival hangs in the balance.
Rebel Moon First Look Images
The story unfolds on a peaceful colony situated on the outskirts of a galaxy. However, their tranquility is shattered when a tyrannical ruling force threatens their existence. Enter Kora, portrayed by the talented Sofia Boutella, a mysterious stranger living among the villagers who becomes their beacon of hope. As the colony's last resort, Kora must rally a team of fighters to stand against the Mother World's armies and forge an impossible resistance.
RELATED: Extraction 2 Trailer Drops, Unveiling Chris Hemsworth's Intense Return
Rebel Moon takes audiences on a captivating ride as Kora assembles a diverse group of warriors. This band of misfits, hailing from different worlds and backgrounds, shares a common desire for redemption and revenge. United by their shared purpose, they prepare to face an overwhelming enemy force, confronting the shadow that looms over their unlikely moon. In this climactic battle for the galaxy's fate, a new army of heroes emerges, forging an extraordinary tale of courage and resilience.
The creative team behind Rebel Moon is a powerhouse of talent. Zack Snyder, known for his visually stunning and emotionally resonant films, brings his unique directorial touch to this ambitious project. Alongside Snyder, the film's writing team, including Kurt Johnstad and Shay Hatten, weaves a captivating narrative that blends science fiction and fantasy elements seamlessly. With producers such as Deborah Snyder, Eric Newman, and Wesley Coller, the film promises to deliver an immersive and visually spectacular experience.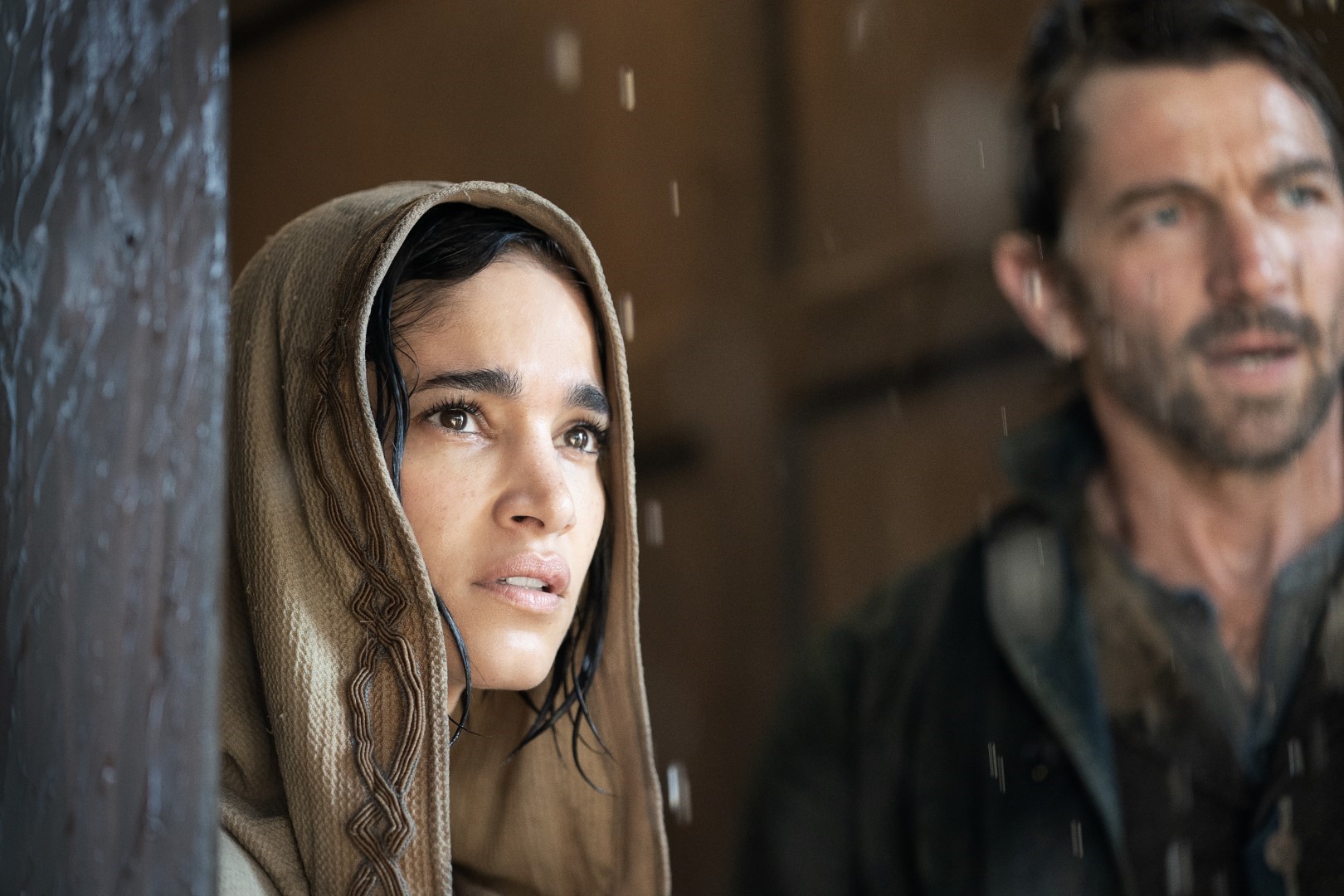 The cast of Rebel Moon features an ensemble of exceptional actors. Sofia Boutella leads the charge as Kora, bringing her charisma and physical prowess to the role. Djimon Hounsou, Ed Skrein, and Michiel Huisman join her in this intergalactic battle, lending their talents and adding depth to their respective characters. The voice acting prowess of Anthony Hopkins, who portrays 'Jimmy,' adds an extra layer of intrigue to the story. Additionally, the film boasts a supporting cast including Staz Nair, Fra Fee, Cleopatra Coleman, and more, ensuring a rich and diverse tapestry of characters.
RELATED: Spider-Man: Across the Spider-Verse Review – Every Frame is A Masterpiece, Every Note is a Symphony, Everything is Out of This World
With its grand scale, intense action sequences, and awe-inspiring visuals, Rebel Moon is set to become an unforgettable addition to the science-fiction genre. Zack Snyder's visionary direction coupled with a stellar cast promises to transport viewers to a world teetering on the brink of destruction, where the fate of an entire galaxy hangs in the balance. As the battle unfolds and heroes rise, Rebel Moon invites audiences on a thrilling journey of self-discovery, redemption, and the enduring power of unity.
Prepare to embark on a cinematic adventure like no other when Rebel Moon lands exclusively on Netflix on December 22, 2023. Brace yourself for an epic clash of civilizations, pulse-pounding action, and a story that will ignite your imagination and leave you eagerly anticipating the next chapter in this extraordinary saga.
ABOUT REBEL MOON
RELEASE DATE: On Netflix December 22, 2023
DIRECTOR: Zack Snyder
WRITERS: Zack Snyder, Kurt Johnstad, Shay Hatten
PRODUCERS: Deborah Snyder, Eric Newman, Zack Snyder, Wesley Coller
EXECUTIVE PRODUCERS: Bergen Swanson, Sarah Bowen, Shay Hatten, Kurt Johnstad
KEY CAST: Sofia Boutella, Djimon Hounsou, Ed Skrein, Michiel Huisman, Doona Bae, Ray Fisher, with Charlie Hunnam and Anthony Hopkins as the voice of 'Jimmy'. Also starring Staz Nair, Fra Fee, Cleopatra Coleman, Stuart Martin, Ingvar Eggert Sigurðsson, Alfonso Herrera, Cary Elwes, Rhian Rees, E. Duffy, Jena Malone, Sky Yang, Charlotte Maggi, Corey Stoll

SYNOPSIS
From Zack Snyder, the filmmaker behind 300, Man of Steel, and Army of the Dead, comes REBEL MOON, an epic science-fantasy event decades in the making. When a peaceful colony on the edge of a galaxy finds itself threatened by the armies of a tyrannical ruling force, Kora (Sofia Boutella), a mysterious stranger living among the villagers, becomes their best hope for survival.

Tasked with finding trained fighters who will unite with her in making an impossible stand against the Mother World, Kora assembles a small band of warriors — outsiders, insurgents, peasants and orphans of war from different worlds who share a common need for redemption and revenge. As the shadow of an entire Realm bears down on the unlikeliest of moons, a battle over the fate of a galaxy is waged, and in the process, a new army of heroes is formed.
How is Rebel Moon looking to you? Do you think Zack Snyder will start the next great sci-fi universe? Are you still holding out for the Snyderverse? Let us know your thoughts on social media!
Source: Netflix
KEEP READING: Transformers: Rise of the Beasts Review – The Spark Has Never Been Stronger Despite Not Maximizing the Maximals