In a grand celebration of Shueisha's ONE PIECE Day, Netflix has unfurled the official trailer for its eagerly awaited live-action series, ONE PIECE. This unveiling was not just a visual treat; it was accompanied by a cascade of new images and a heartfelt letter from the mastermind behind the global sensation, Eiichiro Oda.
Netflix One Piece Official Trailer
Set to embark on its streaming journey on August 31, ONE PIECE promises to be a legendary high-seas adventure. The series boasts a stellar cast with Iñaki Godoy taking the helm as Monkey D. Luffy, Mackenyu as Roronoa Zoro, Emily Rudd portraying Nami, Jacob Romero as Usopp, and Taz Skylar stepping into the shoes of Sanji.
RELATED: New Masters of the Universe Live-Action Netflix Film Dropped At Netflix After $30 Million in Development
Eiichiro Oda, the genius behind the highest-selling manga series in Japan's history, shared his profound thoughts on this live-action adaptation. Oda-Sensei's letter, available to read below, resonates with his unwavering confidence in the show, emphasizing that no compromises were made in its creation. He lauds the production team, not just for their expertise in live-action but also for being ardent ONE PIECE aficionados. Oda's affection for the team is palpable, as he expresses his eagerness for them to receive global acclaim.
The story of ONE PIECE is an unparalleled tale of adventure. It follows the young and spirited Monkey D. Luffy, who has dreamt of a life unshackled by norms since his earliest memories. With aspirations to unearth the legendary treasure, ONE PIECE, and claim the title of the King of the Pirates, Luffy embarks on a treacherous voyage. But the path to the ultimate prize is fraught with challenges. Luffy must first assemble his dream crew, find a ship, navigate the vast oceans, outsmart the Marines, and face formidable rivals.
The series is a collaborative masterpiece between Netflix and Tomorrow Studios, in association with Shueisha. Apart from the main cast, the series will feature Vincent Regan, Ilia Isorelýs Paulino, Morgan Davies, and many more, with Michael Dorman making an appearance as Gold Roger.
RELATED: Netflix Celebrates Rich Japanese Content Slate At Anime Expo 2023
For fans and newcomers alike, this adaptation of ONE PIECE is not just a series; it's an invitation to be part of an epic journey. So, hoist your sails and join the Straw Hat Grand Fleet for exclusive updates and surprises. The sea of adventure awaits!
About Netflix One Piece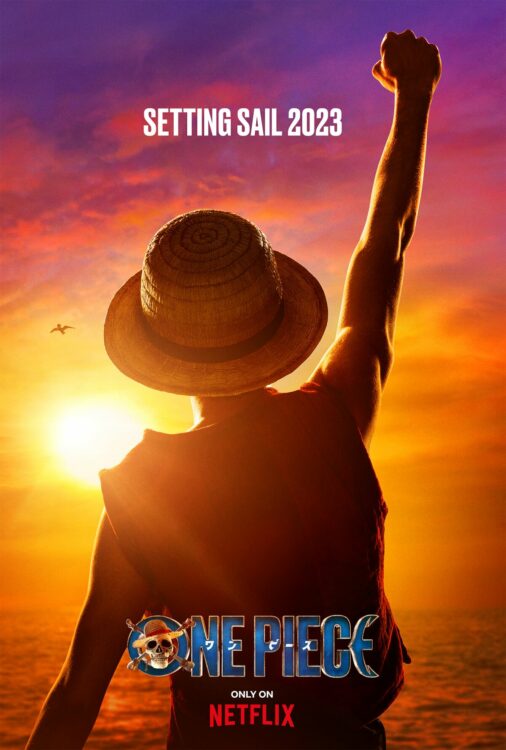 Release Date: August 31, 2023
Showrunners, Executive Producers, & Writers: Matt Owens, Steven Maeda
Executive Producers: Eiichiro Oda, Marty Adelstein, Becky Clements
Production: Tomorrow Studios, Netflix
Cast: Iñaki Godoy, Mackenyu, Emily Rudd, Jacob Romero, Taz Skylar, Vincent Regan, Ilia Isorelýs Paulino, Morgan Davies, Aidan Scott, Langley Kirkwood, Jeff Ward, Celeste Loots, Alexander Maniatis, McKinley Belcher III, Craig Fairbrass, Steven Ward, Chioma Umeala.

Logline
Based on Japan's highest-selling manga series in history by Eiichiro Oda, ONE PIECE is a legendary high-seas adventure unlike any other. Monkey D. Luffy is a young adventurer who has longed for a life of freedom since he can remember. Luffy sets off from his small village on a perilous journey to find the legendary fabled treasure, ONE PIECE, to become King of the Pirates! But in order to find the ultimate prize, Luffy will need to assemble the crew he's always wanted before finding a ship to sail, searching every inch of the vast blue seas, outpacing the Marines, and outwitting dangerous rivals at every turn.
Are you excited about the live-action adaptation of One Piece? Does Oda-San's involvement give you confidence in the series? What are you most excited to see in live-action? Let us know your thoughts and reactions on social media!
Source: Netflix
KEEP READING: Skull Island Review – An Island Full of Fearsome Creatures But the Focus is On 6 Random Humans