Netflix celebrates the latest releases for their Japanese content slate during the Anime Expo this year. A full range of epic content was featured as the streaming platform highlights their upcoming releases including their One-Piece live-action adaptation. Fans have a lot to look forward to as Netflix announces a new Pokémon stop-motion project, the final season of Beastars, and an adaptation of the anime series, ZOM 100: Bucket List Of The Dead. 
The Anime Expo 2023 hosted a range of announcements for upcoming releases featured on Netflix. The most notable upcoming titles include the live-action adaptations of One Piece and Avatar: The Last Airbender. Many anime series are currently available on the streaming platform with Japanese Dub and English Dub released, but an amazing range of live-action adaptations have also made it their home for fans to dive into. This includes Fullmetal Alchemist and Rurouni Kenshin as the popular adaptations for iconic releases in Japanese.
Netflix Highlighted Japanese Content Slate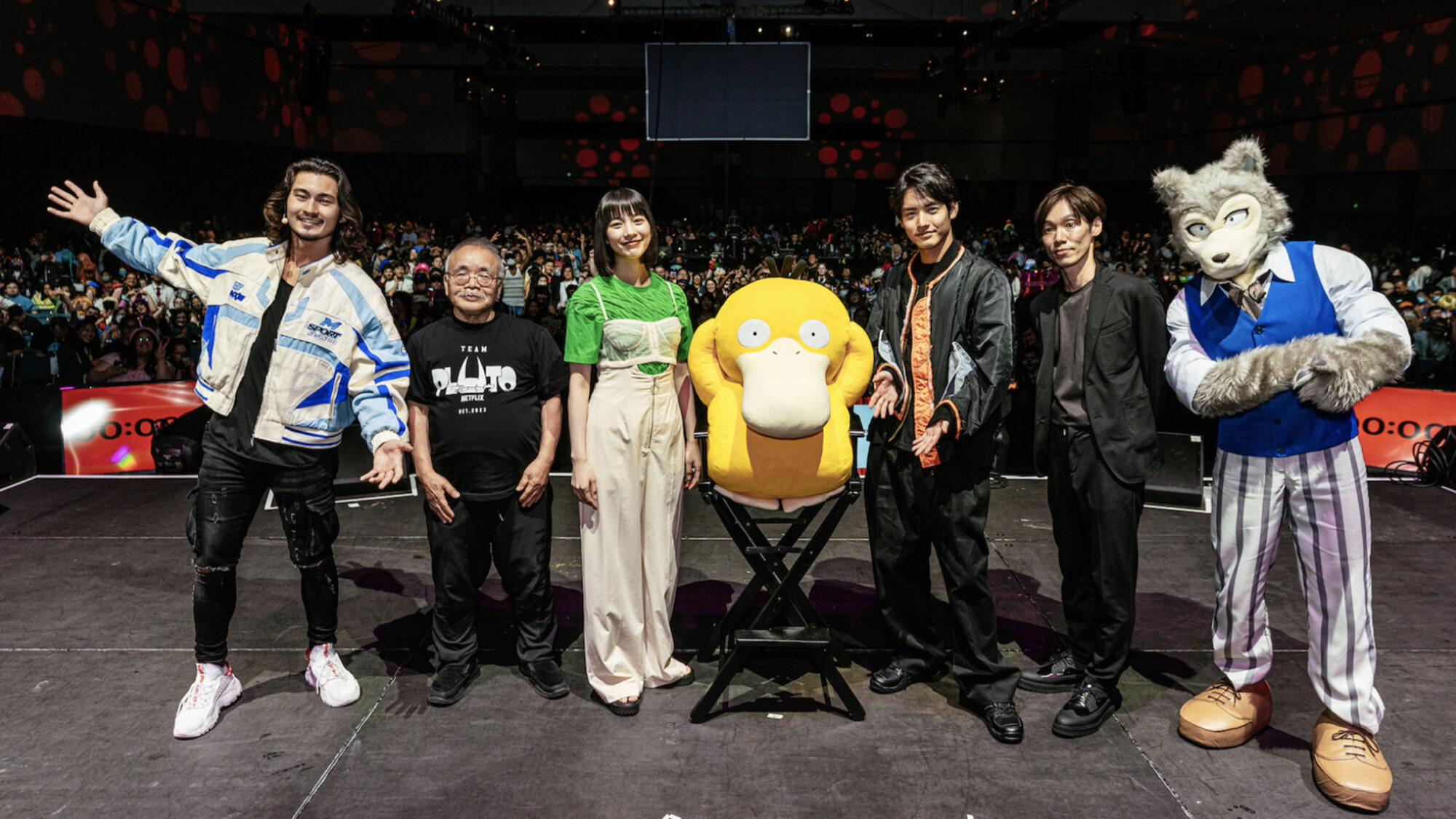 Returning to Anime Expo, North America's biggest fan event for all things Japanese pop culture, Netflix showcased their diverse slate of upcoming anime and live-action adaptations, including fan favorites like PLUTO or BEASTARS FINAL SEASON as well as news and talent appearances for the highly anticipated stop motion series Pokémon Concierge, live-action adaptations Zom 100: Bucket list of the Dead and ONE PIECE. 
RELATED: Delicious in Dungeon Anime to Stream Worldwide on Netflix in 2024
Hosting the 'From Japan to the World' J-Content presentation in front of over 3,000 fans at the Main Events Stage, the panel featured the newly announced Pokémon Concierge (December 2023) series star Non, who will voice the lead character Haru in the Japanese version, and who delighted fans with a behind the scenes look at the upcoming series and newly presented teaser art. The story about Haru's adventures at the Pokémon Resort will join an ever-expanding slate of J-Content. This includes previously announced titles like BEASTARS FINAL SEASON (Coming Soon), whose main character Legoshi surprised fans onstage with a first look at some of the character designs for the upcoming and final season.
Netflix also gave fans and press a new glimpse at upcoming project PLUTO (October 26, 2023), an anime adaptation of the legendary manga of the same name by Naoki Urasawa. Coming all the way from Tokyo, anime legend Masao Maruyama excited fans with insights into his decade-spanning career in the industry and what makes the upcoming PLUTO project so special, before presenting a brand-new teaser trailer for the series.
Fans also heard from the stars of upcoming zombie-comedy flick Zom 100: Bucket list of the Dead (August 3, 2023), with co-creator of the original manga Kotaro Takata and lead-actor Eiji Akaso presenting the first teaser trailer, while joking about 100 things they'd do before the zombie apocalypse would take over.  
Before wrapping up the panel, fans were additionally treated to a special video message by the cast of the highly-anticipated ONE PIECE live action series (August 31, 2023), in which series lead Iñaki Godoy took viewers to a special meeting with legendary voice actor Mayumi Tanaka, revealing that the original voice cast of the long-running anime series will reprise their roles for the Japanese dub of the upcoming series.
See below for additional highlights and announcements:
ZOM 100: BUCKET LIST OF THE DEAD – August 3, 2023
RELATED: Netflix Releases Stunning Avatar: The Last Airbender Teaser and Reveals Cast Photos
Akira Tendo (Eiji Akaso) works at an abusive company where he suffers endless late hours, power harassment from his boss, and illogical tasks. He spends his days feeling more dead than alive. One morning, the town is overtaken by zombies and the familiar landscape is already devastated. Seeing such destruction, Akira shouts with glee that he doesn't need to go to the office anymore. Showing his innate positivity, Akira comes up with a list of 100 things he wants to do before he becomes a zombie, including cleaning his home and camping on his balcony and sets out to complete his bucket list.
ONE PIECE – Premiere date: August 31, 2023
Based on Japan's highest-selling manga series in history by Eiichiro Oda, ONE PIECE is a legendary high-seas adventure unlike any other. Monkey D. Luffy is a young adventurer who has longed for a life of freedom since he can remember. Luffy sets off from his small village on a perilous journey to find the legendary fabled treasure, ONE PIECE, to become King of the Pirates! But in order to find the ultimate prize, Luffy will need to assemble the crew he's always wanted before finding a ship to sail, searching every inch of the vast blue seas, outpacing the Marines, and outwitting dangerous rivals at every turn.
PLUTO – Premiere date: October 26, 2023
Europol detective robot Gesicht races to solve a string of murders targeting advanced robots and key figures in robot law, uncovering the greatest evil in history. Praised by many as a masterpiece, the manga PLUTO is based on Osamu Tezuka's Astro Boy 'The Greatest Robot on Earth' arc from 1964 and created by Naoki Urasawa (20th Century Boys, Yawara!, Master Keaton) and his long-time co creator Takashi Nagasaki. The suspense drama takes place in a neo-futuristic world where humans and high-functioning robots live in complete harmony. The globally acclaimed manga has won numerous awards, including the Tezuka Osamu Cultural Prize.
POKÉMON CONCIERGE – December, 2023
RELATED: Netflix Reveals Amazing One Piece Live-Action Teaser Trailer
'Pokémon Concierge' is the first collaborative production between Netflix and The Pokémon Company and an ambitious stop-motion project produced by critically acclaimed dwarf studios. Expanding the Pokémon world, the story follows Haru, a concierge at the 'Pokémon Resort,' and her interactions with Pokémon and their owners who visit as guests. 
BEASTARS FINAL SEASON – Premiere date: Coming Soon
A new chapter of the animal human drama BEASTARS begins! After that final battle, where did the gray wolf Legoshi go? BEASTARS is an animal human drama set in a world where bipedal carnivores and herbivores live together. In this unique world, the gray wolf Legoshi and his classmates attend the Cherryton Academy, where all students stay in dormitories. This is the story of love and friendship that goes beyond species. However, at times, their unrestrainable instincts as carnivores and herbivores lead to tragic events. This new chapter tells the story after Seasons 1 and 2.
More content seems to flood in for fans as Netflix blows fans away with these announcements and surprises. The future content will be amazing to watch when they are finally released, and many fans will likely add them to their Wishlist already. Although some releases have yet to fully unveil the upcoming release, it will be exciting to see what else is revealed as their premiere draws closer.
Everyone is excited for the live-action adaptation of One Piece but the ZOM 100 is another anime adaptation that will excite many viewers. Pokémon Concierge is one of the most curious as it uses stop motion, so it will be interesting to finally see the first trailer when released.
What do you think of the upcoming Japanese slate? Are you excited about these releasing coming to Netflix? What anime or live-action adaptations have you been enjoying on the streaming platform? Let us know on social media and keep following The Illuminerdi for more anime news.
KEEP READING: THE FLOOD: BRANDON SLAGLE WANTS TO MAKE AN INCREDIBLE TRANSFORMERS MOVIE
Source: Netflix