It is an absolute wonder that I have known the Turtles my entire life and have somehow found a way to be reintroduced to a familiar, yet completely new version of the TMNT in Teenage Mutant Ninja Turtles: Mutant Mayhem. Seth Rogen and Evan Goldberg's knack for realistic and relatable teenage angst and brilliant decision to use actual teenagers for The Turtles have brought a new and incredibly authentic life to the world's mutated teens that are poised to bring the franchise to new heights not seen since their original series. Paramount Pictures and Nickelodeon Movies' upcoming film is the start of a new era of TMNT.
4 Turtles, 9 Other Mutants, 1 Universal Story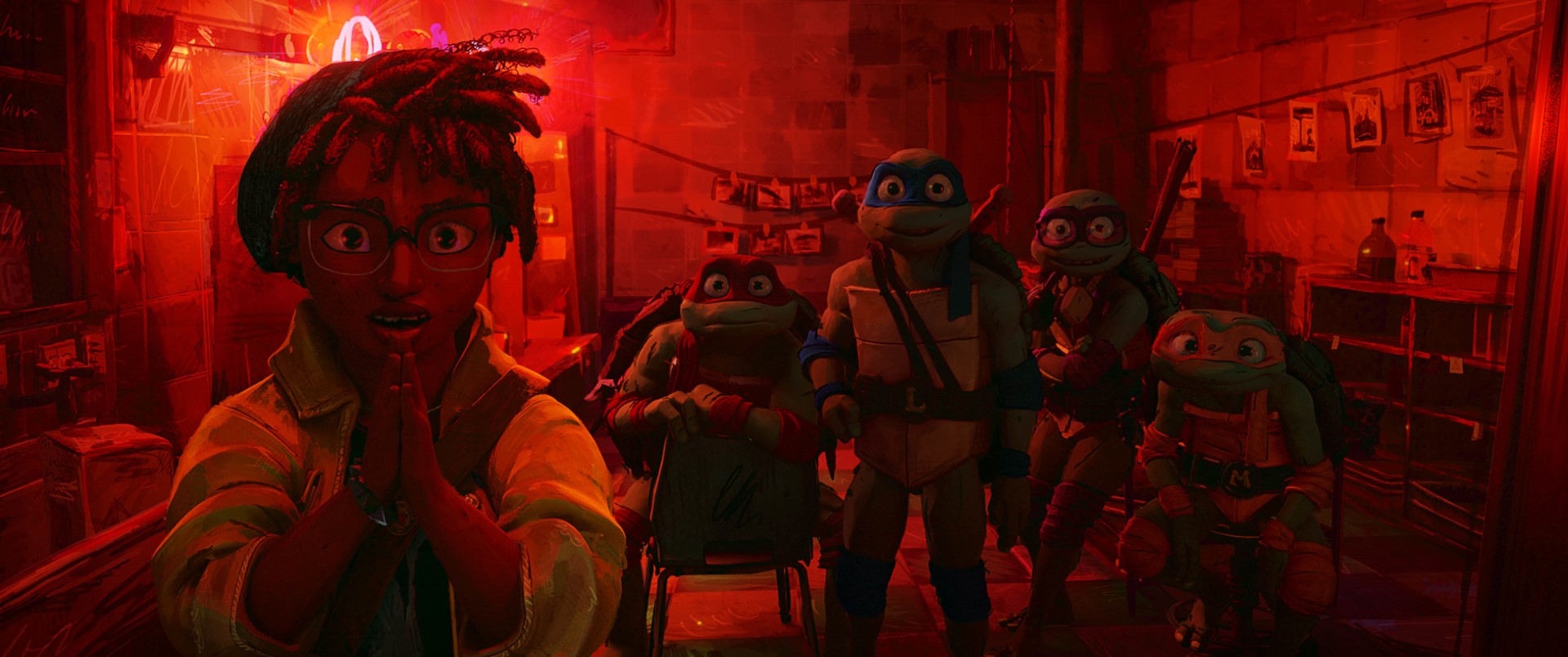 TMNT: Mutant Mayhem is about rejection and belonging. A staple of the franchise, but one that has never been tackled in the depth and approach this new film has. While it is understandable that four mutated turtles would not fit into the human world, it is often something mentioned and not explored. Usually, the brothers had each other, major threats, and a handful of humans to get by. But this time, even their human friend, April O'Neil, is not accepted and actively rejected; at least by her community. This feeling of rejection and wanting to be accepted is the driving factor for every character in the film and creates a connection between the numerous characters and directly to the audience.
RELATED: Spider-Man: Across the Spider-Verse Review – Every Frame is A Masterpiece, Every Note is a Symphony, Everything is Out of This World
The universal relatability of rejection and belonging is played out on all ends of the spectrum, giving the characters a wide range of motivations and actions. However, it also connects them to each other and the audience. TMNT: Mutant Mayhem is a masterfully layered emotional story that doesn't hold back because it is designed for a younger audience, it brilliantly goes harder and guides the audience to them. The surprising heart found in Seth Rogen & Evan Goldberg's previous works is once again surprisingly found amidst the unexpectedly emotional and subversively raunchy animated romp. It makes the film fantastically fun, but also profoundly resonant, in a way that great films and stories tend to do.
Teens Playing Teens is the Most Obvious Brilliance That Has Never Been Tapped
While there is a long list of things to love about TMNT: Mutant Mayhem, the obvious and most brilliant aspect is having teenagers play the TEENAGE Mutant Ninja Turtles. In the 39 years of TMNT history, this is probably the first time the "teenage" aspect has been made the primary focus. Granted, being a teenager in the 1980s is very different than now, but in general, all other on-screen iterations felt more like late teens and early adults. These turtles are teenagers that everyone will instantly relate to but then will be completely alienated and rejected by if outside of their age group.
RELATED: BST AXN TMNT Street Style Review – The Flyest Most Stylish Turtle Toys of Their Epic 40 Years
Micah Abbey, Shamon Brown Jr., Nicolas Cantu, and Brady Noon are perfect as the Turtles. They wonderfully bring the teen spirit to the turtles and create a new energy that the franchise has never had before. While the spirit of youth and fun are the big takeaways of their performance, they also perfectly exude the heavy dread, anxiousness, and general trauma of being a teenager. They are the heart and soul of the film, and have brought immense new life into the franchise.
In addition to the Abbey, Brown, Cantu, and Noon, the rest of the cast of TMNT: Mutant Mayhem is just as wonderfully cast. The energy of the Turtles is matched with joy by every other character. Ayo Edebiri as April O'Neil is great as a confident, smart, yet shy and reserved up-and-coming journalist. Her haunting back story and rise from it is wonderfully told through Edebiri's performance. She is a direct match and reflection of the Turtles and is essentially the fifth turtle. She rounds them out and keeps them grounded while also strategically joining them and gassing them up. Edebiri wonderfully enhances an already winning combination.
Everyone else… Is having way too much fun. The youthful spirit of Abbey, Brown, Cantu, Edebiri, and Noon radiates throughout the entire cast. Every other character is obviously being performed by someone who loves their job. There are dozens of other performers, all wonderfully cast and a pure joy to watch. But Jackie Chan and Ice Cube are by far having the most fun of everyone on the cast. I don't know if it's because they get to be completely silly and cartoony in a way their other roles have not allowed, or it's the teen spirit, or something else, but you can practically hear their smiles with every line. Their joy is palpable and infectious.
With the extensive cast and what must have been like breaking up a party, Jeff Rowe deserves tremendous credit. He expertly honed everyone in and got tremendous performances out of everyone. While fun is the takeaway feeling, the film's heavy pain, and darkness are fully experienced. Rowe guides the cast and the audience through opposite ends all over the emotional spectrum in sometimes jarring whiplashes. It's intense, it's everywhere, it's everything, but also kind of nothing. It's being a teenager.
As Beautiful as a Fresh-Baked Pizza
What brings the surprisingly powerful story, the radiating joy of the cast, and emotional resonance together, and enhances it, is the pure artistry of the animation and audio masters of TMNT: Mutant Mayhem. During the film's Hall H panel at SDCC, Rowe talked about how the goal of the film was to look like the drawings of a teenager who loves to draw but hasn't realized they're not very good yet. While that does make me feel worse about my drawing ability, I think it perfectly captures the spirit of the look of the film.
RELATED: [SDCC2023] Diamond Announces Amazing 2023 San Diego Comic-Con PREVIEWS Exclusives
The design and animation of the film are often crude. There are varying frame rates, squiggly overlays, and contrasting shapes that give the film a truly unique look. It's part comic book and part sketchbook in a way that truly feels like the drawings teens drew, instead of paying attention in class, came to life. It's cool, it's unique, and kind of ugly in a good way. It fully utilizes the medium, embracing the possibilities that only animation allow. It brings a bad sketch, a stray squiggle, or a lazy cloud to life in breathtaking ways.
Combined with brilliant sound design and engineering, the world of TMNT: Mutant Mayhem feels real. The city of New York feels grand yet cramped. The danger feels intense and frightening. Your emotions are being conducted by whoever is composing the score. It's an audio and visual masterpiece.
And to take it to the next level, TMNT: Mutant Mayhem has an awesome soundtrack that is integrated into the film. Granted I have a penchant for 90's music, so I might be a little bit biased. But what this film does, which only one other, live-action, film this year did, is intertwine the soundtrack with the movie. There are other films with great soundtracks that are wonderfully played throughout the movie. But when the soundtrack becomes part of the movie, it always takes it to a higher level for me.
The Beginning of a New Era
TMNT: Mutant Mayhem is going to be the surprise film of the year. While it is obviously aimed at a younger audience and fully lives up to the promise of being a family-fun movie, it is the surprisingly universal emotional narrative that transcends age and makes it a great film. It might be presented as a kids' movie, but it is going to be remembered as cinema much like Teenage Mutant Ninja Turtles (1990) was. It is a sleeper classic that you don't see coming.
I could go on about my love of TMNT: Mutant Mayhem for probably another 1,000+ words easily. The Turtles is the franchise that my life has never not known and there is a tremendous bias on my behalf. While I have liked every iteration, I can understand why previous versions did not work for people. However, unless you are one of those people complaining and trying not to directly say they aren't attracted to April's character design or accept her skin color, I think fans who were hoping for a more familiar version will embrace this new iteration. It is familiar but also an entirely new direction for our favorite terrapins.
For being an absolute joy and subtly delivering a powerful and transcendent narrative, I give TMNT: Mutant Mayhem a 10/10.
TMNT: Mutant Mayhem releases exclusively in theaters on August 2, 2023.
About TMNT: Mutant Mayhem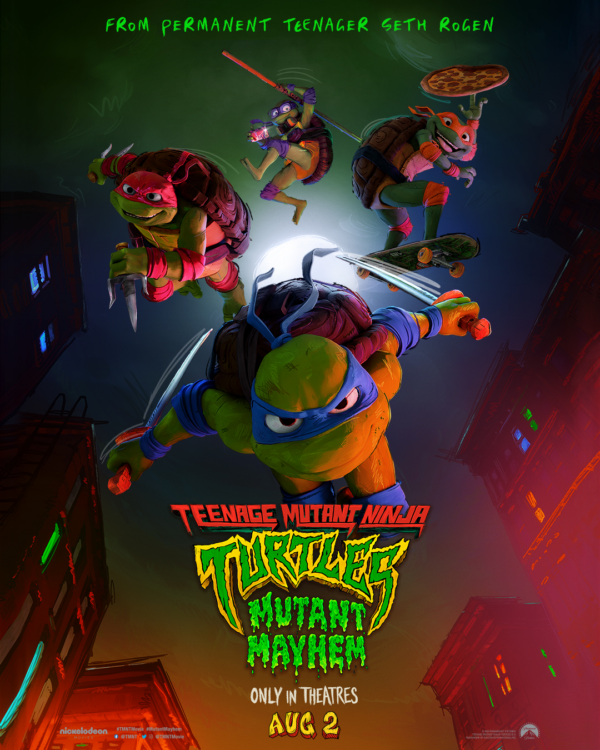 Release Date: August 2, 2023
Directed by: Jeff Rowe
Co-Directed by: Kyler Spears
Screenplay by: Seth Rogen & Evan Goldberg & Jeff Rowe, Dan Hernandez & Benji Samit
Based on the Teenage Mutant Ninja Turtles Characters Created by Peter Laird and Kevin Eastman
Produced by: Seth Rogen, p.g.a., Evan Goldberg, p.g.a., James Weaver, p.g.a.
Executive Producers: Ramsay McBean, Josh Fagen
Cast: Micah Abbey, Shamon Brown Jr., Hannibal Buress, Rose Byrne, Nicolas Cantu, John Cena, Jackie Chan, Ice Cube, Natasia Demetriou, Ayo Edebiri, Giancarlo Esposito, Post Malone, Brady Noon, Seth Rogen, Paul Rudd, Maya Rudolph
Post-Credits: 1 mid-credit scene

SYNOPSIS
After years of being sheltered from the human world, the Turtle brothers set out to win the hearts of New Yorkers and be accepted as normal teenagers through heroic acts. Their new friend April O'Neil helps them take on a mysterious crime syndicate, but they soon get in over their heads when an army of mutants is unleashed upon them.
Do you already have your tickets for Teenage Mutant Ninja Turtles: Mutant Mayhem? Are you excited to see the TMNT on the big screen again? Which character are you most excited to see in this new adventure? Share your thoughts and join the conversation on social media!
KEEP READING: 'TMNT: Mutant Mayhem' Sequel and New 2 Season Series in The Works