BST AXN released the flyest fitted TMNT toys out of all the iterations and companies in their entire history. For some reason, the fact it's the TMNT 40-year anniversary is not being as celebrated as it should be. And I think that is an absolute travesty. The TMNT are a cultural icon that deserve to be in the zeitgeist as much as anything else from the 80s. So, to the best of my ability, there will be Teenage Mutant Ninja Turtles news every Tuesday until Teenage Mutant Ninja Turtles: Mutant Mayhem releases. Granted this was published on a Wednesday, but the news about the BST AXN IDW figures was shared across our social yesterday.
BST AXN TMNT Street Style
In the very first episode of Teenage Mutant Ninja Turtles "Turtle Tracks" premiered on December 14, 1987. In that episode the Turtles were told to blend in so they dressed like the image above. April pointed out they weren't fooling anyone, but the Turtles were pretty proud of their get-ups and for good reason. Look how fly they are with their jackets and color-coordinated kicks and shades. They will never be this stylish in a series until Rise of the TMNT.
RELATED: Power Rangers 30: Boom! Studios Reveals Exclusive Covers for Unlimited Comics
While there have been numerous different iterations of the TMNT in toy form, none have ever captured the truly revolutionary fashion sense that the Turtles canonically have. That is until BST AXN released their TMNT Street Style line. The figures are absolutely gorgeous. Incredibly detailed and impeccably polished.
Accessories Galore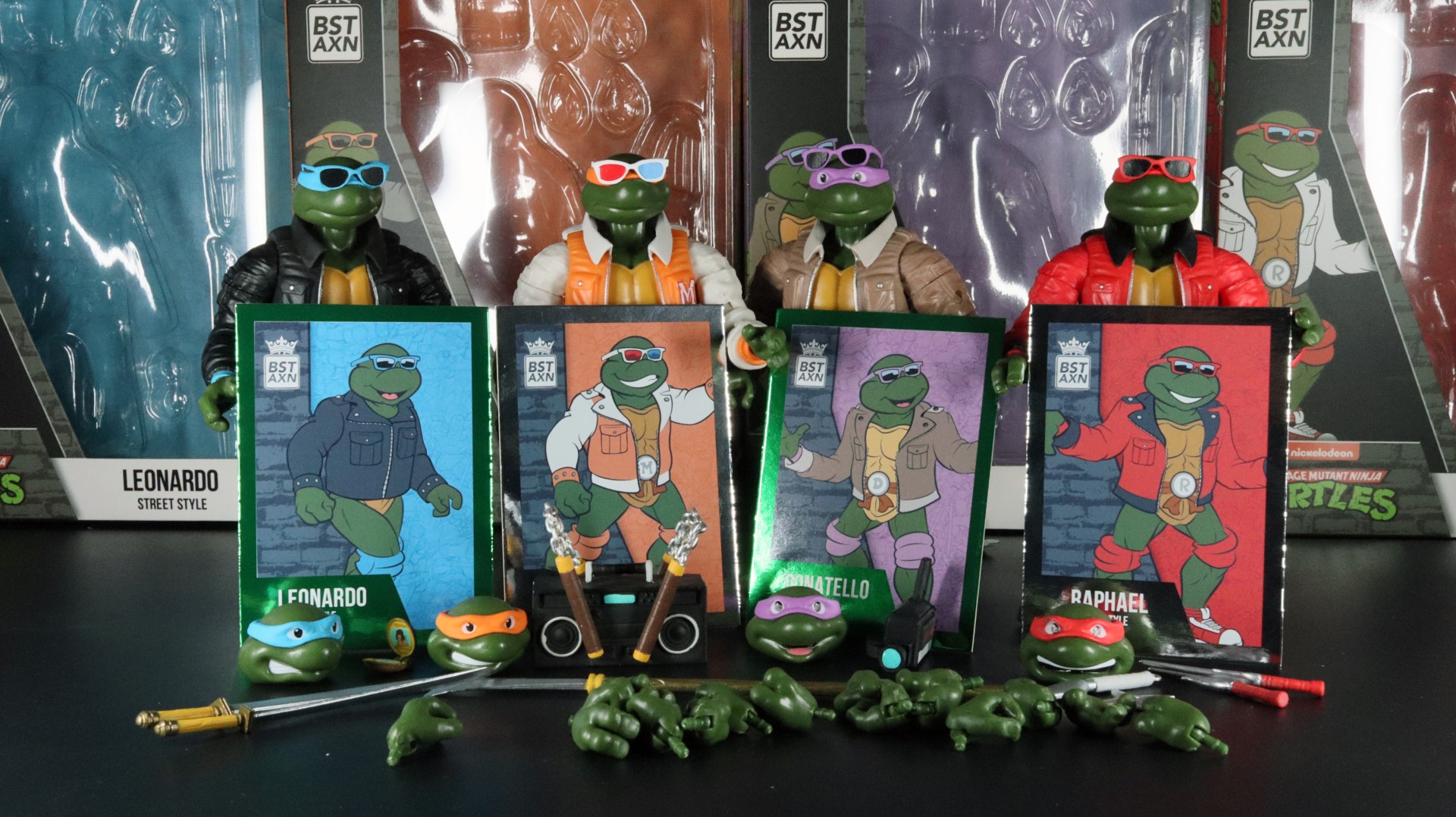 One thing I have come to appreciate much more as a more "mature" collector, is accessories. BST AXN delivered tremendously with the accessories with their TMNT Street Style with the works. Each figure comes with an alternate head sculpt, their iconic weapons, fists, holding hands, open hands, sunglasses, a trading card, and a 90s-inspired item. My set included a Shell Cell with Leo, a Boom Box with Mikey, a VHS Camcorder with Don, but a Kunai and Shuriken with Raph.
Raph's items were cool, but not exactly what you're hoping for with this set focused on style. BST AXN had multiple variations of each figure available. There is the standard figure, but then there is also a 1/4 chance of a letter jacket, 1/4 chance of a matching color jacket, and 1000 pieces total of the prototype figure available for each Turtle. Fortunately, I received the letter jacket Mikey and the color coordinate Raph. Unfortunately, the color coordinate raph comes with more ninja weapons. The standard accessories for Mikey are a Walkman and regular black shades instead of the 3D shades, and Raph's original accessory is a boom box.
I'm very torn when it comes to variants and chase items. While I loved the increased perceived value and differentiation, I don't like not being able to afford them most of the time and the decisions between food, gas, and variants I make.
BST Balance, Almost Great Articulation
I've already established the great look and wonderful accessories for the BST AXN TMNT Street Style figures, now it's time to talk about their range as a toy. As you can see from the picture so far, they are incredibly poseable and able to recreate iconic moments from the series. The figures are incredibly balanced and easy to stand. They can even balance and stand on a single leg or arm with a bit of playing. However, they are unable to do a convincing running pose on one leg, which is the ultimate mark of balance.
RELATED: BoxLunch Reveals New Adorable Disney Stitch Collection Celebrating 626 Day
The BST AXN Street Style figures have 31 points of articulation. The major points that they don't have are a hip rotation point and foot articulation. The ankle does have an articulation point which compensates for a lot. While the hip joint is a noticeable loss, the figure is still incredibly poseable. Combined with the balance it makes for a truly capable figure for play and for posing. At its scale and pricepoint, the BST AXN figures articulation, balance, and design are almost unfathomable, especially at the quality provided.
For People Who Like Boxes
If they haven't done so already, the packaging is where BST AXN puts the bow on living up to their name. The windowed box looks gorgeous with displaying the figure and color coordinating with the backdrop. While not the most impressive packaging, it will be a guaranteed attention grabber on your shelf. For those who like to let their figures breathe and have to throw away the boxes because their paramour gave them the ultimatum of either not buying more toys or taking the figures out and throwing away to boxes to have more space, BST AXN still has you covered.
The insert in the box makes for a great backdrop for your figure. It makes a nice little display that compliments and highlights the figure. While definitely not necessary, it's still an incredibly well-thought-out and executed bonus that benefits all collectors.
The BST
On top of being gorgeously designed figures, that have incredible articulation, well above average balance, brilliant packaging, and that x-factor of awesomeness, the BST AXN Street Style Turtles scale perfectly with the original Playmates line of vehicles and playsets. So if you happen to still have your original Party Wagon or Turtle Blimp, or even the reissues, you can use BST AXN figures with them. This also means they scale with all the liked-size toys of the 80s and 90s, like He-Man and G.I. Joe. So the combinations and complimentary figures to use with BST AXN are immense.
For the radical awesomeness in every aspect, I give the BST AXN TMNT Streety Style figures a 9/10.
The BST AXN TMNT Steet Style figures are exclusively available at Target. However, your best chances are on eBay.
What do you think of the BST AXN TMNT Street Style figures? Do you collect any other BST AXN figures? Is there another brand that comes close to the quality and options of BST AXN at the same pricepoint? Let us know your thoughts and share your collections with us on social media! You can also see my collection on Instagram @TheyreNotJustToys #TNJT.
KEEP READING: 'Disney Villainous' Celebrates 100 Years of Disney Magic with New Disney100 Edition