Hasbro has unveiled the latest action figures for Star Wars The Black Series, and the new reveals include a closer look at the designs for Ezra Bridger and more characters for the new live-action series, Ahsoka, streaming now on Disney+. The new action figures for the series are now available to pre-order at Hasbro Pulse, and they're expected to ship in November.
Among the new reveals for the Black Series are six-inch scale figures for Ezra Bridger, Chopper, Huyang, the HK-87 Assassin Droid, Morgan Elsbeth, and Marrok. In the first episode, we only got a brief glimpse of a hologram video of Ezra Bridger, portrayed by actor Eman Esfandi. This was essentially the character's live-action debut. However, it looks like the new figure reveal offers a better look at Ezra's live-action design and what we can likely expect when we are sure to see Ezra again.
RELATED: BoxLunch Unveils New Star Wars™ Collection Celebrating New 'Ahsoka' Series
NEW STAR WARS AHSOKA ACTION FIGURE REVEALS PROVIDE A BETTER LOOK AT LIVE-ACTION DESIGNS
Of note, Ezra Bridger comes with a lightsaber and blaster. He also still has the scratches on his face from his past fight with The Grand Inquisitor, which was depicted in Star Wars Rebels. Also, his outfit looks very much like the one he was wearing in the series finale of the show when he disappeared, which took place years earlier.
The whereabouts and conditions of Ezra Bridger are still unknown. Following the end of Star Wars Rebels, it was revealed by creator and showrunner Dave Filoni that Grand Admiral Thrawn and Ezra Bridger were still alive. A major subplot of Ahsoka is the heroes from Rebels, such as Ahsoka Tano, Sabine Wren, and Hera Syndulla hope to find Ezra and reunite with him if he is in fact still alive.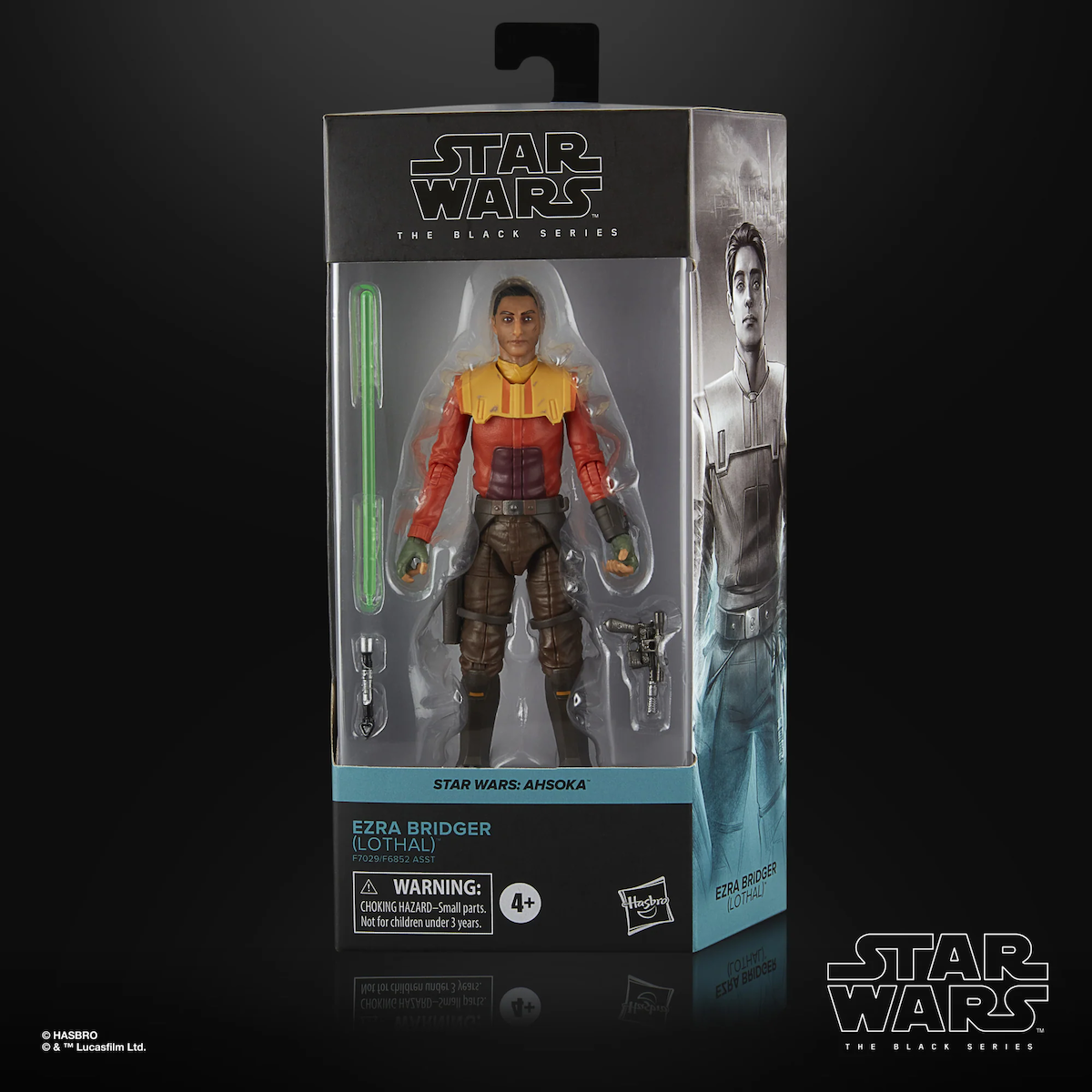 We know that Thrawn is alive, and he will appear in the new live-action series, with Lars Mikkelsen reprising his role. This will also mark the live-action debut of Grand Admiral Thrawn. As mentioned earlier, we got that brief hologram glimpse of Ezra while Sabine was in his home on Lothal, but we haven't seen him fully return in the flesh yet, or in a live-action flashback yet.
For longtime fans of Rebels, it's very exciting that all these characters who were previously only depicted in animated versions are finally appearing in a live-action series, especially Ahsoka Tano, who was a fan-favorite in The Clone Wars and Rebels. Rosario Dawson made her live-action debut portraying the character in Season 2 of The Mandalorian before she spun off into her own live-action series, which picks up many threads from the Rebels series finale.
RELATED: Ahsoka Episode 1 & 2 Runtimes Revealed!
Thus far, Ezra Bridger hasn't appeared yet, but it should be fun when he finally makes his presence known. I'll also be curious to find out who could be under Marrok's mask, and if he's really a former Sith Inquisitor. Heck, maybe Marrok is actually Ezra? The new Black Series action figures from Hasbro can be pre-ordered now at Entertainment Earth. The individual six-inch figures are priced at $24.99. Use code TheILL for 10% off in-stock items.
Ahsoka is streaming now on Disney+ with new episodes debuting on Wednesdays. The series is set to air through October with the season finale debuting on Oct. 3.
What do you think of the new Star Wars Black Series action figures for Ahsoka? Do you plan on picking any up? Are you looking forward to Ezra Bridger's return for Ahsoka? Let us know your thoughts about the news on The Illuminerdi's social media.
SOURCE: Hasbro Pulse
KEEP READING: Ahsoka: Natasha Liu Bordizzo Is Putting Her Own Fresh Spin On Sabine Wren For The Epic Star Wars Spin-Off In 2023