The historic Queen Mary is once again playing host to the immersive Halloween festival, Shaqtoberfest. Open from Thursday, September 28th to Sunday, October 1st, this event promises haunted trails, live entertainment, themed bars, carnival rides, and so much more.
A Haunting History
RELATED: SHADOW ISLAND: THIS 2023 HORROR FLICK IS A DULL CREEPER THAT TAKES TOO LONG TO DELIVER THE GOODS
The RMS Queen Mary, originally a luxury cruise liner, was transformed into a troopship during WWII. Painted battleship gray, she became nearly invisible in the mist, earning the nickname "Grey Ghost." After being docked permanently in Long Beach in 1967, she served as a hotel and tourist attraction. However, from 2020 to 2023, she sat vacant, allowing the spirits onboard to grow stronger. As part of the 2023 reopening, Shaqtoberfest invites guests to explore the ship's dark corridors and encounter the spirits that lurk within.
Shaqtoberfest has Attractions Galore
From navigating a stormy shore with sea creatures and undead seafarers to embarking on a treasure hunt aboard Deepsea Davey's pirate ship, Shaqtoberfest offers a plethora of thrilling experiences. Guests can also venture into a carnival taken over by Loopey Looney and her Clown Crew, or join the Cult of the Calabaza in a town obsessed with all things pumpkin. And for those looking for a musical escape, DJ Diesel is set to deliver a special set amidst a dazzling light show.
RELATED: HALLOWEEN HORROR NIGHTS GETS 2 NEW HORRIFYING EXPERIENCES FROM BLUMHOUSE
The LVCRFT Block Party Stage will feature DJ Reaper and Skeleton Sam, ensuring the party continues all night long. Additionally, guests should keep an eye out for spontaneous performances throughout the festival, including fire spinners, drummers, and more.
Themed Bars and VIP Experiences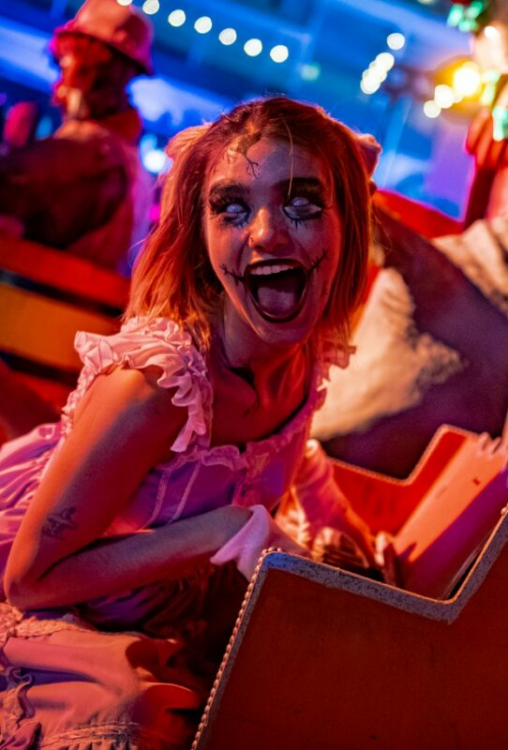 From the tropical vibes of a Tiki Bar to the carnival-themed bar where scares are always on the menu, Shaqtoberfest ensures that there's a drink for everyone. Those looking for an exclusive experience can head to Captain Shaq's Secret Hideaway or the VIP Slam Dunk Lounge, offering stunning views, exclusive photo ops, and a full-service bar.
RELATED: FIVE NIGHTS AT FREDDY'S INVITES FANS TO A TERRIFYING HALLOWEEN
Upgrade your Shaqtoberfest experience with unlimited access to carnival rides, including Bumper Cars, Zero Gravity, and the Wacky Shack Funhouse. And don't forget to grab a unique souvenir from the Merchandise Shaq or indulge in festive eats and treats from renowned vendors.
Are you ready for a Halloween experience like no other? Dive into the world of Shaqtoberfest and explore the haunted Queen Mary, enjoy thrilling attractions, and party the night away. Get your tickets now and prepare for a spooktacular time!
Dare to dive into the haunting depths of Shaqtoberfest aboard the Queen Mary? Which attraction do you want to experience most? Will any spirit from the "Grey Ghost" make a special appearance during your visit? And let's talk about that DJ Diesel set – was it the haunting highlight of your night? Share your eerie experiences, spine-tingling snaps, and spectral stories with us on social media!
Source: Shaqtoberfest
KEEP READING:KILLER KLOWNS FROM OUTER SPACE: THE GAME – A CULT CLASSIC REIMAGINED INTO NEW KILLER GAME