As conventional as George C. Wolfe's Rustin can be, its success wouldn't have been made possible without the central performance of Colman Domingo. Like Wolfe's previous film, Ma Rainey's Black Bottom, Rustin's greatest gift comes with its lead actor.
Ma Rainey had the late Chadwick Boseman gracing the screen for one last time in the most moving turn of his career. At the same time, the aesthetic was perhaps too televisual and distracting from its emotional power. Rustin suffers from the same fate, but it's more cinematic than Wolfe's previous effort.
RELATED: Captain Laserhawk: A Blood Dragon Remix – Adi Shankar and Ubisoft's Retro-Futuristic Rebellion is Now on Netflix
Domingo brings to life civil rights activist Bayard Rustin, who helped Dr. Martin Luther King Jr. (Aml Ameen) organize the March on Washington in 1963, despite pushback from the NAACP's Executive Director Roy Wilkins (Chris Rock) and resistance from the political side, with state representative Adam Clayton Powell Jr. (Jeffrey Wright) purposefully leaking elements of Rustin's personal life to discredit him and the movement.
Apart from being heavily involved in movements of civil disobedience, Rustin is openly gay and gets entranced in a love affair with Elias Taylor (Johnny Ramey), a preacher who, despite being married and raising a family, also has feelings for Rustin. Wolfe attempts to paint a complete picture of who Bayard Rustin was in the private and public sphere, aiding Domingo in his portrayal of one of the most inspirational figures in American history and a leader in the civil rights movement.
Colman Domingo is Exceptional as Bayard Rustin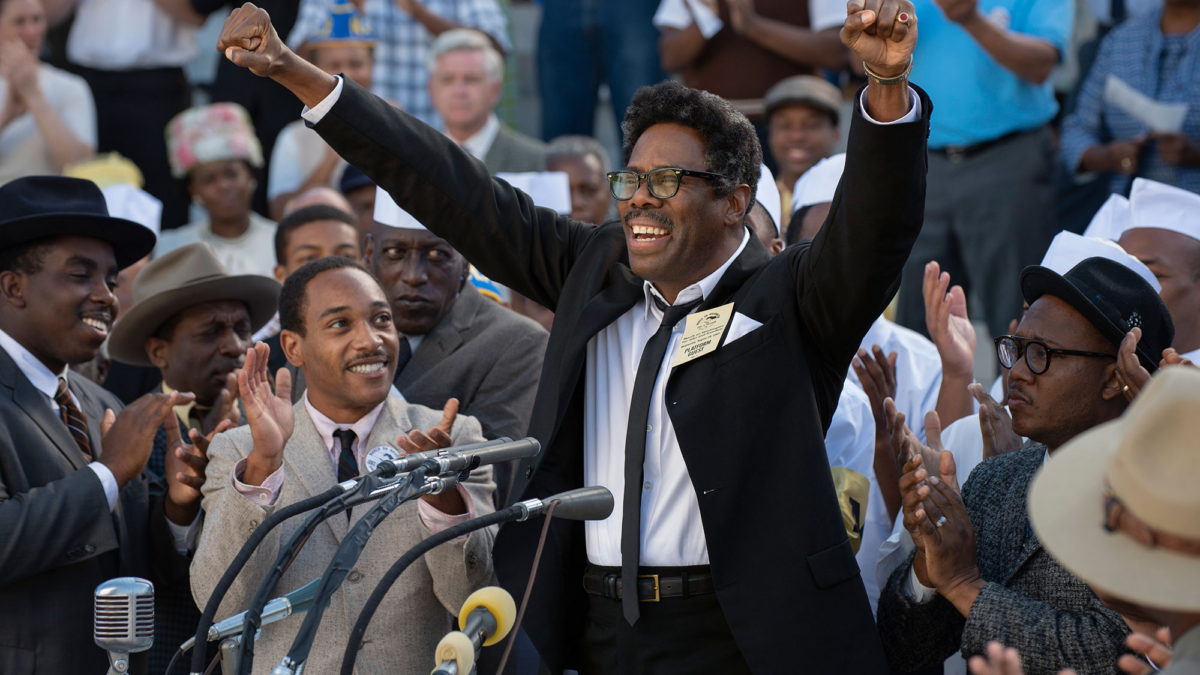 While the film is initially hard to follow as it introduces a thousand moving parts at a breakneck pace, Domingo anchors the film's emotional resonance from the minute it opens, resulting in one of the best — if not the best — turn of his career. Domingo's career is full of big (and small) legendary performances on screen. Most recently, Domingo magnified the screen in Janicza Bravo's Zola and Wolfe's Ma Rainey's Black Bottom, with the latter likely giving the filmmaker enough confirmation that he would indeed pull off Bayard Rustin.
RELATED: Zack Snyder Confirms Rebel Moon and Army of the Dead Are In The Same Universe – Here's How They Connect
And he absolutely does, playing Rustin in a thoughtfully vulnerable light. We see him at his highest, rounding up as many people as possible to join in on the movement and fighting against an establishment that doesn't welcome homosexuals — but worse of all, alleged communists — in the fight against civil rights. But we also see him at his weakest, grappling with his sexuality and dark past (flashbacks are shown with unflinching brutality in black & white) that he doesn't want to talk about. Both sides of him are equally compelling to watch, with Domingo always giving the right notes to his scenes. He never exaggerates and is always composed.
Supporting performances from Rock, Wright, Ameen, and CCH Pounder are also excellent, though the characters are heavily underused and relegated to one-note traits. It's especially apparent with Rock and Wright's characters, who, while compelling, aren't as layered in their on-screen presence as Domingo or Ramey, who becomes Rustin's singular revelation. As much as awards pundits have already positioned Domingo as a major Oscar contender, all of them are sleeping on Ramey's nuanced and complex portrayal of Elias, who teeters the line between conforming to his religious beliefs or his challenged mind telling him to follow his heart. It results in an achingly devastating turn that gives his final scene an incredible amount of poignancy.
Rustin Suffers from a Generic Aesthetic and Presentation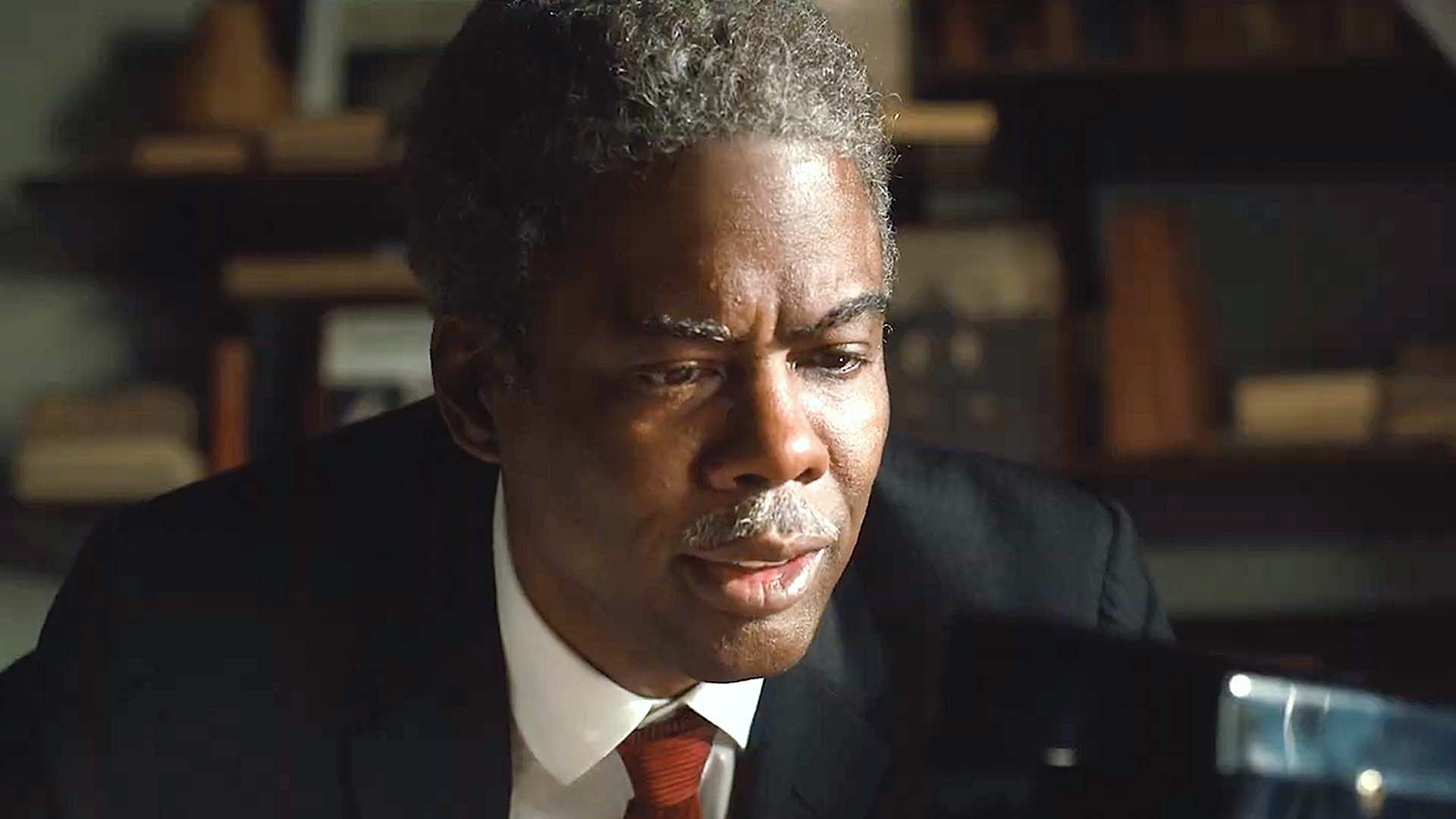 Where Rustin succeeds in drawing compelling performances from a star-studded cast, it unfortunately fails at presenting its subject matter in a way that doesn't feel generic or conventional. Its three-act structure is as paint-by-numbers as you can get, starting with introducing each character as a piece of the puzzle for Rustin's journey and slowly revealing a conclusion engineered to tear people up. The one person at my screening fell for it and was in tears as the march occurred on screen.
I'll admit Rustin's journey was certainly emotional, but each moment Wolfe would tug in the heartstrings was seen a mile away because of how they were treated in past films centering around the same subject matter. But it's also lethargically shot, with Tobias A. Schliesser's digital cinematography never focusing on a singular aspect that would make it shine or at least feel visually impactful.
RELATED: THE RAILWAY MEN Trailer Reveals a Riveting Tale of Bravery on Netflix
The use of archival footage peppered into the movie certainly helps, and the black & white sequences are its most potent, but the green screens and soundstages are obvious, hindering the grand scale that it apparently tries to stage.
Thankfully, Domingo's presence is enough to save Rustin from being a mediocre effort from Netflix. It could've been better, but each actor gives their respective all, with Domingo coming out on top as one of the major contenders of this Oscar season. With this and The Color Purple on Christmas, he will be on everyone's radar very soon.
7/10
Rustin is now playing in select theatres and will release on Netflix on November 17. What did you think of the movie? Do you think Colman Domingo has the chance of being nominated for Best Actor? Let us know in the comments below, and be sure to follow us on social media!
RELATED: CANDELA REVIEW- AN INTERCONNECTED TALE OF LONELINESS