The CW has just announced the birth of yet another Arrow spin-off series before Oliver Queen (Stephen Amell) has shuffled off this mortal coil. Yes, that's right. The Arrowverse may be losing its first-born, but it's gaining yet another child to add to its repertoire.
This is quite a bold move, given the declining ratings of even The Flash, which remains the network's #1 show despite some blunders in the last few seasons. Not to mention that Batwoman has yet to premiere, and the critical reception to its pilot has been mixed at best. There's also the fact that Arrow has been at the bottom of its 'verse's barrel lately, both in terms of ratings and reviews. But that's alright, because the new show is starring the offspring of the much beloved Olicity coupling – so it's guaranteed to be a success, right?
Baby Arrow Takes Aim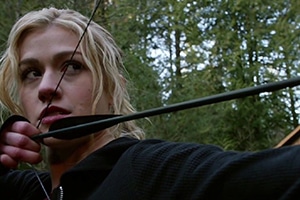 Well, that's precisely where the problems with this spin-off start. Fans have been clamoring for a Birds of Prey-style spin-off ever since more than one Canary was introduced on Arrow, so it's a good thing that Laurel (Katie Cassidy) and Dinah (Juliana Harkavy) have signed onto the new show. But as much as Oliver and Felicity's (Emily Bett Rickards) relationship has been a talking point for the Arrowverse's flagship series, their romance hasn't done much for ratings in recent years – nor did their daughter's presence last season contribute to the show's increase in quality.
If she were set to join the Canaries and become a bird of her own, it might be one thing. Katherine McNamara is a charming young actress, and it would make sense to have Mia learn from the Canaries who came before her. But instead, she's going to take on the title of Green Arrow herself – which makes the proposed series sound like Arrow 2, with her as the title character. Oliver and the Green Arrow mantle have become iconic over the course of the last seven years, but with the show ending, perhaps it's time to retire both.
Canaries In Front
After all, daughter or no, audiences aren't likely to feel that Mia has "earned" the title with 1.5 years of onscreen experience. And far be it from me to give any credence to those who believe feminism is a disease and SJW is an insult – especially since the Green Arrow himself is a self-avowed one – but making her take on the title feels like a misstep similar to having Batwoman claim Batman's suit will only be perfect when "it fits a woman."
Laurel, who has been mistreated since Arrow first premiered in 2012, makes far more sense as a leader and the central figure of the next chapter. After all, she never really got to live up to her Black Canary legacy and had to divide it up between 4 characters, including another one played by Cassidy. Even Dinah, who has been paying her dues since Season 5's "Who Are You?" has the history to bring over fans and merit center stage.
By shifting focus to Mia and keeping the focus on there being a Green Arrow, the showrunners risk fans only watching with the hope of seeing Oliver and Felicity again. Or alternately, not watching because they're tired of the former show.
On the bright side, airing a backdoor pilot during Arrow's last season is a great way to gauge the audience's reception and hopefully retool the final product for longevity. May it go the route of The Flash rather than CW's more recent failed backdoor pilot, Wayward Sisters. We'll be keeping watch either way.