You already love Squid Game and you've probably been planning to check out All Of Us Are Dead, but where do you go from there? Welcome to the world of Kdrama on Netflix.
Before Netflix started producing their own Korean content, they would buy up rights to home-grown Kdramas and export them to the world. There was a bit of a learning curve, with them first hoarding the rights but not releasing the series until it was done airing in Korea (something Disney+ has unfortunately decided to do years later). But soon enough, the streaming behemoth realized Kdrama fans wanted to watch new shows as they aired and complied.
RELATED: DREAMCATCHER ANNOUNCES SURPRISE COMEBACK FOR APRIL 2022
Unfortunately, the weekly schedule means that these Kdramas often get overlooked by general audiences in favor of the latest 10-episode drop that's begging for a Season 2. But fear not, The Illuminerdi is here to guide you through some completed series that are well worth your time. These picks will cover several genres, and they have been handpicked for your binge-watching pleasure. (That being said, Twenty-Five Twenty-One and Business Proposal are highly recommended romcoms for those of you in a weekly live watching mood.)
Melo Kdramas Where Love Heals All Wounds
It's Okay To Not Be Okay
It's Okay To Not Be Okay is a romance drama with some dark edges, tentatively tackling issues of mental health that are often very taboo in Korea. Protagonist Moon Gang Tae (played by Kim Soo Hyun) is a healthcare worker at a psychiatric hospital, spending his days caring for disturbed patients. His evenings don't belong to him either, as he lives to help his older brother Sang Tae (Oh Jung Sae), who has a developmental disability.
That daily routine is broken when he reunites with a mysterious woman from his youth, children's author Go Moon Young (Seo Ye Ji), and falls in love almost immediately. The only problem is that her antisocial personality leads to plenty of clashes, both professional and personal, that Gang Tae feels a responsibility to solve for her. Despite the turbulent push-and-pull between them, their relationship helps both of them break out of some of their unhealthy patterns and face the demons of their shared past.
My ID Is Gangnam Beauty
My ID Is Gangnam Beauty is a college drama that may feel very slice-of-life, but tackles another side of Korean culture that often feels taboo to Western viewers: beauty standards and plastic surgery. After years of being intensely bullied for her looks, Kang Mi Rae (played by Im Soo Hyang) decides to makeover her life before college and becomes nearly unrecognizable through plastic surgery. Though her goal was to escape the nasty comments that seemed to follow her everywhere, she didn't count on now being the topic of a very different conversation: assumptions about the kind of girl she was based on her obviously "fixed" face.
At orientation, she runs into Do Kyung Seok (Cha Eun Woo), an old classmate she hasn't seen since middle school – and yes, a favorite trope in Kdrama is returning to those you knew (usually after a misunderstanding) in your childhood. Despite her wildly different appearance, he almost immediately recognizes her and is roped into her paranoid secret-keeping lest anyone else confirm how much of it she wasn't born with. Though many screwball comedies have emerged from makeover plots, Gangnam Beauty is a much more contemplative take on how much women are forced to care about their looks and how even being blessed with the best is a curse of a different nature.
Madcap Action & Comedy
Vincenzo
But everyone loves a little screwball every now and then, and Vincenzo more than delivers among the violence and action. Kicking off in Italy, mafia consigliere Vincenzo Cassano (played by Song Joong Ki) abandons his adoptive family after a threat to his life and heads back to his motherland of Korea in search of gold and glory. Too bad for him that the building where he stashed his future fortune is being taken over by the shady Babel Group, and he must represent its beleaguered residents in order to recover his riches.
Unintentionally aiding him in his quest, lawyer Hong Cha Young (Jeon Yeo Been) joins his vendetta against the Babel Group after a tragedy strikes. Together they will beat up thugs, seduce CEOs, and set fire to all kinds of things until justice is served and at least one of them is among the wealthy elite once more. Of course, there is a little romance and a lot of newly-formed friendships as Vincenzo realizes maybe some humans are as good as gold, but the most important rule of this series is to just have a good time.
Crash Landing On You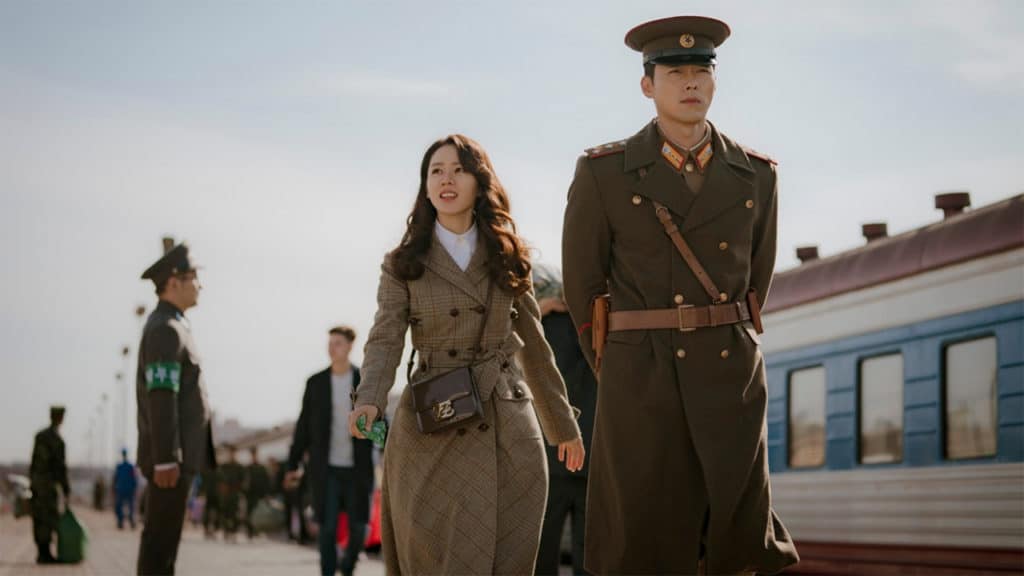 The uneasy standstill between North and South Korea has been the subject of many a Kdrama, but few have proven as adept in straddling the line between comedy and drama as Crash Landing On You. When fashion mogul and South Korean heiress Yoon Se Ri (played by Son Ye Jin) finds herself in North Korean territory after a freak paragliding accident, she must rely on the gruff army officer Ri Jung Hyuk (Hyun Bin) for help despite his aversion to anything that comes from south of the border.
Between faking a believable northern persona and hiding in plain sight from the more unseemly forces in the military, Se Ri also develops something of a Snow White and the Seven Dwarves-style bond with Jung Hyuk's platoon. Though their adventures and mishaps do not bring about the great reunification that some citizens of both countries would wish for, they do help characters on each side grow to understand the other and do their part to assuage the ongoing conflict.
Paranormal Kdramas
Hotel Del Luna
There is an entire curious subset of Kdrama devoted to dealings with spirits, ghosts and afterlife – and Hotel Del Luna is a perfect amalgamation of the tropes often found in such stories. Shackled to the eponymous hotel for eternity due to the overwhelming rage she felt in her life, the seemingly immortal Jang Man Wol (played by Korea's favorite soloist IU) is in search of a replacement. Thanks to a proverbial deal with the devil his father made, Goo Chan Sung (Yeo Jin Goo) is just the man for the job.
Though he is understandably reluctant at first, Chan Sung soon grows to care for the undead spirits that roam the rooms and learns to help the guests pass through to the next life. He also works out the finances – though why such an establishment would need earthly cash is beyond my understanding – and even pushes the staff to work out their own spiritual troubles in order to move on from this world. In true Kdrama fashion, there must be some romance, but mythology and the afterlife take center stage.
Uncanny Counter
Less benevolent spirits reside in Uncanny Counter, which deals with a team of noodle shop employees who have been divinely appointed to hunt demons. So Moon (played by Cho Byeong Gyu) is the newest and youngest recruit, and his over-eagerness on the job gets his teammates in trouble more than a few times. Of course, a Kdrama is not a Kdrama is there are not murky incidents in our protagonists' past which actually intertwine to resolve a big mystery, which is how Moon is connected to de facto leader Ga Mo Tak (Yoo Joon Sang).
The plot isn't all that intricate, but the fight sequences are some of the most enjoyable in the business, and it's always fun to see how the Counters will find their way out of the latest demonic mishap. And, as always, there are heartstrings being pulled by various scenes with the team's family members – not to mention the way they become family to one another.
Check out the rest of our Netflix Kdrama recommendations on page two: