Universal Studios always has brought premier special effects and ingenuity to their Halloween Horror Nights 2019 event. And they have loaded the park with 10 mazes. One of them being Jordan Peele's Us, based off the film with the same name. Us has wonderful production design that has you feeling like you are walking through the film itself, so make sure you've watched it before you visit. Unless you prefer to go in blind – which is exactly what I did.
Once you've witnessed the magic of Us, or in preparation to do so if you so choose, experience Halloween Horror Nights 2019 for yourself. The Jordan Peele's Us event offers a tour that takes you from the Santa Cruz Beach Boardwalk funhouse to the Wilson family's vacation home. There's even a set that leads you directly to the finale in the underground domain of the doppelgangers.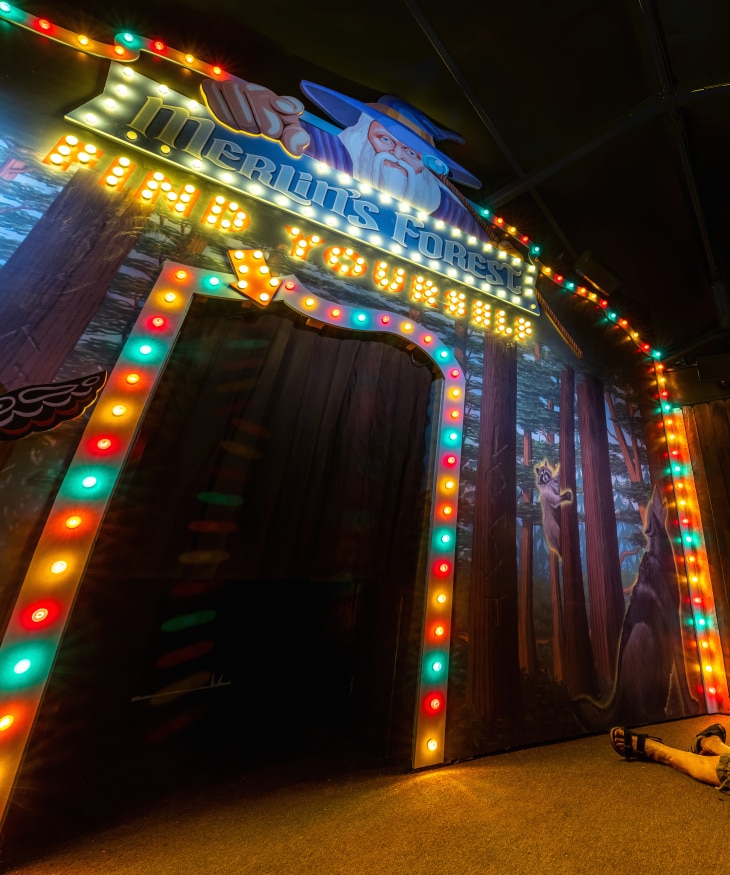 Halloween Horror Nights 2019: A Memoir
Having yet to see the film myself, this maze brought a lot of fear and tension to my exhausted brain. After spending 30 minutes coercing one of our fellow Illuminerdi members to join me through the Toxic Tunnel and back, I was drained and left unprepared for the horrors of what was inside the carnival tent.
The opening hall of mirrors leaves you lost and confused. The jump scares, merely from Act One of the maze, leave you wondering if the reflections of yourself are actually you or the marvelous scaractors within the maze. Major props to them for a job well done.
The rooms get smaller and smaller with every corner you turn, with each set piece perfectly planned to bring you closer to your own fears within. Even down to the last room, pitch black with subtle glimpses of the doppelganger's holding hands, said fears encircle you. Escape doesn't feel like an option up until that last jump scare.
Fair warning: make sure you follow the right path, or you might end up exiting too early and into a room filled with scaractors. Which could create nightmares of a different sort, not that I'm speaking from personal experience or anything.
I, for one, was a little intimidated given that I wasn't familiar with the source material. As such, I felt more and more curiosity as I progressed. For anyone who hasn't seen the film and experiences this attraction, it will definitely make you want to watch the film and compare it to the maze. I know I did.
Jordan Peele's Us is just one of 10 maze you can experience at Halloween Horror Nights 2019 at Universal Studios Hollywood. Open select nights until November 3rd.