The very concept of Jojo Rabbit is mind-boggling, as far as feel-good movies go. A fanatic 10 year-old with dreams of entering Hitler Youth finds a Jewish girl living in his dead sister's bedroom wall, and the whole thing's a comedy? It's the kind of thing that has to be seen to be believed, and hopefully with Taika Waititi helming the movie, audience will indeed see it.
Of course, Waititi isn't merely the director and writer of Jojo Rabbit. As trailers have shown, the cherry on top on the Nazi pie is that the acclaimed Thor: Ragnarok director also plays protagonist Jojo's (Roman Griffin Davis) imaginary friend, Adolf Hitler. Rather than trying to reach any approximation of the real Führer, which makes sense when dealing with a child's mind, Waititi plays a goofy caricature. In doing so, he draws as many laughs from his one-liners as from the uncomfortable situation.
Jojo Rabbits Deals in Dissonance
The cognitive dissonance doesn't end there, as nearly the entire cast plays Nazi officers or would-be soldiers with brilliant comedic timing. Or rather the brilliant skill of making audiences cackle at their outlandish lies and complete buffoonery. Because, make no mistake, Jojo Rabbit is absolutely making a mockery of the Third Reich. It even sets the story at a time when everyone knows they're losing the war but have to carry on with the charade, just to drive the point home. The awkward part is that every scene must contain at least one terrible joke about Jewish people because, after all, everyone's a Nazi.
There is one Jewish character in the midst of all the chaos, Elsa (Thomasin McKenzie), who grounds Jojo Rabbit and helps the actual Jojo face reality. The crux of the story falls on her shoulders, and such, young McKenzie must carry the burden of being the movie's "straight man." She portrays Elsa which a maturity beyond her years and unfathomable anger, which comes from having lived too much and yet not at all. All the performances are commendable, but hers stood out precisely because it was so different.
The way that she changes Jojo's perception of her, and therefore of Jewish people as a whole, affects the tone of the entire movie. It even affects his visions of Adolf, which go from chummy to downright cruel. That is one of the best narrative tricks of the film, along with a focus on shoes that I shouldn't explain here. If nothing else, Jojo Rabbit further cements Waititi as a remarkable storyteller.
Dig a Little Deeper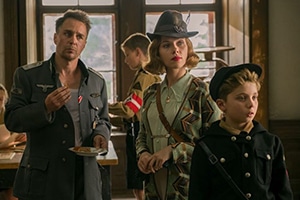 Jojo's mother Rosie (Scarlett Johansson) is the only other sane character to appear onscreen, making one wonder how such a staunch fighter for the Resistance could have raised such a Hitler fanatic. Especially considering that his offscreen father is more of the same. This is one of the places where Jojo Rabbit's satire falls apart if it's inspected too closely. The script doesn't try to investigate how children are indoctrinated or how such lunacy spreads, it merely accepts that such things happen and that they're terrible.
The scenes depicting children at war are some of the best in the film, since the humor and horror clash almost effortlessly. But perhaps Jojo Rabbit would be elevated even more if the morally gray characters like Captain Klenzendorf (Sam Rockwell) were given a chance to do than metaphorically wink at the camera in the knowledge that everything the kids think they know is wrong. That being said, he and Alfie Allen's Finkel have some of the funniest gags in the whole thing. (And let me know if you get the feeling their characters are together, which would add another layer.)
All that being said, Jojo Rabbit is a fascinating look at WWII through a humorous lens. It just doesn't quite reach the cinematic heights of, say, Roberto Benigni's Life is Beautiful. Nevertheless, in this day and age, it doesn't hurt to have a reminder that Nazis are idiots and even Germany disowned them.
Jojo Rabbit premieres in American theaters on October 18h, with a runtime of 108 minutes. It is rated PG-13 for mature thematic content, some disturbing images, violence, and language.