Ever since Venom 2 was first announced, long-time comic fans wondered if the Sony villain would connect to his Marvel hero. Despite Tom Holland being prevented from meeting his counterpart due to contracts for the first film, and despite its general lackluster reviews, Venom still made bank at the box office. With the sequel naturally under way and a Sony-Disney agreement barely eked out, will Spider-Man swing by Venom 2 after all?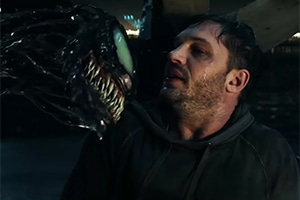 While director Ruben Fleischer was busy with Zombieland Too commitments, the original's co-writer Kelly Marcel is returning to pen Venom 2. And with Andy Serkis at the directorial helm, at least there'll be a Marvel reunion of sorts. Serkis is far better known for his acting than directing, but perhaps his work on Mowgli: Legend of the Jungle is what landed him the gig.
Details are sparse about the storyline itself, and it seems the script hasn't been completed yet. But one thing is for sure: Woody Harrelson will absolutely be joining Tom Hardy and Michelle Williams in Venom 2. Harrelson was upgraded from his mid-credits Cletus Kasady cameo in the first film to a lead character and undoubtedly Carnage in the sequel. How he will fit into the lives of Eddie Brock and Ann Weying has yet to be seen, but Marvel fans will surely rejoice over the iconic rivalry coming to the big screen.
It sounds like that's not the only reason to celebrate, though. At least not if Sony has anything to say about it…
Venom 2 Spins A Spider's Web
Tom Holland still has at least one more Spider-Man solo film left, as well as an appearance in either a different solo film or a team-up. But while he's not fulfilling his Marvel and Disney movies, it seems he'll play the wall crawling superhero over in Sony's neighborhood at least once.
As GWW reported, he is now in talks for Venom 2, as a cameo appearance. That may not sound like much, but it's a heck of a lot closer than he's gotten previously. Spider-Man appearing in Venom's orbit would inextricably link the two universes together, as well as open the door to full-blown crossovers in the future.
Tom Hardy was once quoted as saying he'd like Venom two launch at least two sequels as well as spin-offs. If the sequel is as successful as its predecessor, then perhaps the final film in the "trilogy" could be Eddie Brock facing off against Peter Parker. Who wouldn't want to see that?
What would you expect to see Spider-Man doing if he had a scene or two in Venom 2? Let us know in the comments below.