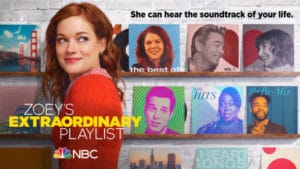 NBC might just have won this year of season premieres with Zoey's Extraordinary Playlist, a breathtaking comedy drama that happens to also be a musical. No idea how this show flew under my radar, but that is why it was so incredibly smart for NBC to air the pilot on social media. I happened to come across the show on my Facebook feed, but you can also watch it on Youtube after reading this review.
Zoey's Extraordinary Playlist follows Zoey (Jane Levy), who happens to be an incredibly smart computer coder living her best life in San Francisco. Or at least trying to. After an unusual visit to the doctor, she finds herself with the ability to hear the innermost thoughts of the people around her. However, these thoughts only come across in the style of music. Zoey questions her sanity, but with guidance from her music-loving neighbor Mo (Alex Newell), she starts to see it as a gift rather than a curse. In the first episode, we are introduced to Zoey's whole world. We meet Mo, her neighbor that tends to play music a little too loudly. Her best friend and co-worker, Max (Skylar Astin), and even her new love interest, Simon (John Clarence Stewart).
There are many reasons why this show has the potential to skyrocket to fame. The first being that Zoey's Extraordinary Playlist is exactly the type of show fans of Glee have been waiting for. Though following in that show's footsteps by using top artists and songs for musical numbers, the plot has a more sophisticated feeling. The majority of Glee fans that turned in every week to watch the show years ago are now in their 20s or 30s. So, creating a show about a woman in the same age range as the fans and adding a bit of the same underdog feel and a splash of songs we already love is a perfect recipe for success.
Plus, one of the new co-stars of Zoey's Extraordinary Playlist is none other than Glee legend, Alex Newell. Getting his start on The Glee Project, Newell landed a 2-episode arc on the hit show, which turned into a recurring spot. However, Newell isn't the only musical talent with is own following. Skylar Astin has a massive fanbase from his role in Pitch Perfect, as well as his role in Crazy Ex-Girlfriend. Plenty of fans would have turned into the show for just one of these amazing talents, but to have both in one show? You know it's going to be nothing less than flawless.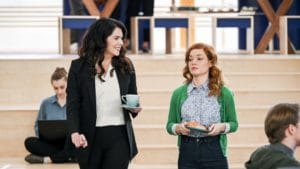 But the cast power doesn't end there. Guest starring as Zoey's boss, you have TV legend Lauren Graham, best known for her role as Lorelai on Gilmore Girls. While we don't see a lot of Graham in the pilot episode, I am excited to see more and more of this relationship between mentor and mentee take place.
RELATED: YOUNG FRANKENSTEIN MUSICAL COMING TO ABC
Zoey's Infinite Playlist Is More Than Just Fluff
Besides the strong cast, what really makes this episode stand out is the plot and writing. While it's fun to watch Zoey interact at work and with her friends, a real plot point is her family relationships. Zoey is struggling with losing her father (Peter Gallagher) to a rare neurological disease called Progressive Supranuclear Palsy. These small glimpses of her family life help bring down the comedy and add real emotion. It was these moments that helped fans be able to deeply and quickly connect with Zoey in the first episode, something that doesn't tend to happen with pilots. One of the most amazing moments of this pilot was when Zoey got a glimpse into her father's mind. This moment will leave you crying, so have tissues ready.
Besides the writing being outstanding, the musical choices for the shows debut were on point. It never ever EVER hurts to bring out a Beatles' classic, especially to kick off a new musical series. The first number of the show is "Help" by The Beatles, and it's also the first chance to see how this show is going to merge plot with music. The song doubles as the first introduction to Zoey's new power. Honestly, the performance did not disappoint. You will be singing and laughing while you watch Zoey try to escape the dancing mob through the streets of San Francisco.
While the classic Beatles song set the pace, the whole episode was filled with great performance after greater performance. Zoey realizes that maybe not everything is what it appears to be with her new crush Simon, usually known for his very upbeat personality, after she finds him singing "Mad World" by Gary Jules. Now, while this number wasn't a big production like "Help", it was perfectly delivered. The raw emotion dripping down in his tears as the piano plays softly in the background let John Clarence Stewart shine without overpowering the simplicity of the moment.
However, the number that stole the show in the pilot episode was when Zoey get's a hard look of how some of her male co-workers think. This number was perfectly placed as a pickup point during the plot after Zoey visited her parents. And while this number won't have you sobbing like "True Colors" by Cyndi Lauper that is performed by Zoey's father towards the end of the show, it was the perfect choice to bring in some comedy. Watching two of her co-workers try to pick her brain for any advantage, we are quickly reminded of the uphill battle most women face in a male dominated world as they break out into "All I do is Win" by Dj Khaled. Not only was the performance spot on, but the small one liners Zoey says during the number was worthy of snaps all around.
It is rare for a show to have such success with a pilot episode. This is because so much information needs to be crammed into one episode, in the hopes of getting people interested to tune in for the second episode. However, Zoey's Extraordinary Playlist isn't like most shows and that is clear by how wonderfully connected the pilot episode felt. Everything was on point from the cast, writing, and even the musical numbers. Now while the show will not return until February 16th, 2020 with its second episode, NBC has posted the pilot episode all over social media for people to watch. With over 5 million views on Youtube alone, it's clear that Zoey's Extraordinary Playlist deserves a spot on everyone's must watch list. Watch the pilot below and let us know what you think of this new show.