(Warning: The following contains spoilers for Go Go Power Rangers #27, by Ryan Parrott, Sina Grace, Francesco Mortarino, and Eleonora Carlini, on sale now)
Go Go Power Ranger #27 might not be the best or most shocking issue of the series, but it's still a strong issue.
RELATED: LEGENDARY TOKUSATSU WRITER SHOZO UEHARA PASSES AWAY AT 82
The Heart Of Go Go Power Rangers
The brunt of Go Go Power Rangers #27 quietly moves a lot of pieces around the table. Tommy is made into the White Ranger, which is treated as more of an after-thought than actual plot development. The actual battle at the core of the issue plays out in a much more minor way than you'd expect, with the fight being settled with relative ease. Instead, the brunt of the issue is focused on the emotional places the team finds themselves in. But since these character relationships have long been the heart of this take on the Power Rangers, it works extremely well.
In the issue, Tommy is pushed into his final test to prove his worth as the White Ranger, but learns a surprising fact about his new role within the Rangers. The true crux of the issue is about the teens at the heart of the series. Kimberly and Tommy reunite and tease a return to their former romantic relationship, despite the continued presence of Matthew in her life. Meanwhile, Trini and Zack learn more about the potential future for the world thanks to the Omega Ranger – and tie themselves closer to Jason's plans going forward.
RELATED: TRINI ACTION FIGURE REVEALED, A NEW SHOWRUNNER FOR POWER RANGERS & MORE: THE RANGER WRITE-UP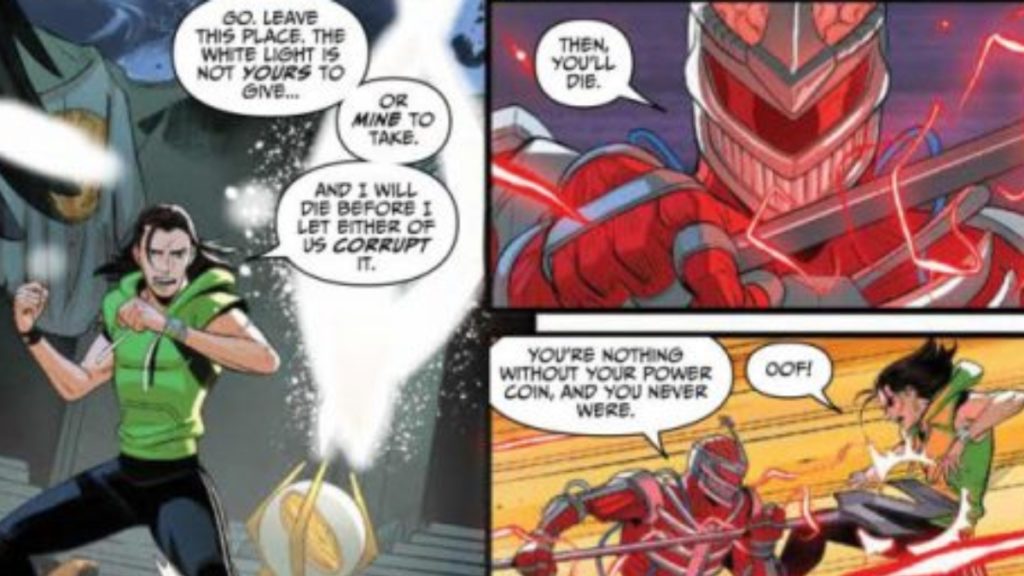 Not much can be said for the creators behind the issue, that can't be said about most pieces of the series. Go Go Power Rangers has quietly been a stellar re-imagining of the original Power Rangers team. The strong character work that's been present for the entire run of the series is still at the forefront of the story. With the main cast and their ever-evolving emotional bonds, those character beats end up being incredibly effective throughout the issue.
In fact, this issue does a great job of positioning the Rangers against one another without villainizing any one of the sides of a potential conflict between the Rangers. It all speaks to the overall strength of the entire series. That such an impressive issue, feels like a cog in a machine rather than a stand-out piece of the series. However, as it stands, Go Go Power Rangers #27 is still a strong example of comics-craft by all the creators involved.
The next issue in the series, GO GO POWER RANGERS #28 is scheduled to be released Jan. 29
KEEP READING: RYUSOULGER IS EXPECTED TO BE HASBRO'S 2021 ADAPTATION FOR POWER RANGERS: EXCLUSIVE