Are you still mourning the wrap-up of the My Little Pony series or had to have every Monster High or Ever After High merchandise you could find? Then YOU need to watch this new series, Gods' School: The Olympian Gods! This creation mixes fun artwork, beautiful background design, and dashes in bits of strong plot lines to create an addicting cartoon. The only problem is that MANY people are unaware that such an amazing show exists.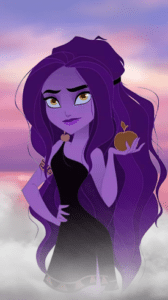 Gods' School: The Olympian Gods creator and director Gaylord Cuvillier Libessart takes well-known names from Greek Mythology and places them in a high school setting. As someone who loves Greek mythology, you might be instantly sold on the plot already. However, what really seals the deal for many is the connection to Eris, the daughter of Nyx and the Goddess of Discord, who tends to struggle with fitting in. Pitched originally as 25 episodes ranging around 10-14 minutes, Gods' School focuses mostly around Eris and her struggles on Mount Olympus.
In Episode One, which aired a whole year ago, we get a brief peak as teenage gods and goddess return to the clouds for a new year. We instantly learn and feel that Eris is not welcomed or accepted by practically anyone. However, lucky for her she really doesn't need anyone expect her best friend, Syiga, who also happens to be a Sphinx. As the students start to gather, we are introduced to everyone that is anyone. Like Ever After High, the popular group is made up of the "good" goddess and gods like Hera, Athena, Aphrodite, Persephone, Aris, and even Zeus. While the outcasts seem to be more of the "bad seeds" like Eris, Hades, and even Medusa.
Gods School Is Full Of Heavenly Characters
By the way, it is so weird that Zeus looks like Disney's Hercules that I almost have a love-hate relationship with the concept. It makes sense, because he is Hercules dad, but there is just something about it being sooooooo similar, that throws me off. When we are first introduced to him, I was literally chanting "Hercules, Hercules, Hercules!" So imagine the double take when the name Zeus was used.
However, while the verdict is out on Zeus, the overall art concept of the characters is fun. It isn't anything spectacular and unique, but it follows the similar design of most popular shows in this fantasy cartoon genre. And honestly, if it isn't broken why fix it?! One amazing thing about using this easy design, is that it sets up the fans to have an easier time cosplaying characters they love. This is one reason Monster High saw the success it did.
Plus, it isn't just the design of the characters and the backgrounds that sets the show, it also comes down to the writing. Sometimes plots and characters can quickly become boring since a lot of these shows are geared towards a younger audience. That is why it is refreshing when a show finds a good balance between the adult and kid fans. Now, it must be said that it's hard to really dive deep into a review when there are ONLY two episodes.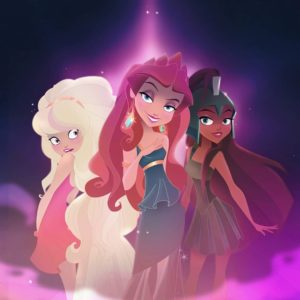 In the first episode, we got quick introductions to the characters and plot. The episode ends as we are introduced to Paris, the first human ever to be welcomed to Mount Olympus. Clearly, one of the major focus points of the series will come down to the relationship between Eris and Paris. But the show isn't just about them. In the second episode, we start to dive a little deeper into the forbidden love between Hades and Persephone, while starting the foundation for Paris and Eris. And that's about it. While both episodes are great on their own, their real purpose is to build an overall story arch. A story arch, we will only achieve with the help of fans.
You see, while the first Episode aired on Youtube a year ago, the second episode just dropped last month. This is mostly due to the fact that the creator tried early in 2019 to Kickstart the series. That is right, this amazing show isn't Hasbro, Disney, or any big named broadcasting company. Gods' School: The Olympian Gods is purely being funded by the fans. Sadly, it didn't see the success it needed with its Kickstarter, but that doesn't mean the dream is over. Fans can still support the show by joining their Patreon.
Therefore, we need to bring more attention to Gods' School: The Olympian Gods, because it has so much potential. This could be an amazing show that Disney and Hasbro would be dumb NOT to pick up. A show that could inspire a whole range of new cosplays and merchandise. See if this show is going to be a new favorite for you by watching the first two episodes on Youtube, then let The Illuminerdi know your thoughts in the comments below.