Marvel Studio's Eternals is currently still shooting in London's Camden neighborhood, and now set pictures have been released online in recent weeks. Those photos have revealed first looks for Kingo, Spite, Dane Whitman, and even Sersi. Most recently, a spat of new set photos have emerged that provide more detail into what's going on in the film.
Readsector has released some new set photos of Kit Harington, Richard Madden, and Gemma Chan on set in Camden filming the movie.
Sci-Fi Goodness on Eternals
It definitely seems like the three of them were shooting a scene together for the film. We also have a new look at Richard Madden's character with that image. And from the Gemma Chan image, it seems like her character could be testing her powers out.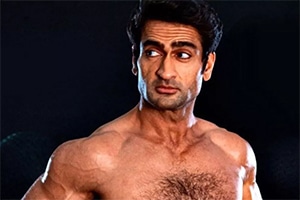 Fellow Eternals star Kumail Nanjiani has also commented on the film recently , as well. He spoke to Entertainment Weekly and had this to say:
It's really, really an epic.  And it's really such a science-fiction story. It's a superhero story, but in some ways, it's the most sci-fi of all the Marvel movies and it's the most epic of all the Marvel movies. And the story spans thousands of years. So it's really not like any of the other Marvel movies.
This is an interesting quote, because he's actually right. All of the previous Marvel films really haven't been full-on sci-fi films, and this is the first one that is.
Nanjiani had also said:
It really spans thousands and thousands of years. And the story is just so big and so epic. And I don't mean epic in the internet way, I mean epic in the old-school way…It doesn't look like any of the other Marvel movies.
And Nanjiani is right about this, as well. Eternals is going to be one of those Marvel films that stretch the boundaries of time. With it not being like the other Marvel Studios films, Fans will be excited to see something new.
We also already know that Eternals will be directly tied to Avengers: Endgame, since this film follows the events of Endgame. But there isn't too much more information for the film, since the first Phase 4 film releasing is Black Widow, which goes back to the recent past. In the meantime, you can stay tuned to The Illumnerdi for the lastest Eternals news.