Triple H and Shawn Michaels are looking to push NXT UK Superstars Jordan Devlin and Ilja Dragunov in the near future.
Michaels has taken a liking to current NXT Cruiserweight Champion Jordan Devlin. At WWE Worlds Collide Devlin defeated Angel Garza in a Fatal 4 Way match for the NXT Cruiserweight championship. A little bit of extra trivia on the Irishman is that he began his wrestling training at age 12 and was trained by Finn Balor himself.
The win of the NXT Cruiserweight championship opens up some doors for Devlin. It is not uncommon for the Cruiserweight champion to appear on Raw or Smackdown Live. This brings new eyes on Devlin and his wrestling ability.
RELATED: WALTER SAYS HE DIDN'T CARE ABOUT HIS SURVIVOR SERIES MATCH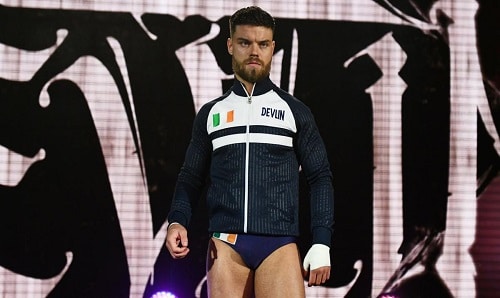 Shawn Michaels Is Pushing Jordan Devlin Hard
According to LordsOfPain and the Wrestling Observer, this is exactly what Michaels wants. Michaels is reportedly a "huge proponent" of Devlin. The goal with Devlin as champion is for him to defend the championship across all brands. Daily Star provided a report while promoting the new NXT UK Performance Center back in January of last year. In the piece, Michaels gave huge praise to Devlin:

"One guy who I didn't know, or hadn't seen was Jordan Devlin…He was good when he came in, but now he is really starting to feel it. [Jordan] is oozing confidence. And I hate to pinpoint one person, but I have seen him grow exponentially. He is a real talented kid, and his ceiling is pretty darn high."

Daily Star
Why Shawn Michaels Is Taking Such A Liking To A NXT UK Superstar
Michaels has been a NXT trainer for a little over a year now and is working closely with developing talent. I can't think of a better person to work with young talent than possibly the greatest wrestler of the modern era. However, recently Michaels has spent a lot of time working with the NXT UK talent. Michaels has taken a special interest in the other NXT because he has been there since the beginning and helped to build it from the ground up according to the WWE Performance Center teaser video.  It's his little baby and he wants to see it develop.
Devlin has been announced to appear on Wednesday's NXT taping. He will also appear on this Friday's episode of 205 Live.

Triple H Has A Little Pet Project Too
However, Devlin is not the only NXT UK Superstar with a DX member backing them for a 2020 push. Triple H is said to be "obsessed" with Ilja Dragunov according to TalkSports' Alex McCarthy recent tweet. Dragunov also wrestled on the WWE Worlds Collide event.  The young Russian lost a hard fought match with Finn Balor.
When two WWE legends are backing you big time the sky's the limit. When one of those two is the Executive Vice President Talent, Live Events and Creative nothing is going to stop the push (aside from Vince).
What did you think of Devlin and Dragunov's matches at WWE Worlds Collide? Do you think they should get a huge push?  Do you think they are ready for wrestling on Raw or Smackdown Live? Let us know what you think of the pair and if Triple H and Michaels should be so public about who they want to push in the comments and on social media.
Sources: LordsOfPain, Daily Star, WWEPC YouTube, Alex McCarthy Tweet, WWE