WWE's NXT United Kingdom Champion WALTER told Metro he didn't care about his Survivor Series match and wasn't invested in it.
WALTER has been an imposing figure hanging around NXT UK and other WWE events. He stands at six feet, four inches tall and weighs in at 300 pounds. However, when he defeated Pete Dunne he proved to the rest of the WWE Universe that he is a force to be reckoned with.

Why WALTER Was Eliminated So Quickly
However, his Survivor Series match proved to be extremely lackluster. WALTER was part of the Triple Threat Tag match which pitted RAW, SmackDown Live and NXT against each other.  After less than three minutes into the match, he was eliminated.
WALTER stated he didn't really understand his role in the match and what he was supposed to do. He sees himself more of the competitor and is less adept to the showmanship side of the wrestling business.

"It was a weird match too – three five-men tag teams, and always three guys in the ring. That's when wrestling turns from competition to putting acrobats in a circus to do a show. 'There's 15 of you, you've got to do something… It's not my world."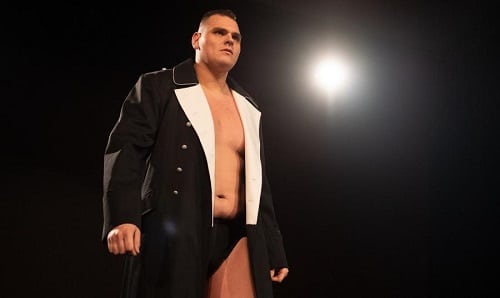 Why He Thinks The Undisputed ERA Make Good Opponents
The Undisputed ERA – led by Adam Cole along with Roderick Strong, Kyle O'Reilly, and Bobby Fish – are slated to wrestle WALTER's Imperium group comprised of Alexander Wolfe, Fabian Aichner and Marcel Barthel.  WALTER is looking forward to the match and expects good competition. An added bonus is that Undisputed ERA is known for a more "shoot" style filled with hard punches and brutal suplexes. This style fits in with WALTER's style and the match is sure to be intense.

"I'm always looking forward to good and exciting competition, and Undisputed Era is going to bring that.  It's my passion, and Undisputed Era are excellent for that."
On Moving To The US And A Royal Rumble Appearance
When the wrestler was asked if he would make a surprise appearance in the Royal Rumble match he replied, he doesn't know.  He would love to be involved like any rational wrestling fan would.  WALTER felt like that kind of match would be a much better fit for him as it is every man for themselves.
It doesn't look like the man will be making the US his new home anytime soon.
"I don't mind going to America for a little bit… I don't want to live there, but as a visitor it's good enough… [But] I was never a big fan of the United States in that sense."
WALTER also explained that he has his family in Germany and doesn't want to subject himself and his family to the grueling WWE schedule. This also applies to WALTER going up to the main roster in anything other than an occasional appearance. Things can change, but WALTER seems to be ready to make the jump to the main roster as soon as he's willing to make the jump across the Atlantic.
To see WALTER in action be sure to tune in to WWE Worlds Collide this Saturday Jan. 25, 7 p.m. EST and 4 p.m. PST, in the Toyota Center, Huston, Texas.7 p.m. EST and 4 p.m. PST. Do you think WALTER was being a diva by not wanting to stay in the Survivor Series match longer? Let us know in the comments and social media and as always be sure to check back in with us for the latest nerd and wrestling news.

Sources: