Ronda Rousey admitted on her YouTube show that she would like to wrestle again, but she doesn't ever plan on working as many days as her last tenure at WWE.
Ronda Rousey's Strong Entrance Into The WWE
Rousey came into the WWE like a raging bull and tore through her competition in 2018.  In that time she worked a lot of events, TV and weekly shows. When she entered the WWE, she was not expected to be very good and was not expected to wrestle a lot.  The thought was she would have a schedule similar to Brock Lesnar's, with only an appearance every so often. However, both assumptions were proven wrong.  
Ronda Rousey eventually won the Raw Women's Championship, but she has not been seen in the WWE since losing the Raw Women's Championship to Becky Lynch at Wrestlemania in April.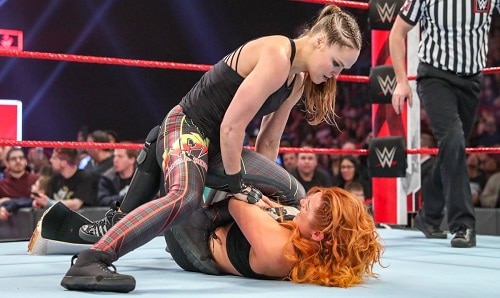 Taking Time Off To Start A Family
Leading up to Wrestlemania, Rousey had expressed interest in leaving WWE for at least a little while. In her time off, she has spent more time with her family and is trying to start a family with her husband Travis Browne. 
RELATED: ANDRADE AND CHARLOTTE FLAIR SPEAK ABOUT ABOUT PERFORMANCE CENTER, ENGAGEMENT AND RONDA ROUSEY
In her free time, she has also started a YouTube channel where she sits down and talks with celebrities.  In a recent video she had on Jackass star Steve-O and they discussed wrestling and WWE among other things.
Rousey talked about how much she worked at WWE and how hard it was for her family.

"I did completely full-time for a year," Rousey said. "All of the TV and as many live shows as I could. I probably worked 200 days out of the year. Most people do way more. Most people have live shows throughout the week, then go and do TV, then get to be home for a day and a half, then do it again. It's non-stop. It was so much time away from my family that I couldn't do it sustainably. Me and Travis [Browne] want to have babies and if I'm gone 200 days a year taking powerbombs every night, I don't think that's conducive for conception. We wanted to take time and make us a priority. I don't know when I'm gonna go back. I know I want to, but I don't think I'll be able to do it in that capacity again. I couldn't put my family through that again."
Why Rousey Is Leaning Towards Wrestling And A Possible Return
Rousey talked about how much she liked MMA, but how and why her attention shifted over to wrestling. She said she is leaning more towards wrestling because she knows too many people in the UFC and MMA. In the past she could get into people being beaten up, but now she personally knows people on the cards. When her friends lose or get hurt she feels for them.

When Steve-O asked her about wrestling and returning to WWE she admitted she would like to go back to WWE, but didn't know when. Rousey also talked about if she returned it would be a lighter schedule than she had before.

"I don't know when I'm gonna go back," Rousey said. "I know I definitely do want to, but I don't think I'll be able to do it in that capacity again. I don't think I could put my family through that again."
The interview was actually very interesting for learning about Rousey, but also learning about Steve-O and what he is up to. I learned a very interesting bit of trivia about the money Olympians make. When Rousey won the bronze medal at the Olympics she only received $10,000, but after taxes it was only around $6,000. She was only able to pay for half of a used Honda Accord with her winnings. It is amazing how much they sacrifice to go to the Olympics, but receive so little money in return for winning a bronze medal.
Would you like to see Rousey return to WWE? Charlotte has said she wants to wrestle her again, but do you think there's a better opponent for Rousey? Let us know what you think down here in the comments and on social media.

Sources:
ProWrestling, Rousey's YouTube Channel, WWE, Fightfull For Interview Transcription