After the CW's popular "Crisis on Infinite Earths" event, the network confirmed last month that Superman and Lois will be joining the line-up of DC characters with their own show. But the duo, played by Tyler Hoechlin and Elizabeth Tulloch, aren't alone: they're bringing their two sons along for the ride.
Deadline broke the news that Jonathan and Jordan Kent are confirmed to be a part of the Superfam, but as teenagers instead of young children. Comic fans have fallen in love with earnest, happy-go-lucky Jon, especially since his run with Damian Wayne's Robin in Supersons, and it looks like his characterisation will be similar in the show. Played by Jordan Elass (Little Fires Everywhere), the trade states he is "clean-cut, modest, and kind-hearted, with an aw-shucks attitude" which seems to sum up the wild-haired lovable superhero-in-training we all know and love.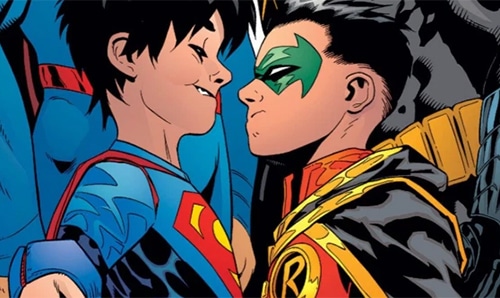 Superman and Lois Deal With a New Kid on the Block
Jordan Kent seems to be the polar opposite to his brother. As an unknown character, he will be played by Alexander Garfin (The Peanuts Movie) and doesn't seem to have a comics counterpart to compare to. Seemingly, he will be "wildly intelligent, but his mercurial temperament and social anxiety limits his interactions with people." It appears that, as a result, will prefer to spend his free time gaming like a regular teenager would.
There doesn't seem to be any mention of either of the two having powers, but this is a CW superhero show. There's a good chance we could see origin-style stories for the boys, along with plenty of teenage drama and angst, while the golden couple of comics try to balance superheroics with leading a normal family life.
We don't have a release date yet, though we'll likely get confirmation around SDCC in the summer. Superman & Lois has The Flash's previous showrunner, Todd Helbing, onboard as the creative architect – along with Geoff Johns, Sarah Schechter and Greg Berlanti as executive producers.
Do you like the idea of expanding Clark's family in Superman and Lois, or do you already miss Damian Wayne? Let us know in the comments below.