The crossover between Mighty Morphin' Power Rangers and Teenage Mutant Ninja Turtles continues in the 3rd issue of the series. Spoiler alert from here on out, so be warned!
We see Rita and Shredder with his new Green Ranger power upgrade duking it out over not only the destruction of the Rangers, but of course who will get the planet to conquer as well. We also see Tommy's reasoning for infiltrating the foot clan. This story gives the reader more insight into Tommy's past before entering Angel Grove, and we see some of the connections he has made along the way. But we also see life on the other side of the coin and learn of his hurt feelings. It seems that even though he has made friends with the team and continue to grow his connection with them, Tommy still has a motive to do things alone.
RELATED: FIRST LOOK AT POWER RANGERS BEAST MORPHERS SEASON 2
Power Rangers & Teenage Mutant Ninja Turtles Team Up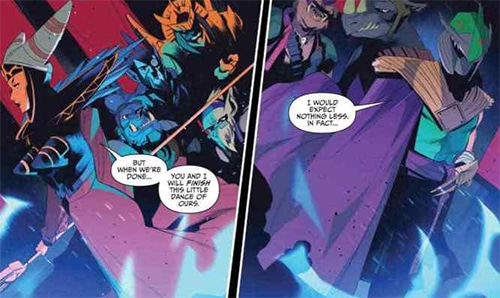 The action panels are impressive, and it is interesting to see Shredder wielding the dragon coin power against Rita. It's even better to see him able to hold his own.
The issue also continues to show us the connections between the individual rangers and the turtles. We see so many traits of one in the other, such as when we compare Zach and Michelangelo. Another standout scene is the talk between Trini and Raphael, where we see how much they differ in their daily life, the expectations placed on them, and the pressures on them. It's easy to see a little of each of them in the other.
Of course, we get back to business when Rita and Shredder launch a two-prong attack on the Rangers and Turtles. Without giving away any more spoilers, the heroes find themselves having to be the ones to retreat. By the end, we get an interesting picture of what's up ahead, which certainly looks to be a interesting and wish-granting event. Overall. this issue was a good midpoint and does set up the remaining half of the series' storyline.
What were your thoughts on the issue? Are there any other comic book favorites you're ready right now, Power Rangers or otherwise? Let us know in the comments below.