She-Hulk's Supporting Cast
In addition, we can report on two supporting characters coming to the show. They are casting for She-Hulk's "Best Friend" and are looking for an actress in the 26 to 28 year-old range, which is curiously specific. However, there is no name attached to the role or description beyond her relationship to She-Hulk.
Fans of comic series may be familiar with Jill Stevens, longtime friend of Jennifer. We can only speculate, but it's possible that this role could be a placeholder for this character. Her story has a tragic end in the comics due to a case of mistaken identity, that could provide for juicy drama in the show if adapted.
They are also casting for a female character named "Meg," in the 29 to 35 year-old age range. She is also a lawyer who is described as shrewd, while having a biting wit and humor.
Despite the name change, this casting brings to mind Mallory Book from the pages of Marvel Comics. A lawyer who is as beautiful as she is smart, has crossed paths with Walters numerous times. At various times she could be both an ally or a rival and has been spotted everywhere from Los Angeles to Madripoor.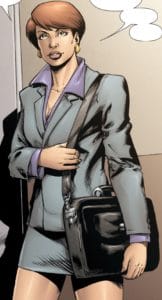 Honestly, it's not entirely clear if either of these characters are specifically from Marvel Comics, or if they have been imagined solely for this show. The Best Friend character feels like a familiar face should be cast here, similar to Kat Dennings' Darcy Lewis in the original Thor. (Interestingly enough, Darcy will be reappearing for multiple episodes of WandaVision.)
It's also unclear if Meg is more of a friend or rival to Walters. Is she a coworker in the firm? Or is she an opposing prosecutor? All these things are very much up in the air and open to speculation for the time being.
RELATED: LOKI SET PHOTOS SHED LIGHT ON UPCOMING DISNEY+ SERIES
It seems that She-Hulk is on the right track to be something truly unique. A superhero show with a dash of Ally McBeal could be the fresh take to keep the genre re-energized. While we aren't clear how all of the pieces fit together, if you check our past few reports on the show and you will begin to see a roadmap developing.
Who do you think Meg is and how will she fit into the show? Do you think that we will see some MCU cameos in need of a legal representation? Could we one day see Walters actually defend Peter Parker if Sony and Disney keep playing nice? That part is all up to speculation for now, but we have even more to exclusive news to come from the MCU in the near future, so keep checking back and get ready…