Champions' Ernie Hudson shares with The Illuminerdi why he wanted to be a part of the production and what makes the film unique.
---
The sports movie genre has a proven formula that has created films that have stood the test of time. Whether it's the aspirational drama of Hoosiers, the cheeky camp of Teen Wolf, or the wackiness of a Dodgeball or White Men Can't Jump, sports films have become a fixture in cinema and will continue to do so for generations to come.
No one has ever claimed that the sports sub-genre will win awards for originality. However, what sets films apart within the genre is the heart and perspective of a given film. Famed comedic director Bobby Farrelly, creator of such hits as There's Something About Mary and Me, Myself, and Irene, has returned to helm the newest installment in the genre. Champions is his most recent effort that is certain to surprise viewers.
RELATED: THE BLACK DEMON: DIRECTOR ADRIAN GRÜNBERG USES A MASSIVE SHARK TO TELL A STORY ABOUT CLIMATE CHANGE
Focus Features new comedy Champions follows a disgraced assistant basketball coach (Woody Harrelson) who wrecks his career after a public incident with his boss and head coach Phil Perretti (Ernie Hudson). His day goes from bad to worse after being arrested for driving under the influence and is ordered by the court to do 90 days of community service with a local Special Olympics basketball team.
The Illuminerdi's Chat With Ernie Hudson
The Illuminerdi recently spoke with one of Champions co-stars, Ernie Hudson, who explained what made the film special for him:
"It was beautiful to see that humanity and I thought reading the script, sometimes we think that unless life looks a certain way, it doesn't have value. 'Unless you can live like I live and got some money, then your life is not worth anything.' And that's just not true. You know…life is life.

It [Champions] showed their humor and their humanity and just that part of life that we don't allow ourselves to see in the credits. So, it had all that going for it and I just thought 'I want to do this. I want to be a part of this.'"

Ernie Hudson
Hudson also touched on the thoughtful approach to representation in Champions:
(L to R) Alex Hintz as Arthur, Casey Metcalfe as Marlon, Matthew von der Ahe as Craig, Ashton Gunning as Cody, Tom Sinclair as Blair, Joshua Felder as Darius, James Day Keith as Benny, Madison Tevlin as Cosentino, Kevin Iannucci as Johnathan, and Bradley Edens as Showtime in director Bobby Farrelly's CHAMPIONS, a Focus Features release. Credit : Courtesy of Focus Features

"The respect for the people. It was funny, but you're not laughing at someone, you're laughing with them. I knew just how they [Executive Producer Woody Harrelson and Director Bobby Farrelly] are as human beings, I knew that wouldn't be a factor. It wasn't just somebody doing a movie to make some money. They actually want to tell the story."

Ernie Hudson
Farrelly has a long track record of including special needs representation in his films. In the modern day, society's tastes have matured and generally speaking, it is no longer seen as humorous to make jokes at the expense of another marginalized group. With that in mind, Champions had a very narrow needle to thread when producing a comedy in 2023.
RELATED: Renfield Review – This Movie Absolutely Abuses Its R-Rating
Ernie Hudson shared the moment that he knew the production would be respectful to the cast and overall premise of the movie: 
"Also I knew how Woody works. But when I got there and saw him interact with the kids. (I don't want to be disrespectful, at my age everybody's a kid.) But the young people who were on the team and when we weren't filming he [Woody Harrelson] would be out playing basketball, just hanging out with them in a way that allowed everyone to feel like that they were a part of the movie. It was their movie too. That doesn't always happen, when the stars will hang out in their own trailer and don't really connect with anybody.

And Bobby Farrelly, I think he just gets people. When I saw Woody and I saw him with the players I knew that the film was going to be great…yeah it was great."

Ernie Hudson
Woody Harrelson served as both star and executive producer on Champions and set the tone for the comedy that has audiences raving. Currently the film has a 95% Audience Score on Rotten Tomatoes, so it is clear that the new release is a crowd pleaser.
RELATED: John Wick: Chapter 4 Interview – Hiroyuki Sanada Shares His Excitement Reuniting with Keanu Reeves
While Champions doesn't reinvent the wheel when it comes to uplifting sports comedies, it does offer a truly unique cast and spirit that sets it apart from other releases in the genre. The chemistry between the players is infectious, while the film delivers a poignant message that is worth checking out.
---
Champions Official Synopsis
Woody Harrelson stars in the hilarious and heartwarming story of a former minor-league basketball coach who, after a series of missteps, is ordered by the court to manage a team of players with intellectual disabilities. He soon realizes that despite his doubts, together, this team can go further than they ever imagined.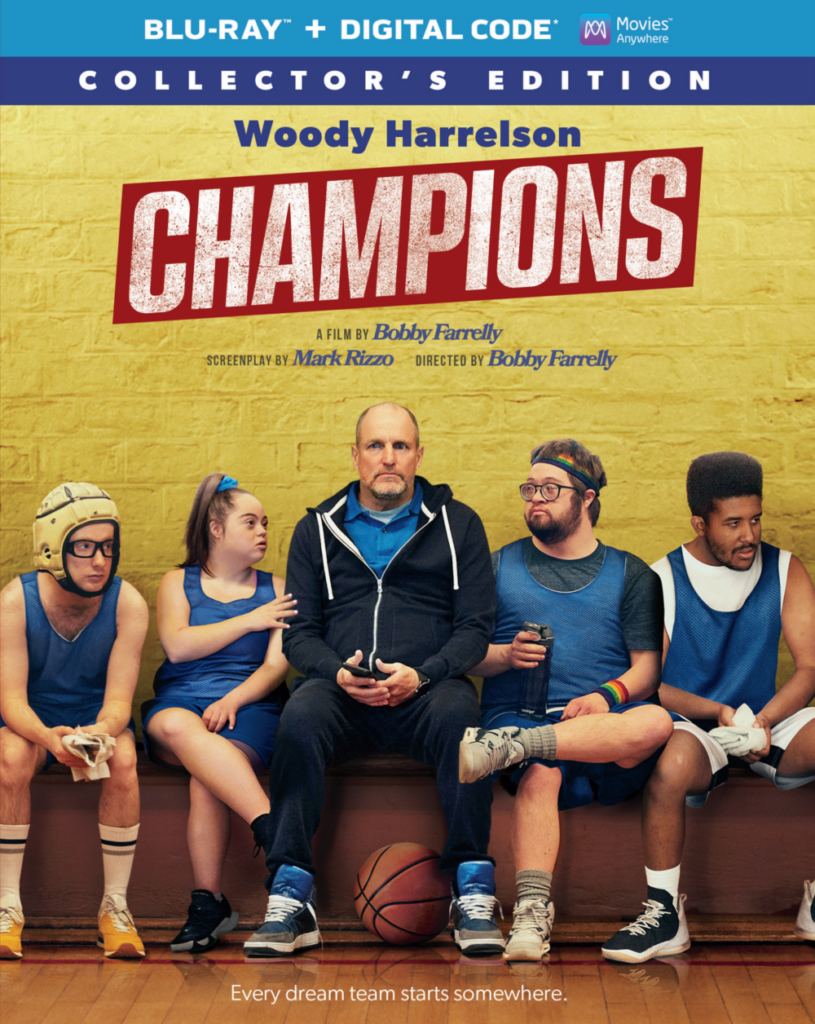 Champions is available on Digital 4/28, and available on Blu-RayTM and DVD May 2, 2023. Champions home entertainment release special 'Collector's Edition' features all-new, exclusive never-before-seen bonus content including 12 hilarious deleted scenes. Let us know what you thought of the movie over on our social media!
KEEP READING: HOW MANY POST-CREDITS SCENES DOES GUARDIANS OF THE GALAXY VOL. 3 HAVE?