Well, this is a blast from the past! The first trailer for In Search of Tomorrow, an 80's sci-fi film documentary is here and it looks pretty amazing.
In Search of Tomorrow is a project that is currently being funded on Kickstarter and has raised over $320,000 of an approximate $40,000 dollar goal.
RELATED: JASON DAVID FRANK THANKS FANS FOR HELPING LEGEND OF THE WHITE DRAGON HIT FUNDING GOAL
It seems safe to say that the fans definitely want this film to happen as do I. I think films from this decade are some of the most influential films of all time and it will be interesting to dive into some of the histories of some of these amazing films.
In Search of Tomorrow Promises to Deliver
The tagline "The Definitive '80s Sci-Fi Documentary" says it all. CreatorVC studios say the following on their Kickstarter page in regards to their vision for the project.
This documentary will be our love-letter to the Sci-Fi films we grew up with; the films that dared to ask, "what if?" and offered us a vision of future technology, society, and culture that simultaneously delighted, amazed and scared us.

We still remember the magic of seeing these films for the first time, and we've been trying to recapture that feeling ever since. Vader's redemption, Ripley's duel with the Alien Queen, Roy Batty's "Tears in Rain", and many more. Moments that surprised us. Moments that moved us. Moments that left a lasting impact on our subconscious. Years later, we're still trying to recapture these transformative experiences.

We are making this documentary to celebrate, explore, and recontextualize these films and the influence they've had both on ourselves and our culture. We want to go beyond the movies, to the science, technology, and art they've inspired. This documentary will be a time capsule, capturing unheard stories and perspectives not just for us, but for future generations.

We want to do this project for all these reasons, and for the simplest one of all – because when the lights go down, we're all kids again.
CreatorVC Studios also successfully funded a Kickstarter for an '80s horror documentary known as In Search of Darkness. The film was over four hours long and was released in 2019. It's expected that In Search of Tomorrow will have a similar runtime.
RELATED: MICHAEL BIEHN CAST AS ANOTHER BOUNTY HUNTER IN THE MANDALORIAN SEASON 2
I think that this documentary is a great idea and it seems that fans CreatorVC studios agree, as the Kickstarter has done amazing throughout its run. In Search of Darkness is one of few films to have a 100% on Rotten Tomatoes, so maybe the same can be expected for this highly anticipated follow up.
Official Synopsis for In Search of Tomorrow
In Search of Tomorrow will take viewers on a year-by-year deep dive into the many awe-inspiring worlds of '80s Sci-Fi movies, breaking down the most iconic and eccentric films you know and love (and many you may have forgotten or missed), and examining the science, technology, and artistry behind the fiction.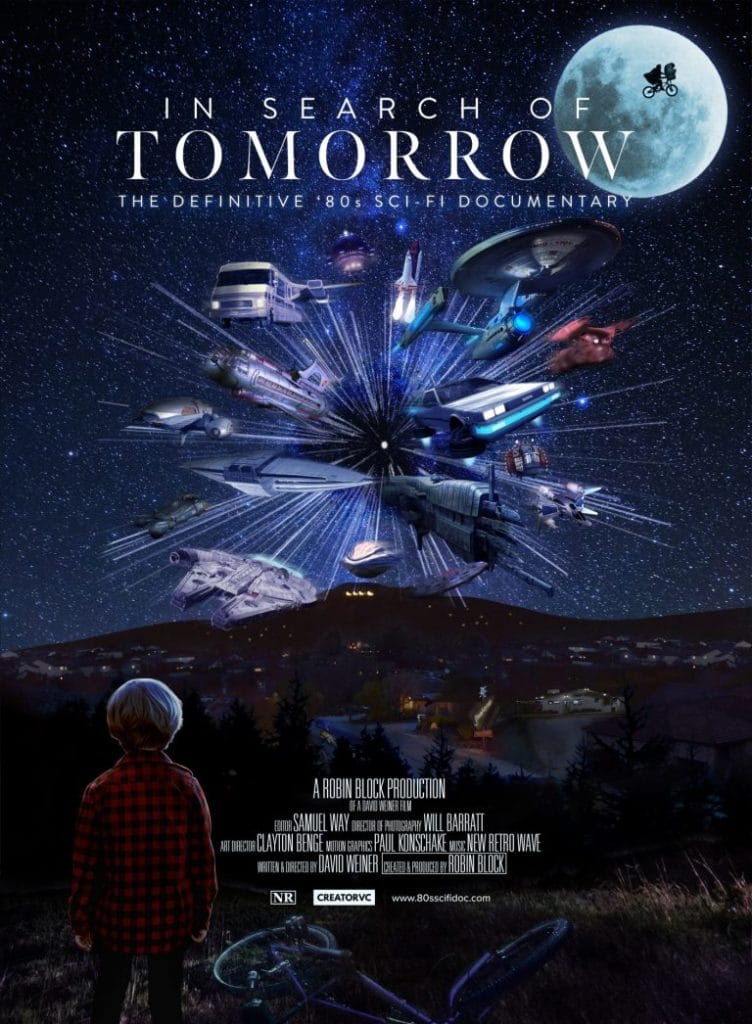 In Search of Tomorrow is expected to release July 2021.
What are your thoughts on In Search of Tomorrow? Do you think it will be able to live up to the high expectations set? Let us know in the comments below and be sure to come back to The Illuminerdi for more news just like this in the near future!
KEEP READING: BILL MURRAY UNEXPECTEDLY RETURNS TO BLAST DEAD SPIRITS IN GHOSTBUSTERS: AFTERLIFE