The Intercontinental Championship has been stripped from Sami Zayn. 
WWE Backstage broke the news that the Intercontinental Championship has been stripped from Zayn and was later confirmed by WWE on their website. Zayn is unable to compete and WWE felt it was best to vacate the title.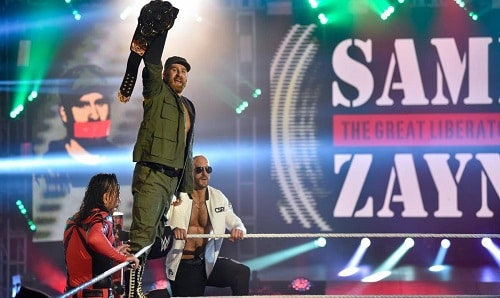 Sami Zayn won the Intercontinental Championship at Elimination Chamber by defeating Braun Strowman in a 3-on-1 match.  The last time that we saw Zayn defend the Intercontinental Championship was at WrestleMania, when he successfully defended the title against Daniel Bryan. However, the WWE Universe hasn't seen him since.
RELATED: CEDRIC ALEXANDER ON WHAT IT'S LIKE TO PERFORM WITHOUT A CROWD: EXCLUSIVE
The decision is not setting well with Zayn. As per usual, Sami Zayn is not staying quiet about his disapproval and has taken to Twitter to voice his opinion.
IC Title Won't Be Vacant For Long
WWE is wasting no time in finding a new champion. On this week's Smackdown Live a tournament will be held to find the new Intercontinental champion. The details as to who will be in the tournament are yet to be announced. It's also unknown if the tournament will all be held in one night, or if it will take place over multiple weeks.
Let The Speculation Begin
There are no further details as to why Zayn is unable to compete. The immediate theory is that it has something to do with coronavirus, because almost everything has to do with the coronavirus. Zayn most likely lives in Orlando, so it's unlikely that it's due to travel limitations, if that's indeed where he lives.  
RELATED: ROMAN REIGNS COMMENTS ON THE RUMORS SURROUNDING HIS WITHDRAWAL FROM WRESTLEMANIA
If the reason Sami Zayn hasn't wrestled since WrestleMania is because of coronavirus, then it's probably self-quarantine. Zayn may not feel comfortable wrestling with this pandemic going on. Who can blame him with this thing still hanging around? Many wrestlers have chosen not to wrestle until this pandemic is over with, the most notable being Roman Reigns.
Sami Zayn Voices His Disdain
When WWE On Fox tweeted out the question of who the next Intercontinental champion should be, Zayn took personal offense. Zayn's response to the question was "ashamed of themselves." The good news is whoever wins the title will have a guaranteed challenger right away. However, the bad news is Zayn is heated and is looking to take back his title.  Zayn is very underrated and whoever becomes the new champion will have a fight on their hands.  I wouldn't take him lightly just because he is a goofball.
Hopefully Sami Zayn is doing alright and is not dealing with something serious, like an injury or a personal crysis.
Who would you like to see in the Intercontinental Championship tournament? Is there a wrestler who you would like to see become the new Intercontinental Champion? Be sure to leave a comment below and check out our social media.
Source: WWE