Following Becky Lynch's pregnancy announcement this week, WWE chief Vince McMahon took to Twitter to express his feelings.
In réponse to Lynch's (aka Rebecca Quin) tweet of the evening, he congratulated the outgoing champion and said she is a "world-class" athlete and will be a "world-class mom."
RELATED: WWE HALL OF FAMER STING REPORTEDLY UNINVOLVED WITH AEW DOUBLE OR NOTHING DESPITE RUMORS
Vince McMahon Wishes Becky Lynch Well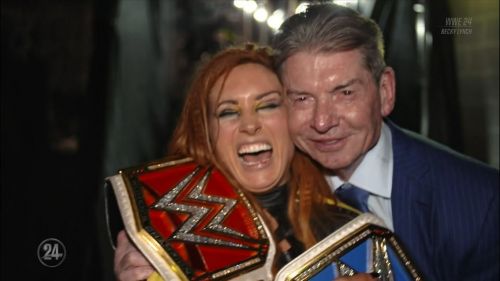 Lynch made the announcement this week on Monday Night Raw, just as she relinquished the title to Asuka. The champion revealed the belt in the "Money in the Bank" briefcase Asuka won during Sunday's pay-per-view.
This is the first child for both Lynch and fiancé, fellow WWE superstar Seth Rollins. The Illuminerdi looks forward to seeing if the bundle of joy inherits any of their parents' flair for performance. Fingers crossed!
Do you share McMahon's congratulatory thoughts? Do you think Lynch may come back after a time? Let us know your WWE thoughts in the comments below.