The skies of metropolis are about to come alive again on our television screens, as Superman & Lois prepares to debut on the CW network. The hype and anticipation of the new show is building, and a new poster that shows the two characters played by Tyler Hoechlin and Elizabeth Tulloch front and center.
This series will be in the world of the Arrowverse, where shows such as Batwoman, Supergirl, Legends of Tomorrow and The Flash regularly intermingle in a greater DCTV universe.
RELATED: SUPERMAN & LOIS CHARACTER DESCRIPTIONS REVEALED: EXCLUSIVE
This "stronger together" method of dealing with super-centric characters has taken quite a turn from the days Supergirl first premiered on the CBS, a totally different network with no connection to the shows on CW until a crossover with The Flash (Grant Gustin) was necessary to bring up the ratings.
Before this latest poster was released, details surrounding the show were kept pretty close to the chest despite various new cast members being added and rumors swirling on which characters from the larger DC universe would make an appearance. But all that has changed, so let's check out the new information together.
Superman & Lois Poster and Synopsis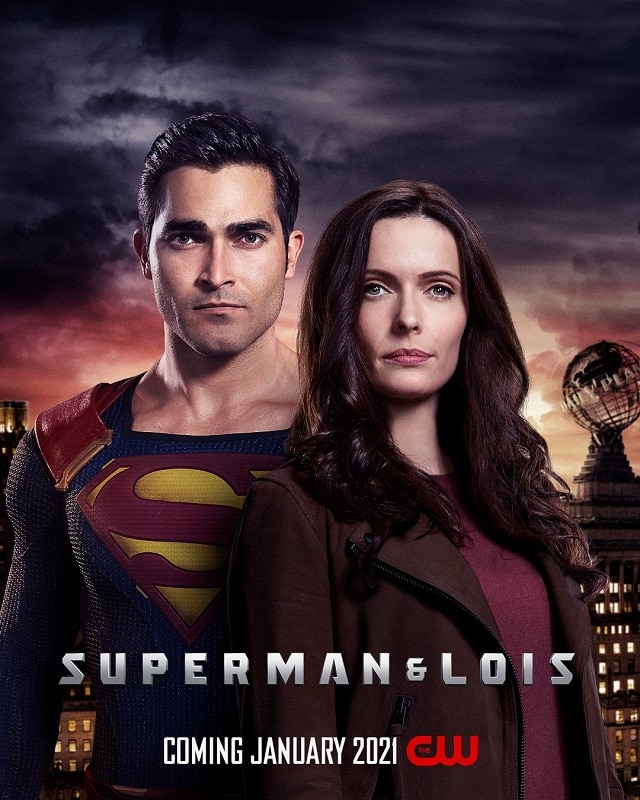 When the new poster was released, a detailed synopsis was provided to go along with it. This is what the synopsis for the new show had to say:
"SUPERMAN & LOIS — In SUPERMAN & LOIS, after years of facing megalomaniacal supervillains, monsters wreaking havoc on Metropolis, and alien invaders intent on wiping out the human race, the world's most famous superhero, The Man of Steel aka Clark Kent (Tyler Hoechlin, "Teen Wolf") and comic books' most famous journalist, Lois Lane (Elizabeth Tulloch, "Grimm"), come face to face with one of their greatest challenges ever – dealing with all the stress, pressures and complexities that come with being working parents in today's society.
Complicating the already daunting job of raising two boys, Clark and Lois must also concern themselves with whether or not their sons Jonathan (Jordan Elsass, "Little Fires Everywhere") and Jordan (Alexander Garfin, "The Peanuts Movie") could inherit their father's Kryptonian superpowers as they grow older.
Returning to Smallville to handle some Kent family business, Clark and Lois are reacquainted with Lana Lang (Emmanuelle Chriqui, "Entourage"), a local loan officer who also happens to be Clark's first love, and her Fire Chief husband Kyle Cushing (Erik Valdez, "Graceland"). The adults aren't the only ones rediscovering old friendships in Smallville as the Kent sons are reacquainted with Lana and Kyle's rebellious daughter, Sarah (Inde Navarrette, "Wander Darkly"). Of course, there's never a dull moment in the life of a superhero, especially with Lois' father, General Samuel Lane (Dylan Walsh, "Nip/Tuck") looking for Superman to vanquish a villain or save the day at a moment's notice.
Meanwhile, Superman and Lois' return to idyllic Smallville is set to be upended when a mysterious stranger (Wolé Parks, "All American") enters their lives. Based on the characters from DC created by Jerry Siegel and Joe Shuster, SUPERMAN & LOIS is written and executive produced by Todd Helbing ("The Flash") and executive produced by Greg Berlanti, Sarah Schechter, Geoff Johns. The series is from Berlanti Productions in association with Warner Bros. Television."
A New World For Lois & Clark
It seems a lot of the adventures of these two will involve being working parents to a family and having to deal with the issue of raising two boys who may or may not have the Kryptonian genes in their DNA. The CW has given fans a brief reasoning for why this Clark Kent and Lois Lane had two sons instead of Jonathan Kent, who was introduced in the DC Superman comics.
In the miniseries "Crisis on Infinite Earths," a great threat had come through all of the shows in the arrowverse and set off a chain reaction of destruction to all the worlds. Thanks to our heroes giving their all, the world was reset and now there is only one universe (that they know of) and one planet Earth. One of the scenes in the final episode has Superman appear curious when his wife tells him about something the boys were doing, which may be a clue to a potential story of the series. This scene could imply that Clark remembers he and Lois originally had one child and not two.
Other interesting tidbits from this synopsis include the storyline involving the couple returning to Smallville and dealing with some of Clark Kent's friends and family, such as first love Lana Lang. It will be quite refreshing for Superman to have adventures in Smallville again.
Smallville, the former Superman series which starred Tom Welling, dealt with Clark learning about his abilities and growing into the hero he would one day become. Could this series be trying to connect to the former one by having Clark back home instead of in Metropolis? The miniseries did have Welling return as his character and give his version of the Kryptonian a happy ending as a married human man, though.
Superman & Lois also seems to follow the former series by having the children of Clark Kent and Lois Lane meet Lana Lang's daughter, Sarah. Perhaps this is a handoff to give the children a storyline in the overall show's storyline.
The show is set to bring in a character called The Stranger. At the time, no news has been given on whether or not this will be the appearance of DC Comics mystical hero The Phantom Stranger. With the events of COVID-19 causing delays in the return to production, Superman & Lois has been announced to premiere in January 2021, after The Flash.
Are you looking forward to this new take on Lois and Clark? Let us know in the comments below, and make sure you stay with The Illuminerdi for more DC news and features.