Vince McMahon has cooled off on giving Shayna Baszler a major push yet again.
It was rumored that Baszler was supposed to win the Women's Royal Rumble, but McMahon changed plans for that match last minute.  Baszler was eliminated by Charlotte Flair, who ended up winning the match.
RELATED: WWE SUPER STAR SONYA DEVILLE WANTS TO BE THE NEXT BATWOMAN
The Wrestling Observer just reported that Baszler was scheduled to win the Women's Money In The Bank match, but Vince backed out on that push as well. Asuka ended up winning that match and is currently the Raw Women's champion after Becky Lynch was forced to relinquish the title because she got pregnant.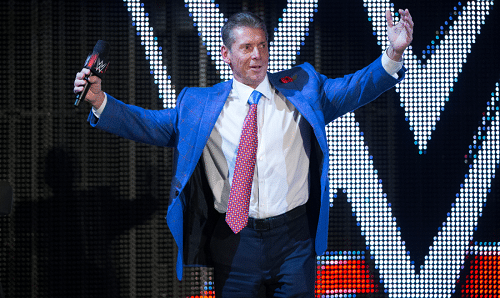 Did Becky's Pregnancy Kill Baszler's Push?
It is unclear when the plan was changed to give the title to Asuka. The Women's Money In The Bank match was filmed the second week of April according to WrestlingNews and Lynch knew she was pregnant at that point.  
Therefore, the winner could have been changed to Asuka because the winner would automatically be awarded the title. Asuka was already the Smackdown Women's champion so WWE had faith in her that she could be a good Women's champion, and that may be why the plan for Baszler was changed last minute.  Vince McMahon just doesn't seem to be completely sold on Baszler holding that top title and being the top heel on Raw.
Baszler Has An Important Ally
However, Baszler may have some good news coming her way this year.  According to WrestlingNews, she is planned to get a push in the Raw Women's division and put into the title picture.  Baszler also has an ally in the form of  the RAW Executive Director Paul Heyman, who is reportedly a big fan of hers.  This push has no time frame associated with it, so it could happen soon or towards the end of the year if Vince McMahon doesn't kill her momentum again.
RELATED: VINCE MCMAHON BREAKS SILENCE ON BECKY LYNCH'S PREGNANCY REVEAL
Baszler And Asuka Aren't That Different
Baszler is steamrolling through competition and her trajectory is not that unsimilar to Asuka's. Both held the NXT Women's Championship for a considerable amount of time and were extremely dominant. The major difference between the two is that Baszler can do much better promos because Asuka is still learning English.
Rumor has it that Nia Jax is the next in line to have a title shot, so after that feud is over maybe Baszler will have her title opportunity next. It is very possible that at SummerSlam in August Baszler will finally get her push with a match against the champion.
Anyone But Nia Jax
Personally, I am not that big on Baszler.  Her promos seem very scripted and don't come across as natural.  Her in-ring work is good, but isn't spectacular.  I think her biggest con is she doesn't exude charisma like some of the other top females like Flair, Alexa Bliss, Lynch or Sasha Banks.
However, I would much rather have Baszler than Jax. I'd rather have just about anyone than Jax. Things are so weird right now in wrestling that I'd like to see her get a shot at being champ. She would have some really talented people to go against and she can learn a lot. It may even bring up her level and become an excellent champ. If not then WWE can say that they gave it a shot and move on.
Do you think Baszler should get a push?  Do you think she can be a good main roster champion?  Was McMahon right in killing her last two pushes?  Armbar some comments below and let us know what you think.
Sources: WrestlingNews, Wrestling Observer