EC3's return to TNA has been foreshadowed on IMPACT on Tuesday.
After Moose's victory, he celebrated in the ring while EC3's music played, but EC3 did not appear. The announcers acknowledged that the music belongs to EC3, so it's not a surprise who they are teasing.
IMPACT also gave a more subtle hint to his return on IMPACT Plus! Which is the promotion's streaming service.  At the end of every episode they tease a match available on the service. This week they teased a match between Kurt Angle and EC3, in which EC3 won the TNA World Title.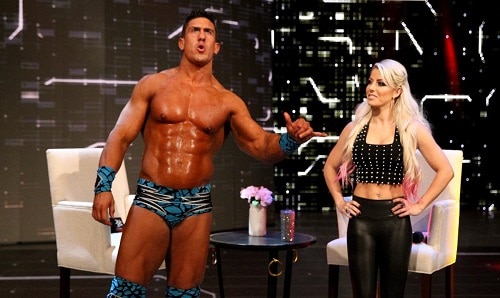 The First Of Many Ex-WWE Wrestlers?
EC3 was part of the mass WWE layoff group from back in April. IMPACT has been teasing some of those released wrestlers including Rusev, Curt Hawkins, Luke Gallows, Karl Anderson, Mike Bennett and Maria Kanellis. Personally I would be surprised if anyone other than Hawkins, Mike Bennett and Maria Kanellis, end up in IMPACT.
During EC3's most recent time in WWE he debuted with a lot of fanfare and hype because he was a big deal in TNA/IMPACT. He was given matches with high level wrestlers like Ricochet and Velveteen Dream. EC3 even had a feud with Dean Ambrose, but failed to capture the audience or WWE's love and he floundered.
RELATED: MOOSE BRINGS TNA WORLD TITLE BACK AT IMPACT REBELLION IN CONTROVERSIAL MOVE
Like I said this is not the first time EC3 has been in TNA/IMPACT. He was in the promotion from 2013 to 2018. Those five years are without a doubt the best of his career. In his time there he won the TNA World Heavyweight Championship twice and won the Impact Grand Championship.
The Earliest Appearance Date In Time For Slammiversary
The most likely arrival date of EC3 will be at IMPACT Slammiversary on July 18, for two reasons.  The first is that Slammiversary is their WrestleMania and it would make perfect sense to have one of their biggest stars to return at their biggest shows.  
RELATED: WWE PREPARING TO UNVEIL 2 NEW TITLE BELT DESIGNS SOON
Secondly is that it is literally the earliest he can debut. All those wrestlers have a 90 day non-compete clause so July would be 90 days. I suppose he could debut the IMPACT prior, but I doubt it. This will also be the time any other ex-WWE wrestlers would debut from the mass release.
EC3 Can Hopefully Breathe New Life Into IMPACT
This is a major get for IMPACT as he was one of the top guys before he left. I looked at the current roster which I don't think is up to date and as far as young talent that I am aware of and I know are good it is really only Willie Mack and TJP. IMPACT needs EC3 and some other big name talent.
The problem is if you are not in WWE then you are probably in AEW or NJPW. IMPACT is just so low on the sought after promotions so it is hard to get big name guys. However, perhaps EC3 can change that.
Is there anyone from that released list that you would really like to see or you think will end up in IMPACT?  Do you think EC3 should go back to IMPACT or would he do better elsewhere?  We'd love to hear what you think in the comments below or share your thoughts on our social media. Keep coming back for the latest in wrestling news here at The Illuminerdi.
KEEP READING: WADE BARRETT REVEALS HE TURNED DOWN AN OFFER TO RETURN TO WWE FOR NEXUS REUNION
Source: ProWrestling