Sarah Logan has decided to take a break from the wrestling business and may not be back for a long time.
Logan was part of the mass release that happened mid-April due to Covid-19 budget cuts. Since her release, she has kept pretty quiet. A lot of wrestlers have hinted at where they will be wrestling in the future or are drumming up rumors and trying to create interest. However, Logan is just living on a farm, feeding cows and shooting guns, as can be seen on her social media. Living a simple life thus far after the hustle and bustle of WWE.
However, that changed with a recent post to Sarah Logan's Instagram.
"A lot has changed in my life recently and I have stepped away from wrestling for the foreseeable future. Wrestling is all I've known since I was 17 so it's time I let myself focus on other things and explored other parts of myself.

My Instagram is going to be different but I promise it will always reflect me. So if you wanna take this crazy ride then buckle up because things have been moving faster than I can keep up. My efforts have been on @thewildandfreetv and that's the best way to keep up. We're releasing some awesome content. I don't say this enough but I appreciate you guys and hope to see ya down the line," Logan said.
RELATED: VINCE MCMAHON HAS MIXED FEELINGS ABOUT GIVING SHAYNA BASZLER A PUSH
How Long Is The Foreseeable Future for Sarah Logan?
The big take away from her statement was the "foreseeable future," which is a vague time-frame. It could mean a year, or it could mean she will never return to wrestling. However, the good part is that she is not retiring because of injury. It's always really sad when a young wrestler like herself, being 26, is forced to retire but, she got to take a break by choice.
You May Remember Logan From The Riott Squad
Sarah Logan first signed a contract with the WWE in 2016. In 2017 she wrestled in the Mae Young Classic. However, later that year is when she made a name for herself. She attacked Becky Lynch as part of the faction, The Riott Squad. The faction was made up of Liv Morgan, Logan and led by Ruby Riott. The Riott Squad laid waste to many of the women of the roster and Logan was the powerhouse of the group.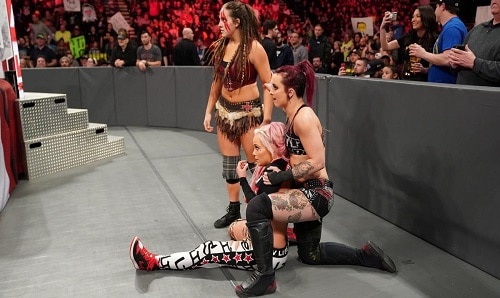 Logan eventually began to make a name for herself as a singles competitor. She was even an entrant in the Elimination Chamber match for the number one contender's spot at RAW Women's Championship. However, any momentum she may have gathered was lost when she was part of the mass release group from April.
Goodbye For Now?
This is not the complete end for her and being around wrestling. Sarah Logan married Erik of the Viking Raiders. I would not be surprised if we see her do a quick one night deal and help her husband and the Viking Raiders, especially seeing how WWE loves including husbands and wives in storylines.
I hope to see her come back to wrestling or to the WWE. Sarah Logan had talent and was just starting to find her groove. However, I also hope her non-wrestling life is enjoyable and fulfilling.  
Are you sad to see Sarah Logan go? Do you think that she is gone for good? Let us know in the comment section below or on our social media.
KEEP READING: CHARLOTTE FLAIR HAVING SURGERY BUT EXPECTED BACK FOR SUMMERSLAM