New Variant Power Rangers comic-book covers have been created by Scorpion and are now available for pre-order. These are for Boom! Studios' latest installments as they are releasing two new series of comic books for fans to enjoy. Scorpion Comics have created many various variant comics in the past, including Star War, G.I. Joe, Marvel comics, and many more. The Power Rangers variants are the latest releases from Scorpion in celebration of the release of these new issues.
Mighty Morphin will feature the season 2 original team, with Rocky, Adam, and Aisha, along with an all-new Green Ranger. The other comic series, Power Rangers, will continue with the adventures of the Omega Rangers, Jason, Trini, and Zack. The various artists have done a fantastic job of creating amazing scenes to celebrate the release. The following artists created some of the covers available and the limited release quantity.
A Look at Some of the Upcoming Mighty Morphin and Power Rangers Variants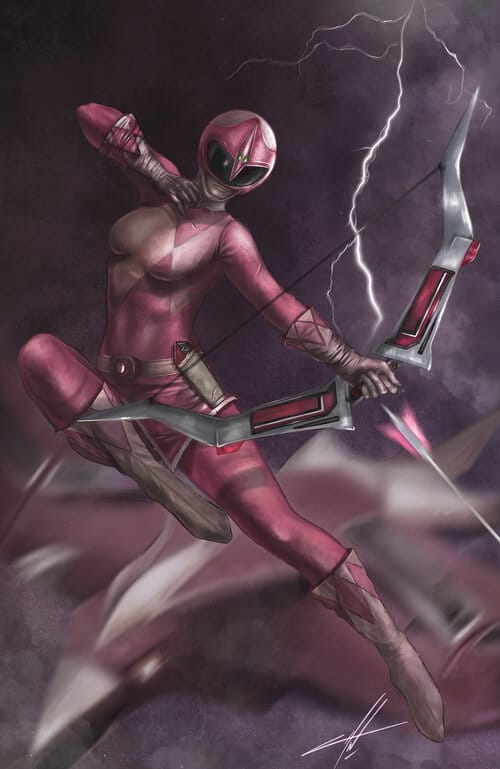 Carla Cohen created a feature cover of Kimberly Hart, the Pink Ranger, with her Firebird Thunderzord, while Alan Quah did a similar piece with Rocky as the Red Ranger with his Red Dragon Thunderzord. Both of these covers are for Mighty Morphin #1 limited to 300 copies and will be released on November 4th.
Livio Ramandelli produced an amazing illustration of the Rangers and the Thunder Megazord. The artist was enrolled to create the magnificent artwork for the Variant Cover of Mighty Morphin #1. This variant will be limited to 500 copies and will also have a numbered certificate for authenticity. This variant will also be released on November 4th.
Other variants include Omega Ranger Covers, the full team with helmets removed, Lord Zedd on his throne, the Green Ranger with the Dragon Zord, and The White Ranger with the White Tiger Zord. Each piece will be an amazing addition to any fans collection and are available for pre-order on their website.
Which Scorpion variants will you be collecting? Do you have a favorite, or will you collect them all? Be sure to let us know in the comments below and come back to The Illuminerdi for more Power Rangers news and updates just like this in the near future!