AEW Executive Vice President Cody Rhodes has regained his Rhodes surname and talks about how he feels about having it back.
Rhodes talked to the fans in the arena after AEW Dynamite went off the air this week. It was broadcast on Fite TV and a fan in the audience took a video of his announcement. Rhodes wanted it to be between him and the crowd, but too bad.
RELATED: AEW AND IMPACT STAR KYLIE RAE IS NO LONGER WRESTLING
Rhodes made the announcement and the statement he has waited for since he left the WWE in 2016.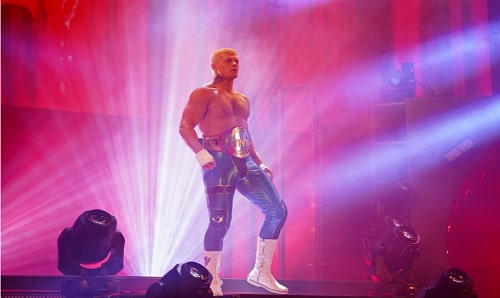 "As of this morning, I no longer have just one name. Whether Justin Roberts says it or not. It feels really good to be Cody Rhodes again," Rhodes said.
The Rhodes Name Is About Legacy And Family
For those unfamiliar with Rhodes or why this is such a big deal it has everything to do with family. Cody's dad, Dusty Rhodes, is arguably the greatest babyface of all time. Dusty had a long lasting feud against the greatest heel of all time, Ric Flair, in the '80s.  The two elevated each other into legendary status.
However, Dusty's career transcended in-ring action. He became the booker for WCW in the '80s and again in the '90s. However, where younger people will know Dusty from is his work with NXT talent. Dusty became the father of NXT and helped to mold and form NXT wrestlers into the stars they are today. Many of the current WWE stars came through NXT and credit Dusty with their success.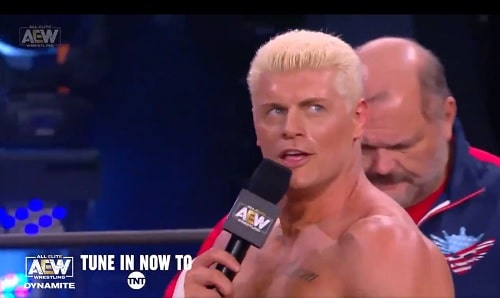 Cody's tie to the Rhodes name didn't just come from his dad, but also his brother. Dustin Rhodes who is better known as Goldust worked with WWE and WCW from 1990 to 2019. Dustin never won the big title in either promotion, but amassed a well regarded career. He was flamboyant, colorful and a master of mind games. No one has or ever will come close to doing a better job at mind games than Goldust.  
Rhodes has worked hard to keep his family's legacy away from WWE. He has trademarked and tried to trademark PPV names related to his father and WCW. The Rhodes name is also something he fought hard to regain.
A Slobberknocker Of A Trademark Battle
Since he left WWE he was simply known as Cody. Many people still called him Cody Rhodes and he had stated that he didn't think WWE would come after him for breaking the trademark. However, he didn't actually own the name and he wanted his name back.
In April of this year he applied for the trademark related to the Rhodes name. WWE had let the trademark lapse and Rhodes swooped in and reclaimed it. It was a done deal, but then WWE and the patent and trademark office came from behind and gave the wrestler a low blow.
RELATED: BRAUN STROWMAN'S PROFOUND INSIGHT INTO WRESTLERS' MENTAL HEALTH AND WRESTLING SOLELY FOR WWE
WWE had applied for a last minute renewal and it was delayed because it hit right at the start of COVID taking the US by storm. The "Rhodes" trademark was denied in July because of the WWE filing.  However, in a babyface turn, WWE canceled their trademark on the name and Cody is Cody Rhodes again.
Even though everyone called him Cody Rhodes anyway it will be nice for it to be his official name again. Let us know your thoughts on him regaining his surname in the comments below,
KEEP READING: WWE THUNDERDOME WILL CONTINUE INTO NEXT YEAR AND A SPECIAL ROYAL RUMBLE SURPRISE
Source: ProWrestling