Thirty years after the release of the first live-action Teenage Mutant Ninja Turtles film and not only do fans still love the movie, but it looks like one of the screenwriters wants more. Bobby Herbeck is still hoping to see more from the heroes in a half-shell within the same universe as the 1990 Teenage Mutant Ninja Turtles film.
With the thirty year anniversary Fathom Events screenings in select theaters this week (November 5, 6, and 7). Bobby Herbeck recently spoke with ComicBook.com about the 1990 film and the possibility of making another live action Teenage Mutant Ninja Turtles movie within the same universe.
TEENAGE MUTANT NINJA TURTLES 30TH ANNIVERSARY FATHOM EVENTS TRAILER
"We're trying to make that happen. We want to do a reboot," Herbeck said to ComicBook.com. in a recent interview. "We got our fans come to us on Instagram, they're, 'Why don't you guys do a reboot of the first movie?' We'd love to do it."
Quite a bit of Herback's interest looks to be tied to how the Jim Henson's Creature Shop could bring the turtles to life again, but with the technology available today versus what was possible thirty years ago.
"The truth is, this property, it's established now after 30 years as a part of our modern pop culture, it's not going away," Herbeck continued. "It's only going to continue to grow. I do wish that we could go back. I mean, we've talked to Steve Barron about this, and Brian Henson, and if there were an opportunity, if one of the studios saw fit, I think we could go back and reboot it like it was… Imagine if Brian Henson had access to the technology he does today to make these costumes and all that. I think it would be amazing. A reboot like that I think would really get people's juices flowing."
Teenage Mutant Ninja Turtles started as a comic in 1984 created by Kevin Eastman and Peter Laird, but has grown into a billion-dollar property having spawned numerous television series, video games, movies, both live-action and animated, and an endless supply of toys.
The 1990 Teenage Mutant Ninja Turtles movie is still beloved by many fans of the property. Being the first live-action Teenage Mutant Ninja Turtles film and featuring live-action turtles that were created by Jim Henson's Creature Shop. The movie grossed over $200 million worldwide. Following this success there were two live-action sequels with the first, The Secret Of Ooze, being released a year later to commercial success grossing over $78 million. This was followed by Teenage Mutant Ninja Turtles III in 1993.
RELATED: MIGHTY MORPHIN' POWER RANGERS/TEENAGE MUTANT NIJA TURTLES #5 REVIEW
In 2014 the property was rebooted by producer Michael Bay with a new live-action film, although the turtles are CG animated, and the film earned over $485 million worldwide making it the highest grossing film of the Teenage Mutant Ninja Turtles franchise. However, it was not met with favorable reviews from critics or fans. A sequel was released in 2016, again produced by Michael Bay, which grossed only $245.6 million.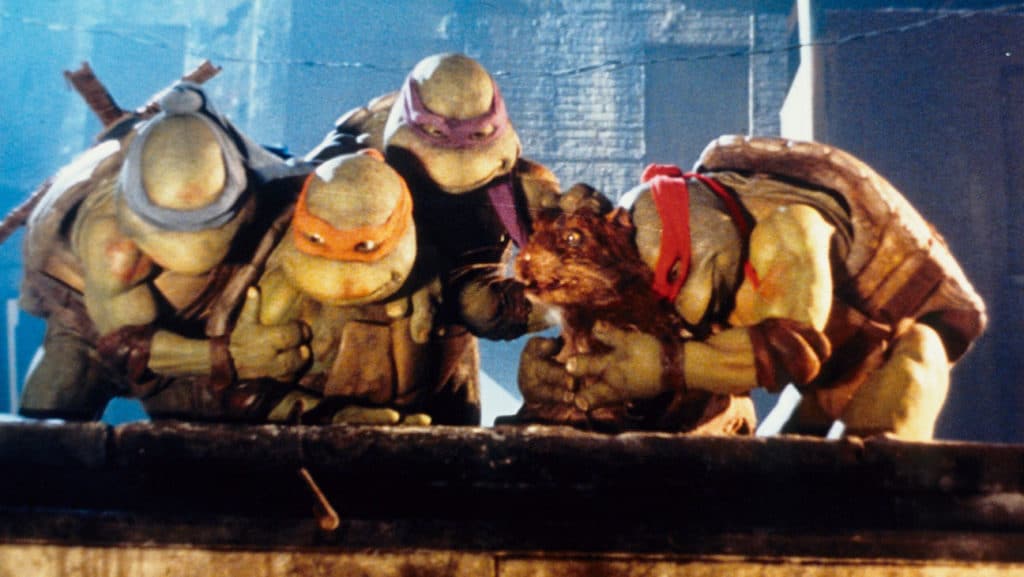 While there is no news about a potential reboot or sequel of the 1990 film that Bobby Herbeck is hoping for fans still have a lot to look forward to. The upcoming Nickelodeon CG Teenage Mutant Ninja Turtles film which Seth Rogen, Evan Goldberg, and James Weaver are producing. Brendan O'Brien (Neighbors: Sorority Rising) is writing the screenplay and Jeff Rowe (Gravity Falls) will be directing. Seth Rogen, a self-proclaimed long-time fan of Teenage Mutant Ninja Turtles has revealed that he is excited to focus on the teenage aspect of the Teenage Mutant Ninja Turtles, which is often overlooked.
Are you excited about the upcoming CG Teenage Mutant Ninja Turtles movie? Would you want to see a new Teenage Mutant Ninja Turtles movie directly connected to the 1990 film either a reboot or a sequel? Leave your thoughts in the comments below or on our social media.
KEEP READING: NEW TEENAGE MUTANT NINJA TURTLES ANIMATED FILM IN DEVELOPMENT POWERED BY SETH ROGEN
Source: ComicBookMovie