The latest episode of The Mandalorian, "The Heiress", expertly delivers both progression of Din's character, while propelling the main story, executing an action-packed subplot, and introducing a fan favorite character. This is the way!
The Mandalorian *SPOILERS AHEAD*
Director Bryce Dallas Howard does a great job in pacing this episode. In a little over a half an hour, we are treated to great action and the main story progresses very nicely. The action is exciting, but also concise. Nothing here is gratuitous.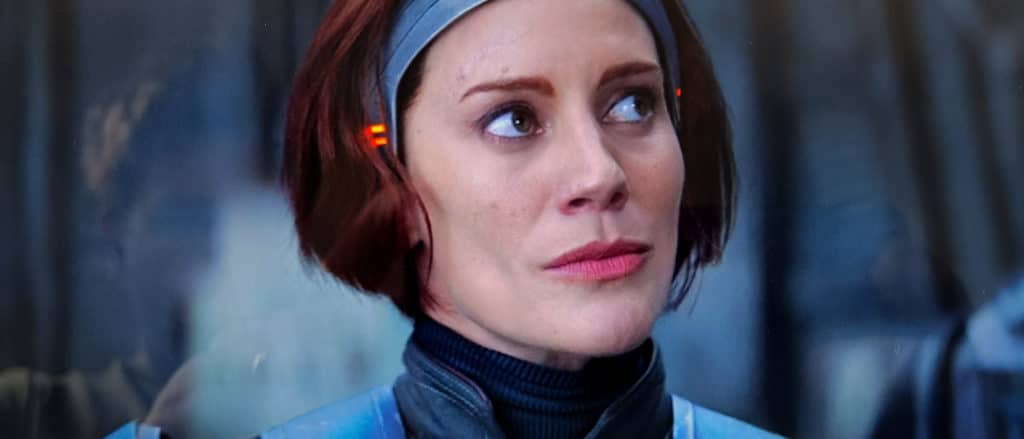 We are introduced to Katee Sackhoff's Bo-Katan Kryze, officially making the transition from animation to live-action. Sackhoff plays Bo-Katan's stoic determination wonderfully, and gives us some more information about Mando's past, and provides some great backstory to the whole Mandalorian helmet shall-never-be-taken-off oath.
It's our first glimpse at the Imperials this season, and it's always a good time when they're the villains of the week. A new type of Imperial transport is displayed and the whole heist that takes place onboard is a great sequence.
RELATED: THE MANDALORIAN S2 E2 "THE PASSENGER" REVIEW: ANOTHER FUN SIDEQUEST, THAT MAY ALIENATE SOME FANS
There are some great comedic beats here as well and Baby Yoda gets a lesson or two in compassion and empathy from the Frog Couple!
"The Heiress" firmly establishes where the story is headed and the introduction to Bo-Katan and her unit will definitely pay dividends down the road. With Mando's sights now being set on locating Ahsoka Tano, and Moff Gideon back in the fray, The Mandalorian second season is just starting to heat up!
What did you think of the latest episode of The Mandalorian? What do you think will happen next week? Let us know your theories in the comment section below or let's keep talking over on Twitter!
KEEP READING: LEGO STAR WARS HOLIDAY SPECIAL TRAILER TEASES A FUN AND SILLY ADVENTURE