Nickelodeon hit kid show, Blue's Clues & You, just gave a special tribute to Filipino culture and cuisine in their recent episode "Blue Big Baking Show". Of course, this special themed episode may not come as a surprise to some, as the current host of Blue's Clues is Filipino American.
Audiences were given a treat as famous Filipino-Canadian Carolyn Fe made a special appearance in the new episode. In the show, Carolyn plays Josh's Lola. In Filipino culture, lola means grandmother. In the episode, Lola visits Josh and Blue and they treat her with a very special Filipino dessert dish. That special dish was a Bibinka.
RELATED: DISNEY RELEASES FIRST FILIPINO-THEMED ADVERT FOR CHRISTMAS 2020, FROM OUR FAMILY TO YOURS
A Bibinka is a native Filipino dish that is usually eaten during breakfast, especially in the Christmas season. In the episode, we see Josh, Blue, and Lola eat the Bibinka they serve her. They ask her what she thinks of it, and she says it's masarap! In the native Filipino language of Tagalog, masarap means delicious.
Josh's Lola was first mentioned in the episode "Pajama Party With Blue", but this recent episode marks her first appearance.
REPRESENTATION OF FILIPINO CULTURE IN BLUE'S CLUES
In "Blue's Big Baking Show," we see bits and pieces of Filipino culture. The first bit is, of course, Josh calling his grandmother "Lola." this episode actually reveals to the audience that Josh is of Filipino descent, which to me is huge. As a proud Filipino-American, I am glad that we have the chance in being represented to the world by this new stream of media.
We now have a generation of kids or younger audiences that will be shown the wonders of Filipino culture, starting with their current host Josh and his partner Blue.
Mano Po (Showing Respect)
The first act of Filipino representation is when we see he grabs his Lola's hand and puts it on his forehead. In Filipino culture this act is called a "Bless", and it represents great respect and love to your elderly. In the Philippines we also call it Mano Po. This brought a smile to my face, because my cousins and I would also do Blesses of Mano Po's to our Lolas and Lolos (Grandfather) every time we visit them. So its good to see the writers and producers were able to put that nice reference in that episode.
Bibinka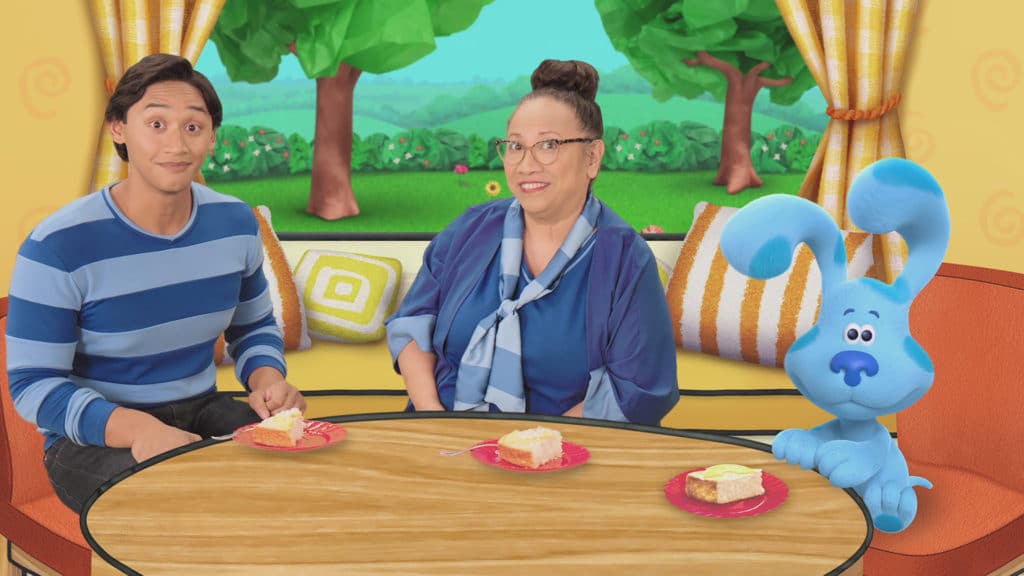 The second act of Filipino representation is when we found out Josh and Blue served their Lola fresh homemade Bibinka. A Bibinka is a Filipino dessert that is made out of glutinous rice, eggs, butter, flour, banana leaves and coconut milk. The dessert is usually served at Filipino parties and sold at bakeries.
It's technically called the Christmas Dessert Dish in the Philippines, because of the dish's popularity during the Christmas season. What I like about that scene is that when they ate the Bibinka, Josh's Lola said Masarap. I am glad that kids will be able to learn what that word means.
Final Thoughts
When I was a kid, I was a huge Blue's Clues fan. I remember the awesome afternoon days where I would watch Blue and the host of that time, Steve, entertain me on my TV. I also loved Steve's replacement Joe as he was funny, and I would ask my parents to buy me all the Blue's Clues VHS Tapes and DVD. Especially Blue's first direct to VHS film Blue's Big Musical. Lets just say Blue's Clues was a big part of my life when I was a kid growing up.
Years later, when I found out Blue's Clues was coming back and they casted a Filipino-American actor as the new host, I was proud and excited. It's because finally there is someone that looks like me, teaching and entertaining the children of this current generation. This new recent episode, "Blue's Baking Show", is just a normal episode to many. But to myself and other Filipino-Americans, it was a great tribute to our culture.
This was episode hit close to home and reminded of the great memories I had watching Blue's Clues. Also, that bibinka that Josh and Blue baked does look masarap!