AJ Styles' giant associate finally gets a name and it's as mysterious as he is.
On Sunday at Survivor Series, Styles finally revealed the name of his new friend, Omos. A short name to counter his 7-foot-3-inch stature. He now has a single name like Kane or Madonna. The WWE announcers mentioned his name a few times so his name would stick. They used it on this week's RAW as well so it definitely looks like that is his name now.
AJ Styles' Associate Is Now Known As Omos
Previously he didn't have a name. AJ Styles just called him his associate, from the time he first started accompanying Styles to the ring last month. Giving him a name means WWE is planning on using him for a while. It looked like he may be a one off at first, but he has stuck around. So far Omos hasn't done much other than stand outside the ring and look imposing.
The name Omos isn't anything new for Jordan Omogbehin. His Twitter name is @TheGiantOmos. It would seem that WWE took the easy route and asked him what he would like to be called. Omos is as good a name as any to me.
Omos made his RAW debut as a bouncer for Shane McMahon's the now defunct RAW Underground and as one of Akira Tozawa's ninja's. I'll give you a hint which one it was. It was the really tall one.
However, Omos first made his WWE debut in NXT. Omos was in the same Performance Center class as Riddle and Humberto Carrillo back in 2018. He made his in-ring debut in July 2019, but only wrestled a handful of matches.
Former Basketball Player Turned Wrestler
In Omogbehin's past life before he made his way over to WWE, he was a college basketball player. I know an over 7 foot guy playing basketball sounds atypical, but it's true. He's 26 years old and is from Lagos, Nigeria.
RELATED: BRAUN STROWMAN'S PROFOUND INSIGHT INTO WRESTLERS' MENTAL HEALTH AND WRESTLING SOLELY FOR WWE
We will have to stay tuned to WWE to see how they decide to use Omos. He is by far the tallest wrestler on the roster. He towers over Braun Strowman and other big men on the roster. Vince and WWE love big men and Omos fits that bill pretty well.  However, what we don't know is what his in-ring ability is. Big men can be very stiff and kinda lumber around. Omos didn't spend much time in NXT so he may not be ready to wrestle on the main roster yet. However, he may not have to wrestle.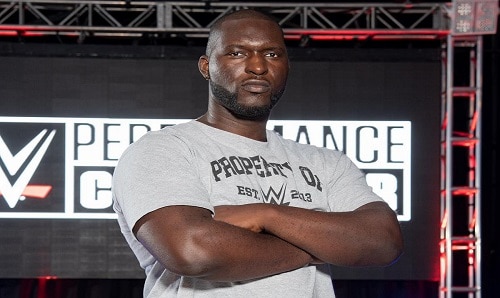 In his current role, he's not that far away from being a manager  If he has good mic skills he could fill that role well, as there are only a few managers in current wrestling. We have Paul Heyman and that's really it. However, I don't see him taking on a very vocal non-wrestling role. Even if Omos is good on the mic, WWE will put him in the ring at some point. They are just waiting for the right time.
RELATED: WWE ANNOUNCES THUNDERDOME TO LAY THE SMACK DOWN AT NEW HOME AT TROPICANA FIELD
This is my guess as to how Omos will transition into an active wrestler. He will cost Styles a match and they will start fighting. A match will be set for the nearest PPV.  In the meantime Omos will have squash matches leading up to the PPV. Styles vs Omos will be a good match because Styles will do all the work and make Omos look amazing, but Omos will win.
I am looking forward to seeing more Omos and what his in-ring skills look like. Are you excited to see more Omos?  What do you think of the name? Do you think WWE will have him wrestle or stay as a non-speaking role?  Drop a comment or two and let us know what you think of the great and powerful Omos.
KEEP READING: ZELINA VEGA ASKED TO SPEAK WITH VINCE MCMAHON AFTER BEING FIRED BUT WAS SHUT DOWN
Source: WrestlingHeadlines