WWE wanted James Storm to make an appearance in the 2020 Royal Rumble, but he missed the email.
James Storm has been around in wrestling for quite some time. He was an original member of TNA when it still had the NWA name tacked on.  This was back in the early 2000s and has always been a popular wrestler.  However, a big WWE run has always eluded him.
RELATED: PAUL HEYMAN REFLECTS ON HIS MEMORABLE TIME RUNNING RAW AND THE END WITH VINCE MCMAHON
Sure back in 2015 he debuted in NXT. He had a lot of buzz and fanfare, but he appeared as a free agent.  Storm was only there for the briefest of moments before returning to TNA.
However, WWE almost got him for a second time and he could have made his debut in none other than the Royal Rumble. Storm was a guest on Busted Open Radio where he revealed this for the first time.
"We did our last [NWA] taping around the end of January. That's the last taping that they did and it's something where I actually kind of had another month on the contract that I had, but it was actually the Thursday before Royal Rumble that WWE contacted me and asked me if I would like to come in and stuff. But the bad thing is, I didn't get the damn email until after the Rumble and I got my call on Wednesday because the email on my phone was not working. So, they were basically like, 'Since we're getting into WrestleMania season, let's kind of just hold off everything until right after 'Mania.' I talked to Billy Corgan [yes of Smashing Pumpkins fame and current owner of NWA] and told him, 'Whatever you guys need me to do to go out the right way, I'll do it.' They were going to plan a show around that WrestleMania weekend, where all the shows go on and I was going to drop [the tag title] down there and just as I say, do good business on the way out the door," Storm said.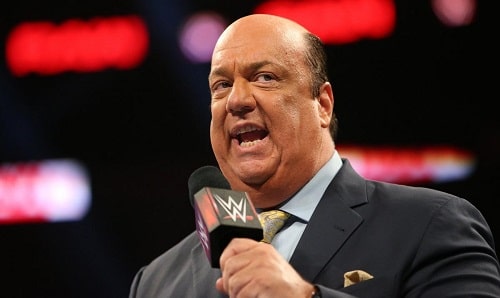 James Storm Was Almost A Heyman Guy
James Storm continued on that the main guy who wanted Storm to return was Paul Heyman.  Heyman was the head of Raw at the time and could have made a major push for Storm. By the time WrestleMania hit COVID was in full force. The biggest wrestling event of the year was broken up into two nights and broadcast live from the performance center.
RELATED: ROBERT ROODE OPEN TO RETURNING TO NXT AND BECOMING "A CHAMPION AGAIN"
WWE probably backed out of bringing in many new guys because budget cuts at around the same time period. Keep in mind the mass release of Superstars was right after 'Mania. Also a few months later Heyman was fired as the head of Raw so Storm lost a big backer there.
James Storm talked about what WWE and Heyman's plan was for him if he came over to WWE.
"I don't think it was to come in for the Rumble, because I never did say. You know how it is. You never know until it's over with really. You're in the ring, you head to the back and take your boots off. But I kind of felt that way, because like I said, it was on that Thursday and I didn't answer the email until I got back home on Wednesday. And it was Heyman that wanted to bring me into Raw and he was basically like, 'Hey, I need guys like you that know how to work' because I tell everybody all the time, 'WWE, AEW, New Japan, they get guys that can do every move in the book.' I said, 'There ain't no move that you're going to come up with that one of those guys can't do.' I said, 'There's a lot of guys who don't make it really believable even more' in my eyes anyway," Storm said. H/T to WrestlingInc for the transcriptions
James Storm Is A Crafty Young Veteran Who Has Seen It All
James Storm is definitely experienced. Having guys who have wrestled all over the world and can teach younger guys stuff is invaluable. However, this is for people at the end of their careers and Storm doesn't seem like he is planning to retire anytime soon.
If Storm had debuted on WWE then a reunion of the beloved Beer Money INC. was sure to follow. In TNA Storm and Bobby Rude now Robert Rude formed the team and dominated the tag division winning the tag titles seven times.  
What do you think of James Storm? Do you think he would have made a good addition to WWE. Do you think he could have captured the WWE or Universal Championship? Do you want to see Beer Money INC. reunited in WWE? Leave some comments below with your thoughts.
KEEP READING: EC3 MAKES HIS ROH DEBUT AND CONFUSES THE LOCKEROOM
Sources: ProWrestling, WrestlingINC, Busted Open