AJ Styles almost signed with AEW when his new WWE contract was being negotiated.
A few weeks ago Matt Jackson of the Young Bucks was on a Patreon exclusive Talk' N Shop podcast episode with Gallows and Anderson. Jackson talked about AEW wanting to sign the pair, but he also mentioned a third big name from WWE.
RELATED: GALLOWS AND ANDERSON BLAME PAUL HEYMAN FOR BEING RELEASED FROM WWE
"When [we] were pitching ideas to have you guys [Anderson and Gallows] come in, it was not going to be just the two of you [debuting on AEW]. There was going to be another person who I would not name. Let us just say he's another Bullet Club member you may not want to talk about," Jackson said.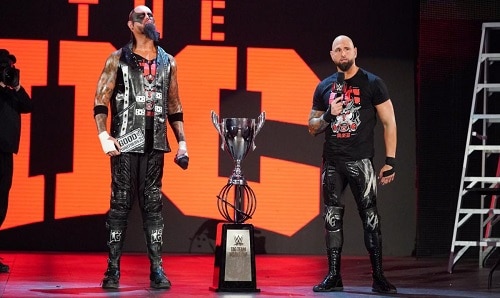 This Mysterious Third Man Is Giving Me NWO Vibes
It was almost certain that the guy he was talking about was AJ Styles, but he refused to give out his name. The plan was to have the trio formally known as the OC in WWE debut on the premier episode of AEW Dynamite.  However, all three members resigned with WWE.
"We were originally going to debut AEW Dynamite at Madison Square Garden. At the end of our match, the three of you [Anderson, Gallows and Styles] were supposed to jump the guardrail and we were going to have a Bullet Club reunion. Obviously, things didn't work out like that," Jackson said. (H/T to WrestlingInc.com for the transcription.)
Styles Ended The Bullet Club Dreams
Gallows and Anderson resigned with WWE because Styles convinced them to stay as he has stated before. Thus ending a Bullet Club reunion in AEW. Since then Gallows and Anderson have signed with Impact Wrestling as the Good Brothers and Styles remains Phenomenal in WWE after resigning in March of 2019.
RELATED: AJ STYLES LEFT RAW BECAUSE HE COULDN'T WORK WITH A LIAR
AJ Styles has been pretty open about his feelings surrounding rumors and his feelings on Gallows and Anderson's release. However, he had not spoken on or confirmed he was indeed the third member of this little Bullet Club invasion of AEW.  This changed on Styles' recent Twitch stream.
"This is a business, things have been talked about. It's one of those things. You talk to your friends, the Bucks are my friends. We didn't talk about money, but there was a conversation because my contract was coming up. It is what it is, it's business. So, there is some truth to that," Styles said. (H/T to Fightful.com for the transcription.)
The business comments echo what Jackson talked about in his statements. Styles called Jackson thanking AEW for the interest in him as he was able to use it as a barkgaining chip to get more money in WWE. The money was just too much for Styles to not take the offer and resign.
AJ Styles has been very public about this being his last contract as an active performer. Once he retires he hopes to take on a role as a behind-the-scenes guy and maybe become a talent scout.
What do you think of AEW's Bullet Club reunion idea? Do you think AEW would have been a good place for AJ Styles to retire. Would AEW have been a better place for Gallows and Anderson than Impact or WWE? Hit us with a Styles Clash down in the comments and let us know what you think.
KEEP READING: WRESTLEMANIA WEEKEND HAS A HUGE SCHEDULING CONFLICT
Sources: ProWrestling Matt Jackson Quotes, ProWrestling AJ Styles Quote, AJ Styles' Twitch