AEW President Tony Khan announced that Jon Moxley will not be competing at NJPW's WrestleKingdom 15 or defending his NJPW championship.
Recently Khan did a media call to hype up and promote the "Winter is Coming" edition of AEW Dynamite.  One of the questions Khan was asked was if Moxley will be able to wrestle the WrestleKingdom 15 event in January.  To that question, Khan simply answered "no."
RELATED: TONY KHAN HOPES TO HAVE BRODIE LEE BACK "SOON"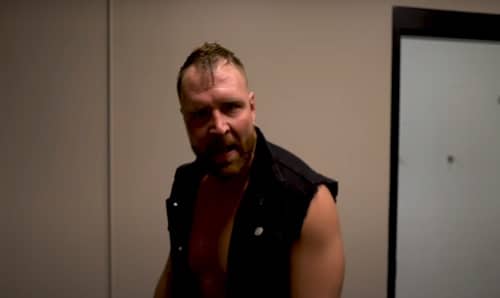 COVID Cancels The Fun Yet Again
The reason Moxley would not be able to wrestle at WrestleKingdom is the answer to why everything fun is canceled, COVID.  If Moxley went to Japan to wrestle the event he would have to quarantine two weeks prior to going to Japan and two weeks after.  That would be an entire month off AEW TV.
However, the reason why Moxley missing WrestleKingdom is such a big deal is because he is the IWGP United States Champion.   The last time Moxley was able to defend the title was back in February.  It is unknown if NJPW will vacate the title again because he is unable to defend it.  
RELATED: CODY REGAINS TRADEMARK ON THE LEGENDARY RHODES NAME
Moxley originally defeated Juice Robinson at Best of the Super Juniors 26 for the title and won it again back at last year's WrestleKingdom defeating Lance Archer. He defended the championship against Minoru Suzuki in February. All three matches took place right before COVID took the world by storm.
KENTA Wants His Title Opportunity
Currently, KENTA holds a briefcase naming him the #1 contender for the championship and isn't being quiet about it.  KENTA has taken to calling out Moxley on Twitter and will be keeping a close eye on Moxley vs Kenny Omega at the "Winter is Coming" edition of Dynamite.
I wouldn't be surprised if Moxley was stripped of the championship again. It has been almost a year since he has defended the championship. That is just way too long to have the championship not defended and championships are meant to be defended. They could easily give it to KENTA and have a tournament to name his first title defense. Once COVID finally ends Moxley could challenge KENTA for the title.
Is it worth Moxley missing so much AEW TV in order to defend his championship in Japan? Do you think Moxley should be stripped of the IWGP United States Championship or should they wait longer? Do you think KENTA should automatically get the title or should he have to wrestle someone for it? Who should he wrestle for it? Double Arm DDT those comments below and let us know what you think.
KEEP READING: RHEA RIPLEY ON LOSING MOMENTUM AND READY TO OVERCOME LOSING CONFIDENCE
Source: WrestlingHeadlines