Hollywood has always had a tough time adapting video games. While Sonic The Hedgehog, Detective Pikachu, and the Jumanji sequels are enjoyable films, they and just about every other video game-based film, have never fully felt like video games come to life. 
Enter Max Cloud, a Scott Adkins sci-fi comedy that not only embraces feeling like a video game, but also makes it look easy.
In 1990, teen gamer Sarah (Isabelle Allen) loves playing the sci-fi beat-em-up video game, Max Cloud. One day, Sarah is somehow sucked into the game itself, entering the body of an avatar, Jake The Cook (Elliot James Langridge). When Sarah's friend Cowboy (Franz Drameh) drops by, he picks up the controller and is able to control Sarah's character Jake (Elliot James Langridge). Together they have to find a way to help Sarah escape from the video game. To do that, she'll have to go along with Max Cloud (Scott Adkins), battling space creatures and encountering other game characters along the way.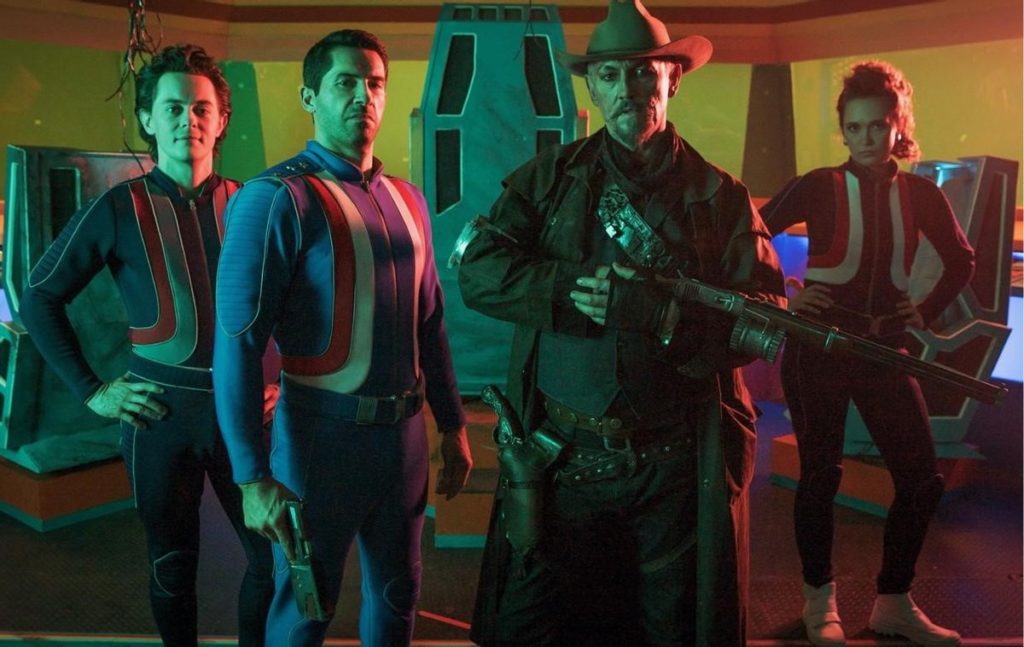 I had a blast with Max Cloud. Scott Adkins portrays the title character flawlessly and the sets look and feel exactly like video game levels brought to life. The movie, directed by Martin Owen, constantly cuts back between the real world and the game world (with some fights only seen via gameplay), but it never breaks viewer immersion. The film is thankfully free of the kind of self-mocking jokes common in nostalgia-based movies, but the humor we do get is solid.
RELATED: LIGHTYEAR: CHRIS EVANS TO STAR IN UNEXPECTED BUZZ LIGHTYEAR ORIGIN STORY
Despite some clear budgetary restraints, the action is fast and fun without getting overwhelming, the pace is quick and the tone is light as a feather. The climax also adheres to video game rules in a way that should leave players smiling, and the film clocks in at under 90 minutes. I also commend Max Cloud for keeping its game characters as uncomplicated heroes and villains, which keeps in line with the black and white nature of how many 1980's games were.
Max Cloud isn't the highest-budgeted or star-studded film in existence, but a charismatic turn from Scott Adkins and full embrace of video gaming will likely find it a place among gamers for years to come. Play Max Cloud.
Max Cloud Full Official Synopsis
1990. Brooklyn. Teenager Sarah loves playing video games with her best friend Cowboy. One evening after an argument with her father Tony, Sarah finds herself magically propelled into her favorite game, The Intergalactic Adventures of Max Cloud.

Embodying the useless character of Jake (the chef), Sarah finds herself immersed in Max Cloud's world and smack-bang in the middle of a galactic crisis. The ship has crash-landed on the planet of Heinous, a prison for the galaxy's most evil and dangerous criminals and ruled by the utterly bizarre Revengor and the evil sorceress Shee.

With no pause and only one life, (and sub-average gamer) Cowboy must control Sarah through a wacky, zany adventure as they help Max and his team face Revengor, Shee, and an army of space ninjas in order to escape the planet before the two suns burn them to a crisp! Expect nostalgia and be ready for action, but nothing can truly prepare you for MAX CLOUD.
Control yourself…Scott Adkins' retro gamer action flick Max Cloud will be available on digital platforms on December 18!
KEEP READING: MAX CLOUD'S SCOTT ADKINS REVEALS ONE HILARIOUS CHANGE HE WOULD HAVE MADE TO DEADPOOL 2