Outside the Wire star Anthony Mackie reveals more about inheriting Captain America's shield and Steve Rodgers last wish in The Falcon and Winter Soldier.
The end of Avengers: Endgame saw Steve Rogers offer the responsibility and moniker of Captain America onto his friend Sam Wilson/Falcon. That turned out to be a set-up for one of the new Disney+ series set in the Marvel Cinematic Universe: The Falcon and Winter Soldier. 
Anthony Mackie on Old Man Steve and the Shield
However, on an interview with The Jess Cagle Show, star Anthony Mackie gave new insight into the Old Man Steve scene in Avengers: Endgame:
"At the end of Avengers: Endgame, Cap decided he was going into retirement, and he asked me if I would take up the shield, but at no point in time, did I agree to or say that I would be Captain America. So the show walks the line of who is going to take up the shield and who's going to be Captain America if Steve isn't coming back."
Anthony Mackie also revealed that Marvel considered casting the role a different way:
"..an old dude to play Chris Evans. So they brought in like three actors. They're like, none of these. Like, this isn't how Chris will look when he's old. Like, he's gonna [look] he's like George Clooney.  He's going to be 95 and still like handsome, you know?  So, they brought in a makeup team and prosthetics and makeup and made him into an old man. And how good of an actor Chris is, it actually worked. He pulled it off with his voice and everything. He did a great job."
Anthony Mackie was reminding audiences that you can lead a horse to water, but can't make it drink. Just because Steve offered Sam the mantle, doesn't mean he's taken it…at least not yet.
We still don't know if Anthony Mackie's Falcon will replace his technologically advanced wings for an adamantium shield, but we can find out when The Falcon And The Winter Soldier starts airing on Disney+ March 19, 2021 with a 6 episode run. 
RELATED: WANDAVISION: WATCH WANDA'S GROWTH THROUGH HER 6 YEARS IN MCU IN NEW VIDEO
It will star Anthony Mackie (Sam Wilson/Falcon), Sebastian Stan (Bucky Barnes/The Winter Soldier), Daniel Bruhl (Baron Zemo), Emily VanCamp (Sharon Carter), and Wyatt Russell (John Walker). The series is created by Malcolm Spellman, who shares executive producer credit with Marvel head Kevin Feige.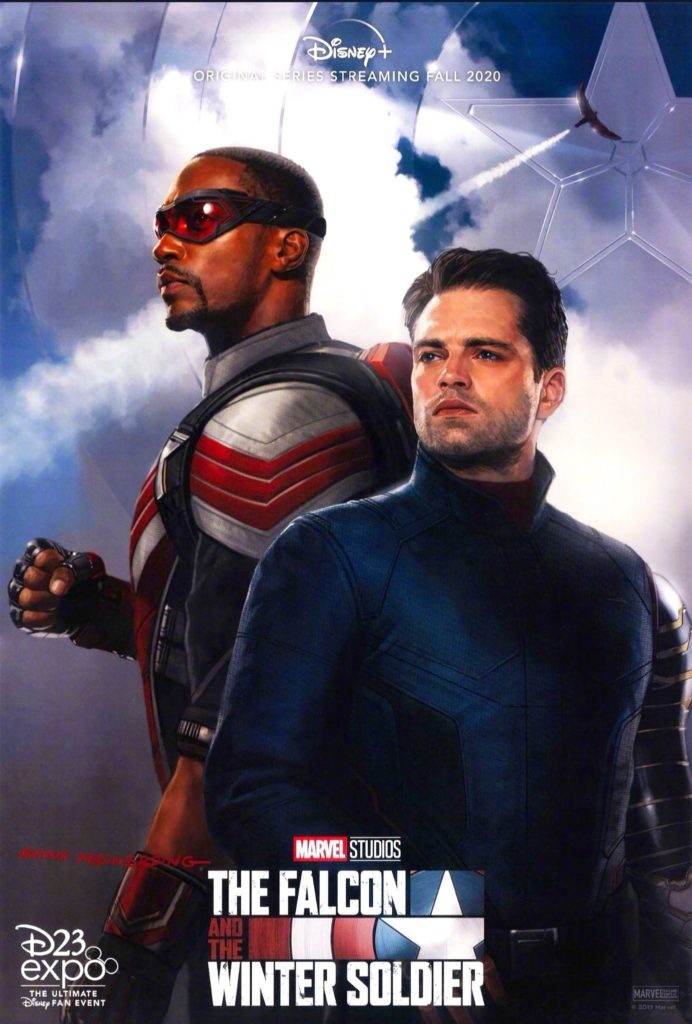 What are your thoughts on The Falcon and The Winter Soldier? Are you excited to see the MCU cross over into TV? Let us know in the comments below and on our Twitter.
KEEP READING: WANDAVISION REVIEW EPS 1-3: THE MYSTERY BEHIND THE SHOW REOPENS THE MCU IN A BRAND NEW WAY