The Illuminerdi reviews the first three episodes of Marvel Studios' WandaVision.
The Marvel Cinematic Universe is officially back in action after a gap in releases that may have only been 18 months, but felt so much longer due to the pandemic-induced delays. 
After the end of Phase 3 brought literally the biggest box-office blockbuster movie of all time in Avengers: Endgame, the world was wondering what would be coming next. As someone who has seen just a tease of what's coming over the next few years, it's safe to say that the MCU will be back and bigger than ever.
I had the chance to watch the first three episodes of Marvel Studios' first original series on Disney+, WandaVision, as part of the show's press junket. While this review won't contain any sort of spoilers (merely to stay alive due to the classic Marvel snipers being ever present), I think I can safely say this show is starting off on the right foot.
WandaVision Trailer
The great thing about these first three episodes is that even while each one comes with its own story, the overarching plot is barely referenced until the end of this run. WandaVision starts off more simply than nearly any MCU project to come before it, and it's an absolute perfect fit for what the show is trying to do.
The reports of WandaVision tackling multiple eras of network TV history are absolutely true. At least in Episodes 1-3, the formula is to take a particular era, recreate it, throw in a couple with established superpowers and history, and see what happens.
RELATED: KEVIN FEIGE CONFIRMS DEADPOOL 3 IS RATED-R AND REVEAL THAT HE WILL BE A PART OF THE MCU
Even considering its slow start, WandaVision makes it clear that this series is firmly entrenched within the MCU and its history over the past dozen years and counting. There are references to Wanda's story told through her previous starring appearances in the movies, and it's unquestionably a continuation of where she is after the events of Avengers: Endgame.
The other cast members haven't been explored too deeply yet, although Kathryn Hahn's Agnes is certainly somebody to watch out for. The nosy neighbor trope that was teased in promotions applies in full in the first three episodes, as she interacts with Wanda and Vision, but there is also just a hint of mystery to her future as the plot continues.
RELATED: WANDAVISION: THE 1ST REACTIONS TO MARVEL STUDIOS' NEW SHOW HAVE ARRIVED!
As for another series co-star, Teyonah Parris' Monica Rambeau, WandaVision barely scratches the surface of her arc through the first third of the plot. The intrigue behind her eventual evolution into a full-fledged superhero will be something to keep an eye on once the last six episodes come to light.
Moving to the overall look of this series, the production value on WandaVision is absolutely through the roof, exactly the way Marvel head man Kevin Feige said it would be upon the show's announcement. The effects not only look incredible in and of themselves, they fit in perfectly with each individual decade in which they are used. The superpowers and special effects are shown just how they seemingly would have been in TV shows of the past, and it shows Marvel Studios' unique attention to detail.
As for the acting in these eras, the team clearly put in the work necessary in front of the camera and behind it to make sure each decade felt as authentic as possible. In the recent press conference from Marvel Studios, director Matt Shakman described the "TV sitcom bootcamp" through which he put the show's actors in preparation for shooting. This extensive prep work, as well as the fact that the 50s episode was shot in only 2 days, shows the authenticity and dedication that the WandaVision team is putting into doing this show the right way.
RELATED: MARVEL HEAD KEVIN FEIGE REVEALS EPISODE LENGTHS FOR 5 NEW UPCOMING DISNEY PLUS MARVEL SERIES
My only complaint so far is that there really isn't a ton of the classic superhero action that Marvel is so well known for, but I have a feeling it will build up to that. As Wanda and Vision experience more of the craziness from this new reality and find out what's real and what isn't, the action and excitement will surely pick up. Especially with the last three episodes rumored to be the classic Marvel adventure.
All in all, the first three episodes of WandaVision already have me hooked and wanting more from this first MCU Disney+ series. The show's first two episodes will arrive this Friday, January 15, while episode 3 will premiere one week later on January 22.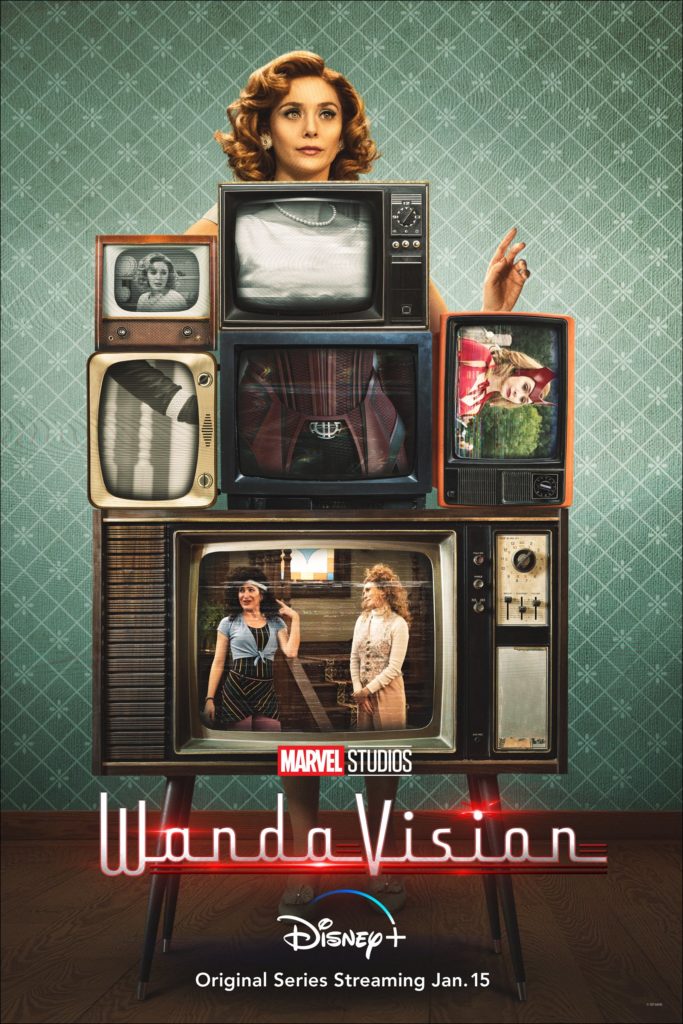 Welcome back, Marvel Cinematic Universe. We missed you so much!
WandaVision Official Synopsis
Marvel Studios' "WandaVision" blends the style of classic sitcoms with the Marvel Cinematic Universe in which Wanda Maximoff (Elizabeth Olsen) and Vision (Paul Bettany)—two super-powered beings living their ideal suburban lives—begin to suspect that everything is not as it seems.
KEEP READING: WANDAVISION: WATCH WANDA'S GROWTH THROUGH HER 6 YEARS IN MCU IN NEW VIDEO