I formally met Kobe Bryant on October 23, 2018 during a book signing and photo event for Mamba Mentality.
The event was held in a Barnes and Nobles in the Grove Outlet Mall located in Los Angeles, CA. Barnes and Nobles announced that fans would be able to see and meet Bryant after purchasing a wristband for a pre-signed Mamba Mentality book. However, it required waiting outside the Barnes and Nobles to get a ticket and was first-come and first-serve. As a huge Lakers fan who idolized Kobe Bryant, I could not miss this opportunity.
I woke up around 1:00am and arrived at the Grove around 2:15am that early morning. There was already a huge line outside the grove that lasted maybe around two blocks. I found out that people already have camped out and waited two days prior to the event. When I saw the long line I was starting to become hesitant. Mainly because I knew that they were only allowed to give 500 lucky fans a pre-signed book and greet Bryant. But I overcame my doubt and pushed on.  
I waited six hours in line for Barnes and Nobles staff to give wristbands. When I saw a staff member giving out wristbands I was so nervous and excited. Finally when the staff member came up to me with a ticket, I jumped and cried for joy. Also I found out I was the 496th person to get a ticket, so I was very lucky. They also gave out standby tickets for fans that did not get a wristband and have a chance of meeting Bryant, but would not be able to get a pre-signed book. At around 8:00am they opened the Barnes and Nobles and I was able to purchase a Pre-Signed book due to my wristband. The staff told us to come back to the site around 6:30pm, because Bryant's meet and greet was at 7:30pm.
For the rest of that I mainly just chilled out and hang around the book store (Was able to read and finish 10 comic books during my wait). But then 6:30pm came and I waited in line. After some time passed we finally moved and went inside the meet and greet room. There I saw finally Kobe, he was very high spirited and talking with all of his fans. When I finally met him he looked down on me (forgot he was legit 6.6), smiled, shook my hand, and asked how my day was going. I told him it was doing great, and I was very tired. I legit also told him I waited since 2:30am.
Kobe Bryant responded that I was crazy, but praised my perseverance and told me that I had "The Mamba Mentality". After that he gave me good advice in life by telling me "to never give up on my dreams, always work hard, and keep on pushing and persevering no matter how hard life gets". After that he gave me a huge warm embrace that I will never forget, and we took our photo op. After the meet and greet I received my pre-signed copy of Mamba Mentality and waved Kobe a final goodbye. The following weekend I actually returned to that Barnes and Nobles (To buy some books for my dad) and asked the staff how long Kobe stayed during his meet and greet.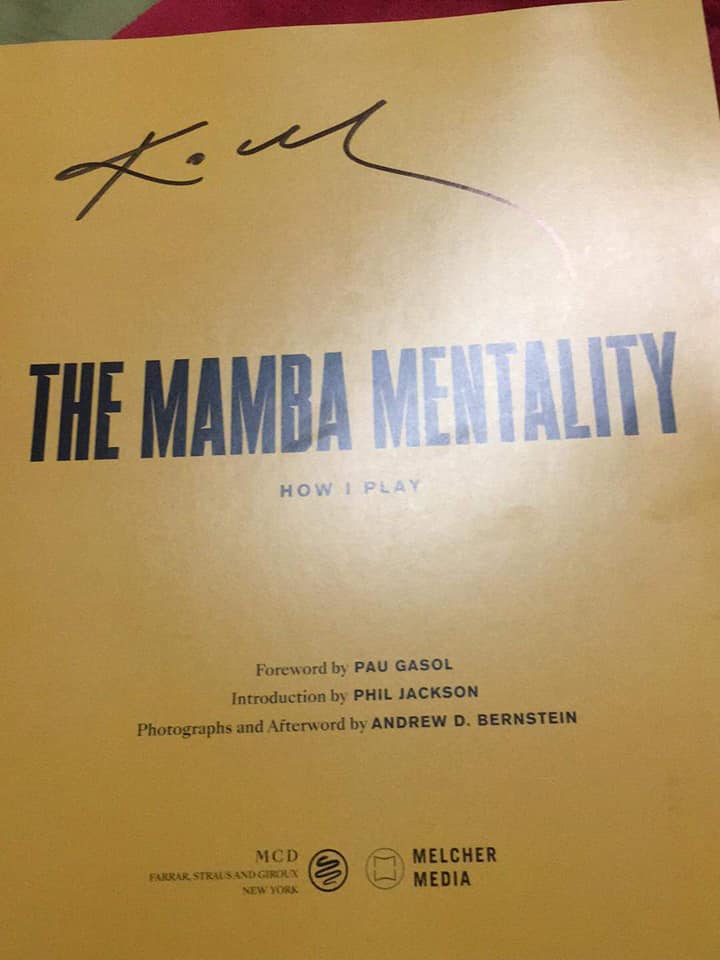 I found out from them that Kobe took a photo with almost all of the people in the standby line and who did not get a ticket or a wristband. It was heartwarming to hear that Kobe took his time with those people and showed he cared for his fans. That action showed the kindness, humbleness, and generosity Bryant was to many people, and those lucky fans including me were able to witness it on person. The Mamba Mentality was strong with us on that day
Bryant's influence is universal to many around the world. His Mamba Mentality catchphrase is a term for hard work, thinking outside the box, and pushing yourself to be greater. Many aspiring Basketball players who want to make it big uses Mamba Mentality in order to be better and push themselves to be greater. The Mamba Mentality can work for jobs, interviews, content creating, acting, dancing, singing, and many more. But what is important if these striving and ambitious people are willing in pushing themselves to become greater and work even harder to achieve their dreams or goals. It all depends if they have the right mentality to achieve it. Basically the Mamba Mentality can apply to your life no matter big or small.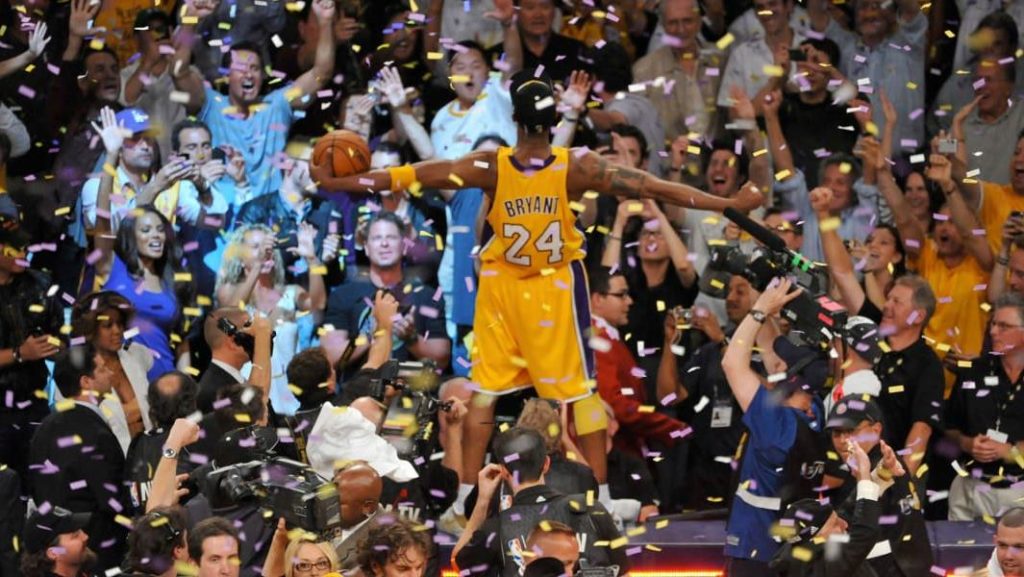 Even though Kobe Bryant is no longer with us, we can't deny the inspirational messages he gave all of us. Yes some people might just remember him to be a legendary Basketball player. But Kobe was more than that as to many he was seen as a hero. Yes Bryant was not perfect as we all are, but it's the good and inspirational deeds he did will forever impact us. Bryant's hard work ethic, determination to be great, and inspiring "Mamba Mentality is what will forever resonate with us. I myself use the Mamba Mentality every time I plan my day, work, write and when I content create.
Bryant's words of advice he gave me and and many fans when we met him that fateful October three years ago will never be forgotten. We all have the Mamba Mentality we do it everyday through our daily lives like taking care of our families and we work. We also can not forget Bryant's generosity as him and his wife have their foundation where they would donate to the many homeless individuals in the city of Los Angeles. Bryant was involved in many charities and his love for doing them was legendary. The well known charity and organizational program he was very involved in was the Make-A-Wish foundation.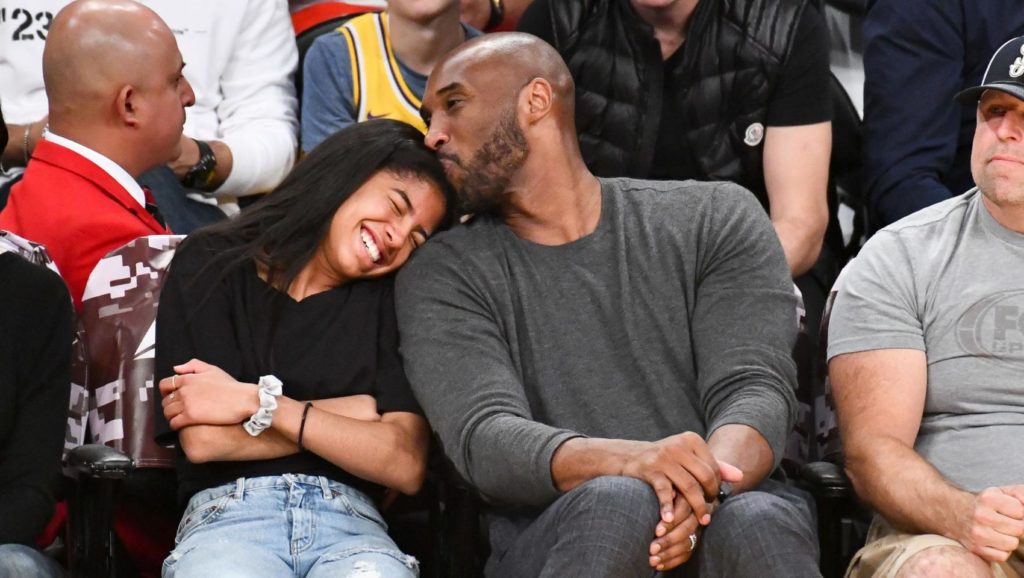 Throughout Make-A-Wish Bryant was able to make more than 100 Children's wishes of meeting him come true, and even inspired them to be strong and remain hopeful. Bryant was also a huge ambassador for Woman's basketball and is a huge supporter of the WNBA. His love for and promotion of the WNBA helped the league gain more interest and fans. Coincidently his beloved Daughter Gianna started to play Basketball.
But Bryant's main inspirational to all is being the greatest parent we should strive to be. Bryant's devotion in being a great father is so inspiring that the whole world knows that being a Girl Dad is a huge honor Bryant unconditional love for his wife and daughters inspired fathers around the world in being the best parent they could be. Kobe Bryant will forever be in the hearts of millions as he gave us his heart, soul, and love for each and every one of us. Heroes Come and Go, But Legends Are Forever.
IN LOVING MEMORY OF KOBE BRYANT, GIANNA BRYANT, JOHN ALTOBELLI, KERI ALTOBELLI, ALYSSA ALTOBELLI, CHRISTINA MAUSER, SARAH CHESTER, PAYTON CHESTER, AND ARA ZOBAYAN.
KEEP READING: JASON JORDAN IS WORKING ON IN-RING RETURN