Countless teenagers and young adults across the globe all yearn for the attention and notoriety of being a social media influencer, and HBO's upcoming documentary Fake Famous is set to shine a spotlight on the business.
The project comes from the mind of tech journalist Nick Bilton, and will follow three individuals, all with influencer aspirations, as they cultivate a mass following. But the catch is, it's all fake profiles.
Fake Famous Official Trailer
The contestants will benefit from free merchandaise, sponsorships, and the other "perks" of influencer life, but will also experience first hand the reality that the lifestyle may not be the perfect existence.
Fake Famous Synopsis
Fake Famous explores the industry of social media influencers through an innovative social experiment. The film's journey into this world is driven by the casting of three people in Los Angeles who all have relatively small social followings and the attempt to grow them into famous influencers. By purchasing fake followers and an army of bots to "engage" with their social media, the newly made "influencers" discover both the wonders and costs of this unlikely, immersive lifestyle. Peeling back the layers to reveal what's really happening behind the scenes of influencer fame, Fake Famous illuminates our obsession with the numbers of likes, followers and favorites we get, and how most of our online world is much more fabricated than we realize.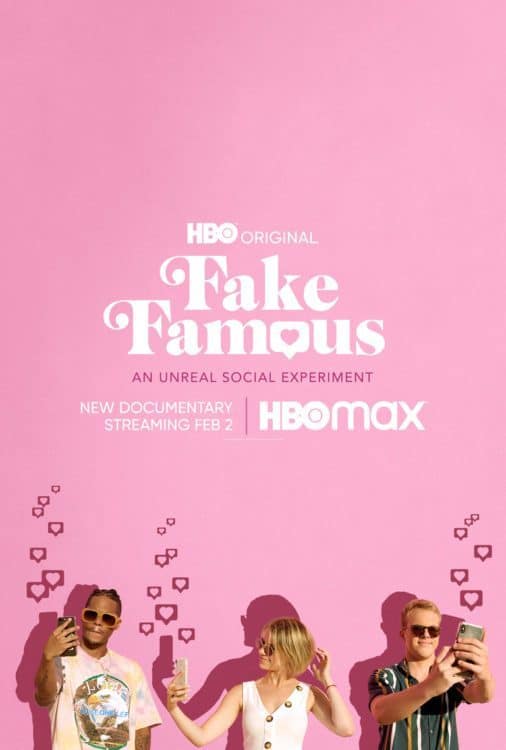 Fake Famous premieres February 2nd, 2021 on HBO at 9:00 P.M. ET and will be available on HBO Max immediately afterwards.
KEEP READING: WATCH THE GODZILLA VS KONG TRAILER GO ON A RAMPAGE RIGHT NOW!
Source: /Film