The Hurt Business may be getting a new member soon and it may be a woman.
This Monday on RAW Bobby Lashley won the WWE Championship by defeating The Miz. Just like Thanos, The Hurt Business, or MVP, has collected another stone or in this case a Championship. However, there is one championship which has eluded the group. The Women's Championship has been just out of reach with good reason.
RELATED: TAYA VALKYRIE LEAVING IMPACT TO WRESTLE IN PARTS UNKNOWN
However, Lashley recently did an interview with Complex and was asked about what The Hurt Business' plan is going forward. They already have the tag and WWE Championship. Lashley has now officially set their intention for a new championship.
"We want dominance and a legacy. That's what we want. Another thing that we talked about, we don't even know if we want to go there, but I'll throw this out: Is there a female that's going to join the group? We thought about that. We have some definite names. And if we did go that route, I think we're all in agreeance of who we would love to have a part of us. Can't really say right now, but that's something that's [on the way]. So we're trying to play with it, so we're coming at all different angles," Lashley said.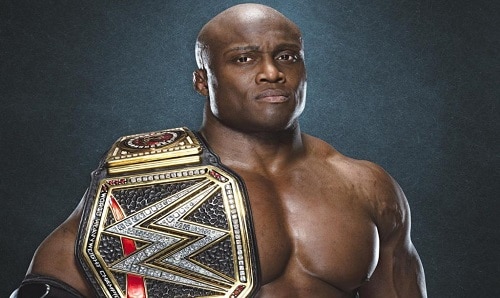 A Strong Faction Needs A Good Woman
A woman and a women's championship is one of the last pieces of the puzzle the faction is missing. The faction has been very dominant and has won every title they have set their sights on. However, the Women's Division is the last unclaimed territory the faction hasn't set foot in.  
This statement brings up a very important question. Who is it they are trying to recruit? Also are they good enough to win the RAW Women's Championship?
A Few Good Options For The Hurt Business
There are a couple good names for who could possibly be the newest member. First is the name which makes the most kayfabe sense, Lana.
In kayfabe Lana is or was Lashley's wife. It would make a lot of sense if Lashley wanted his wife to be the final member and her to win the RAW Women's Championship. I applaud Lana's effort as of late and her getting training to improve her wrestling skills, but she isn't ready to have singles gold around her waist.  
Another good choice is Naomi. She is already on RAW and is a former two-time SmackDown Women's champion. This could be a good chance for her to turn heel and change up her character.
RELATED: SASHA BANKS ADMITS BEING ON HOT ONES LANDED HER SURPRISE ROLE ON THE MANDALORIAN
How about the Boss herself Sasha Banks? She is one of the most well decorated women on the WWE roster. She is a former five time Raw Women's champion and the current SmackDown Women's champion. However, I think WWE will just keep her on SmackDown for now.
Shayna Baszler and Nia Jax are both two possible women who fit the bill for The Hurt Business really well.  Jax is notorious for hurting female competitors and Baszler just kicked out one of Asuka's teeth so hurting people is already something they are well versed in. However, I think WWE will keep them in the tag division.
Speaking of hurting people, the next possible member got a huge push and boost in popularity after Jax punched her in the face and broke her nose, with Becky Lynch. Lynch has been out having her baby, but the baby is born and Lynch is set to come back soon. Imagine the pop she would get if The Hurt Business said "everyone welcome our newest member" and her music played. Lynch is the longest reigning RAW Women's champion of all time. Having her join the faction would be a huge get.
Which female wrestler would you want to see join The Hurt Business? What do you think of the names I threw out there? Leave a few names you think would make a good addition to The Hurt Business in the comments below or over on Twitter.
KEEP READING: NXT MIGHT BE MAKING AN UNEXPECTED MOVE TO TUESDAY NIGHTS AND HERE IS WHY
Sources: RingsideNews, Complex