Raya and The Last Dragon is more than just the latest entry into Disney's Princess pantheon, with Kelly Marie Tran and Gemma Chan voicing some fabulously multi-layered additions. The animated adventure film, out in select theaters and currently available on Disney+, is also a celebration Southeast Asian cultures and of the complex women at the heart of the story.
Raya not only develops a strong friendship with the dragon Sisu (voiced by Awkwafina), but her love-hate dynamic with antagonist Namaari is front and center throughout. The shades of gray in their relationship and respective worldviews is precisely what breathes so much color into the world of Raya.
RELATED: THE CAST OF RAYA SHARE HEARTFELT THOUGHTS ABOUT REPRESENTING SOUTHEAST ASIAN CULTURES
At a recent press conference hosted by Disney, Kelly Marie Tran and Gemma Chan spoke about what makes their frienemy-ship so unique.
Gemma Chan & Kelly Marie Tran Explore Their Characters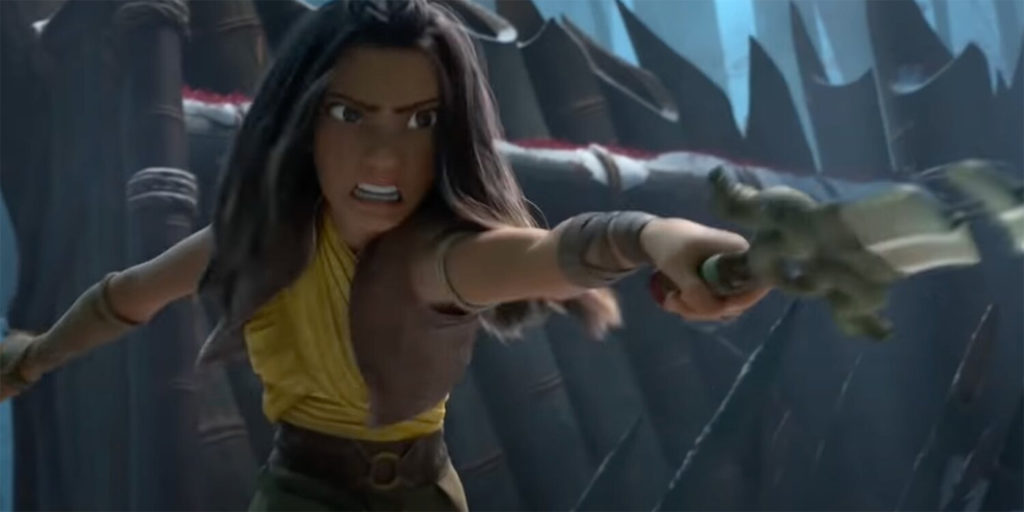 Gemma Chan kicked off the conversation by describing their bond as such:
I just love the fact that they have this kind of love/hate dynamic. But at their core, they have so much in common. I love the fact that Namaari has this real kind of quite aggressive exterior, but underneath it all, she's got this huge heart, and she has this real love for dragons that's been there since childhood.

I love that first scene where she locks eyes with Sisu, and kind of everything just falls away. It's as if she's become a child again. I love that, and that was kind of my way into her, really. We've all had those people in our lives that we have a love-hate relationship with, and I think it is such a fine line. I love the fact that Namaari and Raya have had that connection since childhood. And they're rivals but they also have a lot in common.
Kelly Marie Tran added onto Gemma Chan's sentiments, mentioning that:
I think setting up these characters as kids and just seeing how authentically they connect at a young age and then cutting forward and seeing the way that they've sort of been divided. It's really incredible because, just like Gemma was saying earlier, the idea that we have these two characters that could have switched places at one point.

When I really think about my life when things like that have happened to me, I think about just how difficult it is to get out of your own biases when you're looking at someone who you see as an enemy and then just how incredibly, by the end of the story, Raya and Namaari are then suddenly willing to step outside of themselves. They risk everything for this idea of community, this idea of what their relationship could have been this entire time. It's really, really inspiring. It's something that I want to do in my own life.

But their relationship in this movie is probably one of my favorites, just because of how complicated it is.
The actresses agreed that one could extrapolate a big theme of the film by analyzing the bond between Namaari and Raya. Gemma Chan finished up by concluding that:
It kind of shows how when we're young and as children we don't inherently hate each other. It's something that is learned. It's something that comes through whether it's from a parental or family influence, or from your particular tribe. Those things are learned, whereas, you know, kids get on. I think that's something to take from the movie that those things can be learned, but they can be unlearned as well.
Raya and the Last Dragon, starring Kelly Marie Tran, Awkwafina and Gemma Chan, is out now through Disney+. What did you think of the latest tale from Disney animation? Let us know in the comments below!
KEEP READING: RAYA AND THE LAST DRAGON REVIEW: A MYSTICAL ACTION ADVENTURE FOR ALL AGES