There are a lot of fans who grew up with classic Disney movies, who have always wanted to see more of the story told. There is a reason why projects like The Little Mermaid and Tangled Ever After have a strong following. And when Disney remade the 1991 beloved animation, Beauty and the Beast, into live-action in 2017, a lot of critics chimed in regarding the frustration that was felt about recycling the same stories.

Disney is a master at creating new ways to enjoy entertainment, and we see this currently with how they are using Disney+ to shape up the MCU with smaller TV series. It's no secret that WandaVision was a HUGE success. So it comes at no surprise, that Disney would start to shift this concept to other projects, including stories like Beauty and the Beast.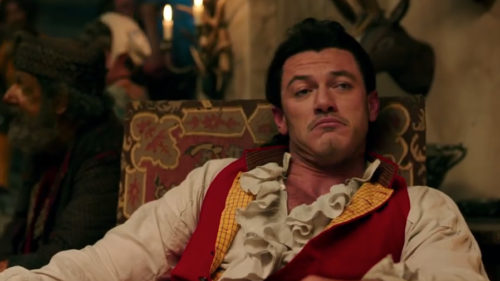 In celebration of 30 years since the movie debuted, Disney+ announced the greenlight of a limited musical series revolving around the friendship of Gaston and LeFou. This eight-episode will be a prequel to the 2017 live-action film with Luke Evans and Josh Gad reprising their roles. As well as introducing Briana Middleton as Louie's stepsister, which we were the first to report.

And it's not just the amazing cast that is lining up to make this a stellar series. Showrunners along with Gad, include Edward Kitsis and Adam Horowitz, who are well known for the hit series Once Upon a Time. BUT THAT STILL ISN'T ALL! Alan Menken, the Disney music mastermind, is working on an original soundtrack.

Checkout what the Beauty and the Beast press release had to say:
Beauty and the Beast Spin-Off Press Release
"Set in the iconic kingdom of "Beauty and the Beast" years before the Beast and Belle's epic romance, the series will follow Gaston and LeFou as they set off with LeFou's step-sister, Tilly, after a surprising revelation from her past comes to light, sending the unlikely trio off on an unexpected journey filled with romance, comedy, and adventure.  While the mysteries of the past are uncovered and the dangers of the present grow, old friends and new enemies reveal that this familiar kingdom harbors many secrets.

"For anyone who's ever wondered how a brute like Gaston and a goof like LeFou could have ever become friends and partners, or how a mystical enchantress came to cast that fateful spell on the prince-turned-beast, this series will finally provide those answers…and provoke a whole new set of questions," said Gary Marsh, president and chief creative officer, Disney Branded Television.

"There are few more precious gems in the Disney library than this iconic franchise, and this prequel is both a love letter to what's come before and its own spectacular adventure," commented Jonnie Davis, president, ABC Signature. "Josh, Eddy and Adam's vision gives us a window into the origin of Luke's Gaston and Josh's LeFou with the twist of a new partner in crime—Tilly, played by the luminous Briana Middleton.

This dream team would not be complete without the genius Alan Menken returning to write even more glorious music for the franchise he helped create. We're so grateful to Gary, Ayo, Michael and everyone at Disney Branded Television and Disney+ for their unwavering support. We cannot wait to start shooting."

"For three decades, this tale as old as time has inspired generations of fans around the world," stated Michael Paull, president, Disney+ and ESPN+. "We can't wait to welcome our guests back to the magical and musical world of "Beauty and the Beast" for an all new chapter with LeFou, Gaston, and a fantastic new cast of characters."

Gad, whose recent credits include starring roles in "Avenue 5," "Marshall" and "Central Park," is currently in production on Peacock series "Wolf Like Me."  Evans is currently filming the lead role in "Echo 3," the Apple drama series for Mark Boal and was recently cast as the lead role in Hulu's "Nine Perfect Strangers."  Middleton will be making her feature film debut in Amazon Studios' forthcoming George Clooney-directed adaptation of "The Tender Bar," based on the memoir by Pulitzer Prize-winning Writer J.R. Moehringer and is currently shooting "The Last Will and Testament of Charles Abernathy" for Netflix.

"Beauty and the Beast" is executive produced by Gad, Kitsis, Horowitz, Menken and Tommy and produced by Evans.  Gad, Kitsis and Horowitz are co-showrunners and writers for the limited series.  The soundtrack will be released by Walt Disney Records.